People living in the North report better relationships with mums than dads
MERSEYSIDE Police Officers on patrol in Everton, on 10 June 2015, pulled over after noticing a strong smell of cannabis in Jason Street coming from a Candia Towers, in Everton. When they looked up at the 5th floor of the Tower Block they noticed that a large number of windows had been covered with sheeting. This "smell" then led them to 3 flats, located on the 5th floor. The officers attending had to then use forced entry and discovered these cannabis plants growing in the bedrooms, bathrooms and living areas of each flat. Hiding amongst the plants within 1 of the flats were 4 men who were then arrested on suspicion of cannabis cultivation.
Further searches of the high rise led to cannabis plants being found grown in flats in 5 other flats, on the 6th and 12th floors.

Specialists from the force's cannabis dismantling team then moved in and started the process of counting the plants and seizing evidence from what detectives are describing at the time as being a sophisticated and industrial scale, criminal, set up.

Detective Sergeant Paul Jones, from Liverpool CID, in a press statment the day after said:- "This is an elaborate cannabis farm spread across eight separate flats with almost every room full of cannabis farms. There is in excess of 2000 thousand plants in total which would make it one of the biggest cannabis farm ever discovered here in Merseyside. The patrol officers who sniffed this farm out and followed up on their suspicions are extremely pleased as we are, and detectives are now interviewing four men we suspect of being involved in the running of this drugs factory. It just goes to show how a suspicious smell can lead the police to uncover major criminal activity and I would urge the public to help us spot more of these farms by knowing what the signs of a cannabis farm are and how to report it. Cannabis is not a harmless drug. It is pedalled by serious organised crime groups and is extremely potent which causes damage to users, especially young people. Cannabis farms also pose a serious risk to other residents as they can become house fires due to the reckless way criminals tamper with the electriCity to avoid detection. It is in everyone's interests to help the police put these drugs farms out of businesses and this discovery shows how farms can be hidden right in the very heart of our communities."

We have since been told that all 4 males had been charged and then remanded in custody to appear at Liverpool Magistrates' Court, on Friday, 12 June 2015. The 4 men who where charged with the production of a controlled drug (Cannabis) are:-

► Nam Van Le, 49, from Everton.

► Nam Van Ntuyen, 36, of no fixed abode.

► Thanh Duc Dong, 49 of no fixed abode.

► Doan Xuan Quynh, 39, of no fixed abode.

If you want to report a cannabis farm call Merseyside Police on:- 101 or Crimestoppers on:- 0800 555 111.
The Falstaff, on King Street, Southport, is to benefit from a major £325K investment
SHOPPERS, families, visitors and sports fans will be delighted to hear that building work has begun on a major £325K refurbishment of the Falstaff in King Street by Star Pubs and Bars and its new lessees, local pub operators, Inglenook Inns and Taverns. The pub will be closed for four weeks while building work is carried out and will re-open mid July. Up to 20 jobs will be created as a result of the refurbishment. This local landmark will benefit from a complete overhaul of the interior and exterior of the pub, designed to appeal to a huge cross section of customers; families, shoppers and people wanting to watch live sport. James Waddington, director of Inglenook Inns and Taverns said:- "When we 1st saw The Falstaff we recognised its potential. It had been under temporary management for some time and had become tired and run down. It needed inspirational investment to bring it up to date, a food offer which would have universal appeal and quality coffee. We aspire to achieve excellent customer service and pride ourselves on becoming a pivotal part of the community." Chris Jowsey, trading director of Star Pubs & Bars said:- "We're delighted that Inglenook Inns & Taverns has taken on The Falstaff. They've got an excellent reputation for customer service and a track record of turning around pubs and creating popular places to eat and drink in the North West and Midlands. Together we're investing in the pub's long-term future. With its vastly improved décor, excellent service and great quality food, cask ales, beer, cider and coffee, The Falstaff will I am sure become a much visited pub."

RTC on Junction of Marine Parade and the Promenade, Southport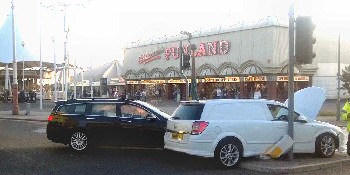 POLICE blocked off the Promenade (B5245) Northbound, next to Funland and the Southport side of Marine Parade, next to the Casino. The incident happened at around 7.15pm, on Wednesday, 10 June 2015, involving 2 vehicles. We are told that as a result of the crash "Fire Fighters had to use cutting equipment" to free occupants who had been "trapped within both vehicles." The North West Ambulance Service crews then treated the occupants at the scene. We are told they:- "then took the injured occupants to hospital." We do not have any more information at this time about the incident.