New Catacombs Tours Return To Liverpool Next Week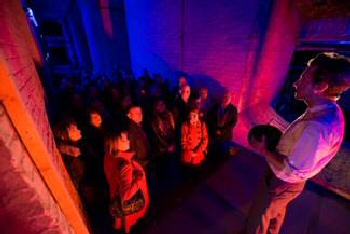 THE increasingly popular theatrical Catacombs tours of St George's Hall Liverpool return by popular demand next week, and organisers can reveal further details of the new darker stories from this new instalment, 'The Catacombs Of Liverpool's Darkest History'.
The fourth series of Catacombs stories run for 6 consecutive days between Monday, 15 June and Saturday, 20 June 2015, and for the 1st time will feature 5 tours each evening at 6.00pm, 6.45pm, 7.30pm, 8.15pm and 9.00pm. Tickets are priced at £15 per person per tour.

St Georges Hall can be aptly described as a capsule for Liverpool's history; whilst the rich and influential enjoyed the grandeur and opulence that the Great Hall had to offer, there existed a harsher reality in the cells below. Men, women and children crammed into tiny stifled cells awaiting their punishment. Nowhere in the City could you find a more relevant space to animate some of the darkest elements of Liverpool's criminal past.

Theatrical company Lovehistory who produce the Catacomb series, can promise that these new promenade tours will be the most compelling to date consisting of powerful theatrical performances that will undoubtedly move their audience.

The promenade performances will lead the audience into the dark cells below where those waiting to be condemned would spend their final moments. In the dark shadows of Liverpool's history, visitors will encounter the characters and witness a series of thought provoking and expertly choreographed scenes of Liverpool murders, torment and cruelty. Behind every dark corner lies a hidden story which will be exposed.

Hear the gruesome tale of the Leveson Street murder, a crime so heinous it led to a Liverpool Street having its name changed, in which a pregnant woman, Ann Hinrichson along with her two children and her maid were brutally murdered by lodger Maurice Gleeson. The victim will give her dark account to audiences whilst the evil perpetrator slowly approaches her to re-enact the evil deed.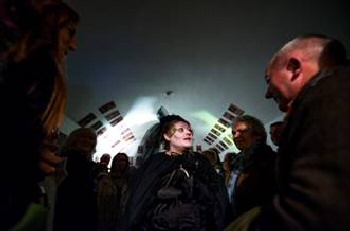 Meet Lady Constance Lytton and hear of the shocking treatment of suffragettes of Walton Gaol who were horrifically force fed during the hunger strikes. Lytton, an influential British suffragette activist, disguised herself as a working class woman, Jane Wharton, to test the existence of class differences in the treatment of suffragettes. Witness the traumatic ordeal these women suffered at the hands of medical experts.

Other new stories include that of Captain Henry Rogers, the sadistic ship's captain who was hanged for the brutal torture and murder of one of his crew Andrew Rose. Spectators will see the savage treatment Andrew Rose was subjected to aboard the Martha Jane in a harrowing scene that led to Captain Rogers' death sentence.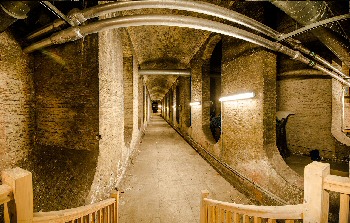 Throughout the journey you will encounter the bare knuckle grudge fight that left 1 man dead and the other at the mercy of the judge. This famous bare knuckle fight bares resemblance to the story of David and Goliath, where one man's relentless obsession for violence has an unexpected outcome. This story is brilliantly choreographed and will run intermittently throughout the show.

In addition to the more chilling stories, audiences will also learn about the history of St Georges Hall, within a Victorian context.

These powerful interpretations uncover the tales of past criminals who were hanged for their crimes, those who were judged and sentenced by law, and those who carried out the sentence of the court; the executioner.

The Catacombs Of Liverpool's Darkest History promises to be the most haunting and gripping tour to date.

If you want tickets well you you have a few ways to purchase them.
You can do it in person at:- TicketQuarter, Queen Square, Liverpool, go online or call:- 0844 800 0410.
For further information, including ticket prices, time please visit the following websites:- LoveHistory.Co.UK or StGeorgesLiverpool.Co.UK.

Joe Black Coffee; 60th (Diamond) Anniversary Celebrations in Liverpool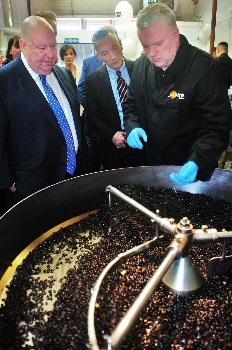 JOE Black Coffee celebrated their 60th year of roasting coffee on Merseyside this week. In recognition of hitting this milestone the Mayor of Liverpool, Joe Anderson, paid Joe Black Coffee the privilege of coming down to the Bootle premises to visit our roastery, meet with all staff and talk about current and future plans. The Mayor was also joined by former Lord Mayor and Cabinet Member for Business, Enterprise and Investment, Cllr Gary Millar as well as members of the business community.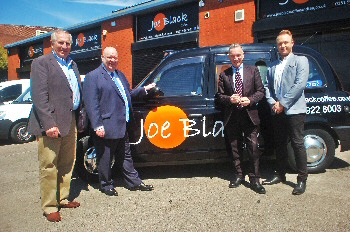 Joe Black Coffee is a specialist coffee roaster supplying freshly roasted coffee to Liverpool, Manchester and the North West. Using traditional artisanal flame roasting techniques its production processes are organized around small batch bespoke blending cycles.

There is an unstoppable movement underway within the market place for food and beverage provenance. People are becoming ever more interested in knowing where their food and drink originates. Joe Black Coffee has located its roasteries in Liverpool and Manchester so that it can put 'hand on heart' and state that Joe Black Coffee is truly 'your local roaster'. Consumers drinking our coffee are assured that their coffee has been roasted locally and thus by definition is as fresh as it can possibly be.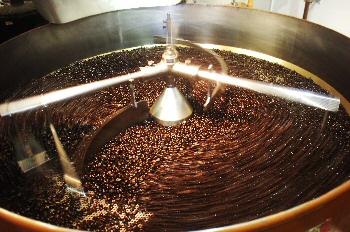 In the last 3 years a great deal of resource has been directed towards building Joe Black's brand. This has been effective and the brand can now be seen on banners, advertising hoardings, on swing signs outside Cafe's, on cups, menu boards, window stickers as well as liveried cars and vans and, most recently, on Black Cabs plying for trade in Liverpool and Manchester.

The business has seen major growth in sales in the last year, nearly doubling in size and in the process creating 6 jobs in production, sales and admin. Jeremy Janion Managing Director and owner of Joe Black Coffee said:- "The mayor's visit is particularly important for the next stage of our growth. One of the major challenges facing companies such as ourselves is to be able to capture our share of the massive Public Sector spending budgets available. The Government has for a number of years now been setting targets that are aimed at a minimum 25% of Public Sector expenditure filtering down to small and medium enterprises. Our own experiences have shown that there are many situations in which this initiative is just not working. By attending our celebrations today the Mayor is reinforcing the point that Public Sector money directed at small local business will be guaranteed to have a huge impact on local jobs and the local economy."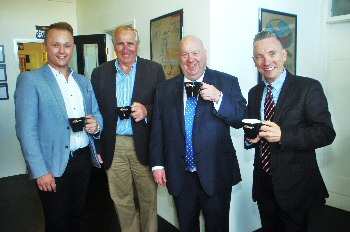 There is so much that can be done to promote growth in the North West but only by all parties coming together will this be achieved.
Joe Black Coffee holds an extensive range of coffees, both beans and ground, and offers a uniquely tailored service that allows discerning customers to make up their own signature blend. The company is able to provide full barista training, as well as advice and support in matters relating to branding, shop/café design, signage and product display.

The Mayor of Liverpool Joe Anderson added:- "What a fantastic achievement for Joe Black Coffee to celebrate this 60th Diamond Anniversary in business. It's great to see local companies like this doing so well, employing a local workforce, supplying local hotels, restaurants, coffee shops extra.... and expanding in the City and in and around other areas of Merseyside. Well done to Jeremy and all the team."