Biggest turn out for the 10th BTR Mersey Tunnel 10K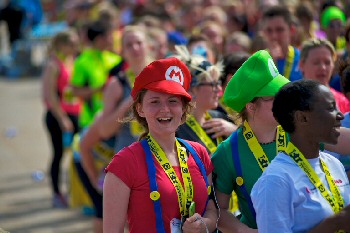 A record number of runners pulled on their running shoes, on Sunday, 7 June 2015, for the 10th Annual Eace which takes participants through the Mersey Tunnel.

Organisers BTR Liverpool closed the entries at 3,200 runners, the biggest number of entries to date since the event was brought back in 2006 at the request of the Mersey Tunnels.

Numbers for the BTR Mersey Tunnel 10K have continued to grow, and this is the 1st year the event has sold out.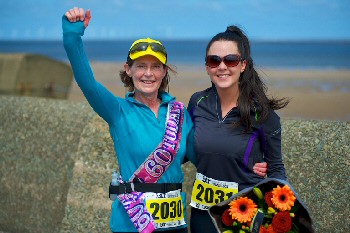 Runners gathered in Blackstock Street, in Liverpool City centre, before making their way into the Kingsway Wallasey Tunnel to run underneath the River Mersey; the most challenging and unique part of the race. This is the only time runners can actually run underneath the River Mersey.

After emerging from the tunnel, the runners made their way along the picturesque Wirral waterfront from Seacombe, past the Fort Perch Rock landmark and Marine Lake, before arriving at the finish area on Ian Fraser Walk in New Brighton.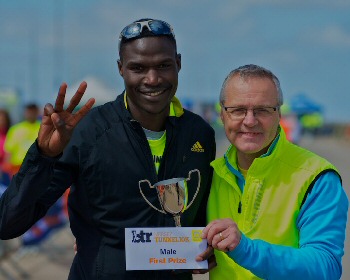 The overall winner was Taurus Ely from Salford Harriers in 32:35 (chip time) – who has now won the BTR Mersey Tunnel 10K for 3 successive years.

The 1st female finisher was Kirsty Longley from Liverpool Pembroke Sefton Harriers in 37:58 (chip time).

The race attracted runners from across the country, as well as others who travelled from Scotland and Ireland participate. But the furthest journey was made from Australia by Jim and Sue Beisty, aged 81 and 76.

The couple completed the race and were delighted to collect their commemorative medals and T-shirts. Jim's time was 1:29:43 and Sue finished in 1:40:28.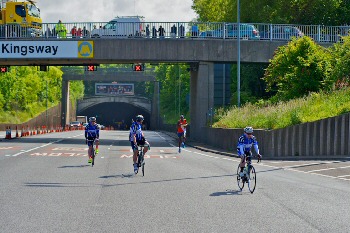 Originally from Bootle, the couple are visiting the UK for six weeks, visiting family and friends in Liverpool and Wirral. During their trip, Jim has met up with friends in the running community he has made over social media and has also taken part in the Princes and Croxteth Parkruns and the Liverpool Running Club Walton Park 5 Mile.

It was a special day for Janet Quarry from Birkenhead; she chose to celebrate her 60th Birthday by taking part in the race with her daughter Lauren. Janet's time was 1:13:25; and she has taken part in all 10 BTR Mersey Tunnel 10K events.

Also taking part in his 10th Tunnel race was Steve Ward, aged 54 from Warrington. Steve runs for the Spectrum Striders and his time was 41:22.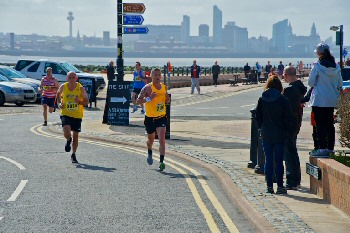 As well as Jim and Sue, the race included a further 3 senior runners aged between 73 and 87:-
► Dorothy Fairhurst, aged 73 from St Helens (St Helens Sutton) 1:02:54.

► Dennis Adelsberg, aged 85 from Skelmersdale (Skelmersdale Boundary Harriers) 1:29:31.
► Eddie Naisby, aged 87 from Ruthin, Wales (Prestatyn RC) 1:05:15.

BTR Liverpool is the leading independent organisation for creating, managing and delivering headline race events in Liverpool City Region. Its growing portfolio includes the Vitality Liverpool Half Marathon, BTR Liverpool Santa Dash and 52-mile BTR Tour Of Merseyside (six races over seven days).

BTR recently won the title of Event Of The Year at the Wirral Tourism Awards 2015 for the Wirral Half Marathon/10K.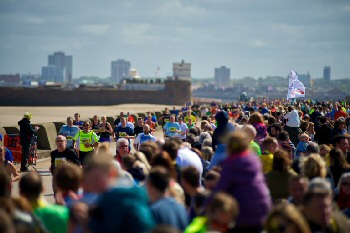 BTR Race Director Alan Rothwell said:- "Each year we think the Tunnel 10K cannot get any better; but it really does. It's such a unique event and the runners really do embrace the challenge of the Kingsway Tunnel. When we brought the event back in 2006 at the request of Mersey Tunnels as a BTR race, we had no idea it would grow each year and become so popular. This year we had to close entries at 3,200, which is the biggest field in the history of the Mersey Tunnel 10K. We had a fantastic mix of newcomers, charity and club runners, and those who had travelled some considerable distance to take part and experience the atmosphere. Seeing the runners emerge from the tunnel is a wonderful sight, as are the fantastic backdrops of Wirral and Liverpool in the distance across the River Mersey. The final straight after Fort Perch Rock at Marine Point is perfect for spectators and the runners enjoy the applause as they cross the finish line, it works tremendously well. A big thank you to the runners, spectators, and the volunteer teams; cadets, Everton in the Community, Claire House Children's Hospice, Mums 2 Marathons and Radio City's Cash For Kids. We also appreciate the support of Mersey Tunnels and Wirral Council in allowing us to host the race."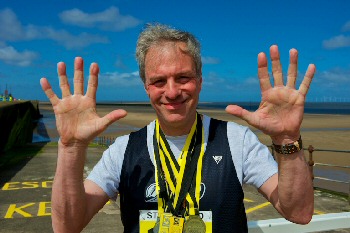 The BTR Mersey Tunnel 10K race is the latest event in a year long joint fundraising partnership between BTR Liverpool and its five official charities.

The BTR Footsteps Fundraisers initiative will bring the charities together to benefit financially through BTR's key race events over a 12 month period by encouraging participants to fundraise and support them.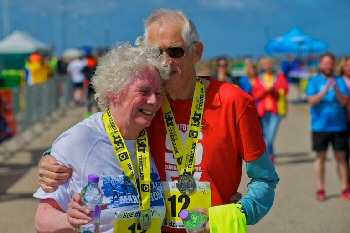 The 5 BTR Footsteps Fundraisers official charities are Radio City's Cash For Kids, Claire House Children's Hospice, Everton in the Community, Jospice, and Roy Castle Lung Cancer Foundation. More details can be found at:- EveryDayHero.Co.UK.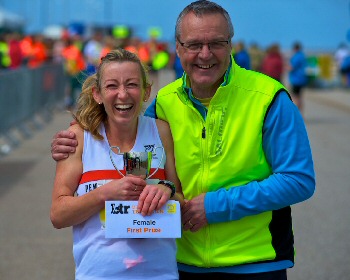 The next event in the BTR calendar is a new event for 2015 and is just for youngsters. The fun run series offers a choice of three distances; 1K, 2K and 3K; and takes place at New Brighton, Wirral, on Sunday, 28 June 2015. Visit:- BTRLiverpool.Com for more details. Top can see the official BTR Mersey Tunnel 10K video on Youtube now.

Pub company offers brand new Dacia Sandero to loyal customers
WE'VE all heard of local pubs offering free prizes such as a free pint, or a free meal, maybe even a free t-shirt but how many of us have been to our local pub recently and been offered the opportunity to win a brand new 2015 registration car? We're guessing not many! National pub company, Trust Inns Limited, based in Chorley, Lancashire, has hand selected a number of pubs in the North West to participate in a competition to offer their customers the ultimate in prizes during the month of June; a brand new Dacia Sandero 1.2 with an "on the road" value of over £6000. Customers who visit the pub are invited to collect stamps each time they purchase a pint of draught lager. Upon collecting ten stamps they will be entered into a pub draw which will take place at the end of June. Each customer can enter the draw a maximum of 5 times. The pub winner will then be invited to a grand draw, in Blackpool, on 5 July 2015, to benefit from a 1 in 45 chance of winning the brand new vehicle. It really is as simple as that! A Trust Inns' spokesperson said:- "Trying to find ways to help our licensees create a great and well supported event in their pub is always challenging given the amount of competition traditional pubs face today. This becomes even harder when you factor in the need to engage and reward loyal customers. However we hope that this promotion will achieve all of this and more, especially as we're not aware of anyone else offering their customers a FREE car!"
Guinea Pigs And Rabbits Can Have A Fuddle For Free
GUINEA pig and rabbit owners in Southport can give their pets a fuddle, as well as a cuddle, thanks to the arrival of a unique type of '5 a day' Timothy hay that is tickling small herbivore taste buds like nothing before. Online wood, garden and pet product supplier, Logs Direct, is now selling the Nature's Own product that has gone down a storm with discerning guinea pigs and rabbits who have tucked to its unique formula. It can be purchased at:- LogsDirect.Co.UK and at selected retail and veterinary outlets, but there is now also the opportunity to test their guinea pig or rabbit's appetite for it, by winning a bag!

One lucky winner from the Southport PR postcode area will have a chance to win a pack of the gourmet product, if they complete a competition form online. This feed is the small cuddly animal's equivalent of a luxury '5 a day' diet, comprising a blend of old pasture hay, grasses, seeds and meadow meal, free from sprays, insecticides and weed killers, topped up with pumpkin, sweet peppers, beetroot, mint and marigold.

This combination of food is a big hit with the small cuddlies for which it is intended, because it resembles their natural foraging diet and adds interest. It delivers high fibre, protein, vitamins and oils and all the nutritional elements are spread through the feed, to encourage selective feeding.

The food helps maintain the pet's healthy immune and digestive systems and can help prevent the growing problem of obesity in guinea pigs and rabbits. Its composition also helps keep teeth healthy. Logs Direct's Stephen Talbot, says:- "We are looking forward to supplying pet owners nationwide with this superb guinea pig and rabbit food via our website, but will also be delivering to retail customers around the PR postcode area. We are also happy to supply any vets who may wish to recommend this feed to pet owners. This really is unique Timothy hay, from ancient meadow land in Devon, where the hay is grown and dried in traditional ways and where farming works in harmony with wildlife. There are around 1,000,000 rabbits and 500,000 guinea pigs in Britain, so our aim is to treat as many as possible to this wonderful Nature's Own feed."

Logs Direct's core business is that of supplying top quality wood and lighters to homeowners with wood-burning stoves and restaurants that cook with wood. Alongside this, it now has a flourishing pet supply business, comprising not just the rabbit and guinea pig feed, but cat litter and horse bedding too. The Nature's Own product costs £3.99 for a 750g bag. More information can be found online at:- LogsDirect.Co.UK.
Southport residents show their support for local animal centres by donating over £1,300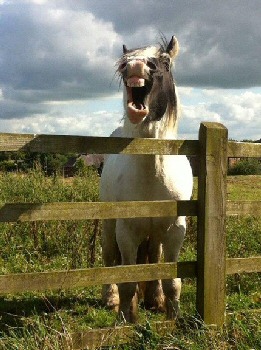 SOUTHPORT residents have been crowned 1 of the top fundraising Towns in the County after raising £1,365 for animal charity 'Support Adoption For Pets.'. The #MakesMeSmile fundraising campaign, organised by 'Support Adoption For Pets' , and supported by Pets at Home, raised £479,483 nationally by asking pet owners to share pictures of their smiling pets whilst donating £1 to the charity. Amy Wilson, charity manager at Support Adoption For Pets said:- "Thanks to the Southport Pets at Home store and generosity of local residents we were able to raise an amazing amount that will now help animal organisations in the community. We want to thank you everyone that got involved in the #MakesMeSmile Southport activity." Support Adoption For Pets has supported over nine hundred animal charities across the UK and Northern Ireland since it was established in 2006. In the last year alone, Support Adoption For Pets has raised more than £2.1 million. To find out more about:- 'Support Adoption For Pets' or to support the charity visit:- SupportAdoptionForPets.Co.UK.
Who is the caped crusader watching over the Royal and the people of Merseyside?
A mysterious superhero has been sighted, swooping over the City near the Royal. Witnesses reported seeing the masked stranger perform aerial acrobatics before landing on the roof of the Royal Liverpool University Hospital, where he was caught in this video footage. Lois Kent, from Kensington said:- "I couldn't believe my eyes. I looked up and saw this giant shape sweeping through the air. His purple cape was flowing behind him and he had a big R on his broad chest." Little is known about where this caped wonder came from, but astronomers have linked his arrival to the spectacular self destruction of planet Chariton in a far and distant galaxy. Rumours have been circulating around the hospital that this enigmatic superhero is here to act as the mascot for the fundraising activities of R Charity, such as the Abseil from the roof of the current Royal on 13 June 2015. Together with the R Charity fundraisers he will be working to provide the new Royal with the facilities and equipment that will create an environment for care that goes above and beyond even what the NHS can offer. Like all superheroes, R mascot needs a name and he's calling on the people of Liverpool to create 1; please send your suggestions to Lisa.Barber@RLBUHT.NHS.UK.
Dogs sniff out hidden cigarettes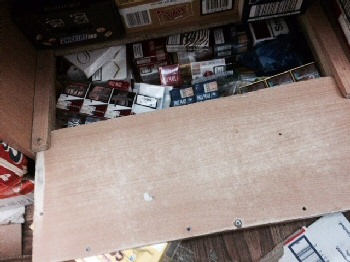 THOUSANDS of illegal cigarettes which were hidden behind panels in 2 shops were uncovered by specially trained sniffer dogs. The search dogs were taking part in an operation, led by Liverpool City Council's Alcohol and Tobacco Unit, in the Picton area. Shops were targeted as a result of information received from members of the public. At 1 newsagent 1.45kg of counterfeit hand rolling tobacco and 6,700 cigarettes; including a mixture of counterfeit and smuggled products; were seized.

A search dog indicated to officers an area in which confectionary was stored. Officers were able to slide out a wooden board which revealed an amount of cigarettes and tobacco. More cigarettes were discovered after the sniffer dog had indicated an area which looked like it formed part of the shop counter. In another shop 5,660 cigarettes were discovered by a sniffer dog inside the top of a refrigerator, which the owner had hollowed out to create space for him to store his illicit products. Legal action against the shop owners is being considered.

Councillor Steve Munby, cabinet member for Neighbourhood said:- "Once again ATU officers have found illicit supplies of tobacco in local shops These products undermine the hard work and efforts put into place by public health services to reduce tobacco use and its damaging effects on the health of the residents of the city. We encourage anyone who has information about illicit supplies of tobacco to contact Liverpool Council and report it. As an authority we will continue carry out proactive enforcement actions against anyone supplying this type of product and will, when necessary, prosecute those responsible.''

Helen Casstles, Smokefree Coordinator, said:- "I am very pleased that these cigarettes and tobacco have been seized and will not be sold to the local community. This is an illegal activity and 1 which encourages people to smoke as they are cheaper than legal products. This means that young people, in particular, are more likely to buy them."
Maggie's Merseyside celebrates over 8,000 visits in 1st year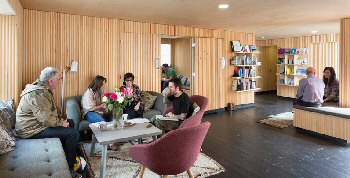 MAGGIE'S, the charity which provides free practical, emotional and social support for people with cancer and their family and friends, is celebrating its 1st anniversary on 23 June 2015. Maggie's Merseyside was opened on 23 June 2014 by Crosby born, George Davies, the founder of Next and George at ASDA. Since then more than 8,000 people have visited the Centre in the grounds of Clatterbridge to access support and information about cancer.

Kathy Wright, Centre Manager at Maggie's Merseyside said:- "It is wonderful to see Maggie's Merseyside celebrate its 1st birthday. The people of Wirral, Merseyside and Cheshire have truly made the Centre their own and I am delighted we have been here to offer a warm Maggie's welcome to men and women of all ages affected by cancer. Every year our Maggie's community develops and grows, but as always the kitchen table and our evidence based programme of support is at the heart of all that happens here. I am incredibly proud to be Maggie's Merseyside Centre Head and I look forward to welcoming many more people to our Centre in the years to come."

Built in the grounds of Clatterbridge, Maggie's Merseyside is a warm and welcoming place, with qualified professionals on hand to offer an evidence based core programme of support that has been shown to improve physical and emotional wellbeing. Emotional support might involve a 1-2-1 or group session with a clinical psychologist, stress reduction and relaxation workshops, or art therapy and creative writing courses. Practical support might include advice about benefits and eating well; specialist support for managing hair loss and skin care during and after treatment; courses such as:- 'Getting Started', for people who are newly diagnosed; or 'Where Now?' for those adjusting to life after cancer. Social support comes from the people who work in and visit Maggie's Centres, the supportive community around each kitchen table of people who understand what it is to be living with cancer. Maggie's relies on voluntary donations to support and grow its network of Centres and to develop its unique, high quality programme of support. The charity's aim is to make the biggest difference possible to people living with cancer and their family and friends. To find out more about Maggie's Merseyside and to see how the Centre supports people with cancer across Wirral, Merseyside and Cheshire please visit the Centre at:- Maggie's Merseyside, Clatterbridge Cancer Centre, Bebington, Wirral, CH63 4JY or get in touch on:- 07557 284816 or email:- joanne.dobbie@maggiescentres.org.