Pride Award 2015 winners revealed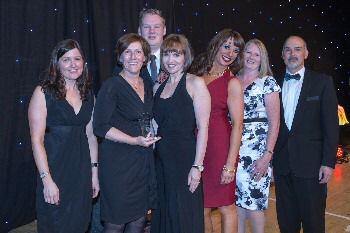 STAFF and volunteers providing care at Southport and Ormskirk Hospital NHS Trust were recognised at the 7th Annual Trust Pride Awards. Nearly 450 staff, volunteers and guests attended the event at Southport Theatre and Convention Centre on Friday, 5 June 2015. Staff cast votes for colleagues in 12 of the 13 categories while patients and other members of the public were invited to vote in the Patients' Award. Chief Executive Jonathan Parry said:- "The Pride Awards is a wonderful opportunity to celebrate the commitment, dedication and professionalism of our staff and volunteers. We received nearly 400 nominations which is a big vote in each other and by the people we care for."

The awards were sponsored by Hill Dickinson solicitors, Edge Hill University, The Learning Clinic, D A Languages Ltd, Alto Digital and Zen Office with support from La-De-Da Occasions, of Ormskirk, and Baker Lodge Studios, of Southport.

The shortlisted staff and volunteers were (with the winners highlighted in bold) were:-
Patients' Award

Catherine Andrew, Podiatrist

Cassandra Garner, HCA, Outpatients

Katie Mann, Physiotherapist

Team of the Year

A&E team (highly commended)

Cancer Services

Paediatric Diabetes team

Tarleton District Nursing team

Chief Executive's Award

Children's Community Nursing Outreach Team (highly commended)

Clair Gahan, EPR Manager

Chris Pilkington, Emergency Planning Liaison Support Officer and Volunteer Coordinator

Chair's Award (volunteers)

Ray and Jackie Hughes, reception desk SDGH

Volunteer Blood Bikes

Shirley Pendleton, Living Well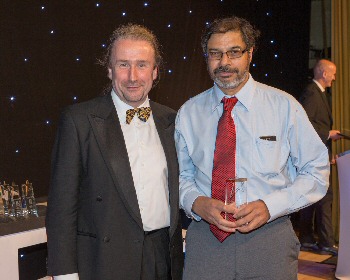 Doctor of the Year

Dr Paddy McDonald (highly commended)

Dr Athmanatha Nauaswami

Dr Mohamed Soliman

Nurse/Midwife of the Year

Jo Sinnott-Johnson, District Nurse

Esther Lennon, Oncology Specialist Nurse

Gill Simpson, Dermatology Nurse

Health Care Assistant of the Year

Renata Dodd, GP Assessment Unit

Janet Ratcliffe, Spinal

Ken Killingbeck, Therapy Assistant at Southport Centre for Health and Well-being

Health Professional of the Year

Heather Duff, Clinical Therapy Manager

John Gwilliam, Antimicrobial Pharmacist

Caroline Holt, Senior Occupational Therapist

Support Worker of the Year

John Coates, Electrical Maintenance

Jackie Conway, Housekeeper

Aidan Potter, Porter

Administrative/Clerical Worker of the Year

Marie Hatton, PA to the Medical Director

Jan Stevenson, Ward Clerk, Paediatrics

Val Swain, PA to CERT

Patient Safety Award

Jane Davis, Staff Nurse, 7B

Staff Health and Wellbeing team

Yvonne Taylor, FESS

Safely Reducing Costs Award

Terry Kelly, Logistics Manager

Procurement

Sarah Huyton, Finance

Leadership Award

Jeanette Abraham, ADO Planned Care

Jackie Brunton, Cancer Manager

Susan Gara, CERT Team Leader

New service to assess safeguarding referrals
A new service that will assess referrals for children at risk of neglect and abuse has opened in Liverpool. 'The Multi Agency Safeguarding Hub' (MASH) sees children's social workers and staff from Merseyside Police, NHS Liverpool/Liverpool CCG, the National Probation Service, Merseyside Community Rehabilitation, Liverpool Housing Providers (housing associations) and housing all co-located and working together.

The purpose of the MASH is to gather intelligence and share information across different organisations to enable a more accurate assessment of risk and need to inform the most appropriate response.

It aims to provide:-

► Earlier identification and understanding of risks to children and their families.

► Better victim identification and intervention.

► Better harm identification and reduction concerning individuals, families and communities.

► Earlier support for individuals and their families, reducing demand for specialist care.

► Better responses to risk with coordinated support, planning and clear accountability.

The MASH is focused on cases which are not clear cut and where further information via different agencies will affirm what level of assistance is needed.

Mayor of Liverpool Joe Anderson - who opened the new facility at Venture Place on Sir Thomas Street - said:- "As a social worker I know the importance of making sure we have the best possible arrangements in place to support vulnerable people. This is a welcome addition to the City's existing safeguarding arrangements and provides a real opportunity to give vulnerable children, young people and their families the support they need when they most need it. It builds on our long history of partnership working and the support of key partners such as police, health, probation and housing."

The aim is for the service to expand to deal with cases involving vulnerable adults and establishing links with wider safeguarding arrangements including domestic abuse, child sexual exploitation and violent extremism.

Merseyside's Deputy Police Commissioner Cllr Ann O'Byrne, said:- "I was delighted to attend the opening of Liverpool's new MASH. The MASH is an essential element of our new Victim Care Merseyside service, which aims to ensure people with the greatest need are directed to the best placed team to help them. In the case of our vulnerable young people, the MASH will be that team. By bringing all the agencies that are involved in safeguarding our children and young people under one roof we can ensure we are working as effectively and efficiently as possible to protect them and delivering the highest standard of care and support."
Ping! returns for 2015
TABLE Tennis fever is set to take over Liverpool next week as the popular Ping! is set to return for its 3rd year. On Tuesday 16 June, 30 ping pong tables will spring into action across the City as part of Ping! Liverpool 2015 – a programme which encourages people to participate in table tennis activities, get active and have fun at the same time.

To launch the 6 week initiative, a host of current and future champions will showcase their skills at tables located in Paradise Place (Liverpool One) at 11am on Tuesday.

These include GB Paralympian Jack Hunter Spivey who recently won a Doubles Gold medal at the Slovakia Open, former GB Paralympian Mark Palmer, nine times Wirral and twice Liverpool men's singles champion Jonathan Taylor, the 2015 Liverpool O/40's and Lancashire men's doubles champion Steve Green. Completing the line-up will be future stars Rhys Davies, Amy Hutchings, England player Nicole Scott, Rachael Scott and Harry Watson.

There will also be an attempt to break a Ping! record challenge as Steve Green and Jonathan Taylor will take on the challenge to successfully hit as many shots as possible in 60 seconds.

Liverpool's Lord Mayor, Councillor Tony Concepcion, will also get in on the action when he tries out his skills against Table Tennis England's ping pong robot! Councillor Concepcion said:- "Ping! is a hugely successful initiative and I'm sure it will be just as popular this year. Having all these tables located across the City means that's convenient and easy for people to pick up a bat, and get involved in a fun, free activity. I'm sure we'll see a wide range of people picking up a bat and taking the Ping! challenge; whether it's in a friendly game, to perfect a topspin or to take on friends and family in a more competitive rally. I'm looking forward to dusting off my bat and testing out my skills against the robot, but I have a feeling it's going to be stiff competition!"

The full launch day starts at 9am and runs until 5pm.

Ping! Liverpool 2015 ends on the evening of 31 July 2015, at Greenland Street's Camp and Furnace, featuring music, live entertainment and ping pong tournaments.

Locations of the ping pong tables are:-
Albert Dock, Anchor Courtyard – 2 tables
Bluecoat Chambers - 1 table
Camp and Furnace – 2 tables
Croxteth Country Park – 1 table
Ellergreen Community Centre – 1 table
Greenbank Academy / College – 2 tables
Jubilee Sports Centre, Kensington – 1 table
Lifestyles Everton Park – 1 table
Liverpool Cricket Club – 2 tables
Liverpool One – 2 tables
Liverpool University - 2 tables
Mossley Hill Athletics Club – 1 table
Newsham Park – 1 table
Phythian Park – 1 table
Princes Park – 1 table
Scargreen Park – 1 table
Sefton Park – 1 table
Speke Fires Station – 1 table
Speke Hall – 2 tables
Walton Hall Park – 1 table
Wavertree Playground – 1 table
Williamson Square – 1 table
More information on Ping! locations will be available online.
Did you know that?
► Liverpool has hosted this programme since 2012 and is committed to provide as many people as possible the opportunity to a play a relaxed, or competitive, game which is completely free of charge.

► The programme is backed by Lottery funding from Sport England and has been organised by Table Tennis England in partnership with Liverpool City Council.
Why not save the Southport Pier Tram and extend the line?
QUESTIONS are being asked after Sefton Council opted to "Scrap" the Pier Tram as it is deemed too costly to maintain it for the amount of cash it generates. The Tram has been one of the flag ship symbols for the re-development of the resort and cost so much to install in the 1st place! Sefton MBC said:- "It is just too costly to maintain and the remodelling will help to reduce wear and tear on the structure that is constantly exposed to the elements, thus increasing the Pier's longevity." Some have now asked if the money spent on this modern day "folly" should be best saved via using it in another way, such as extending the lines to run onto Lord Street, and/or along the prom to the park and ride. Another option being asked is:- "would it be able to be sell it to a private operator to run and maintain?" So what are your views on this issue? Should it be saved or scrapped? If you have any thoughts, or views on this issue, please do email us today, via:- news24@southportreporter.com.