Commissioner visits social enterprise to see how it is helping ex-offenders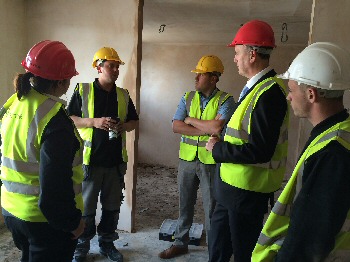 LANCASHIRE'S Police and Crime Commissioner has visited social enterprise Jobs, Friends and Houses (JFH), in Blackpool, to see how it is working to keep ex-offenders from returning to a life of crime. Clive Grunshaw met with the project's CEO Steve Hodgkins and programme manager Matthew Idle who told the Commissioner how former prolific offenders had turned their lives around after being supported by JFH. JFH's main focus is on property development. The business buys properties and trains ex-offenders to renovate them to a high standard before they are rented out. In the future, it will also have its own property management branch. All employees are offered full training via adult apprenticeships at Blackpool and Fylde College and accommodation. They are paid the living wage and are given a pension scheme to ensure they plan for their futures and enjoy a rewarding career.
Mr Grunshaw met with some of the employees who have benefited from being part of the programme.
Liam, who has been in and out of prison for several years and had issues with alcohol and drugs, said JFH had changed his life. The 26 year old, who is now on a 4 year apprenticeship in plumbing, said:- "When I got out of prison I decided to move to Blackpool because I wanted to think about my recovery. I love life now. I live in a recovery house that Steve provided for us and I am just trying to save a bit of money so I can move on when the time is right. This is the longest I have been out of prison and it is great knowing that at the end of the month, I have worked for my money. It means I can start to creep up the ladder and buy nice things for myself."

Scott, who is now working as an electrician with FJH after completing a prison sentence, said being part of the team had given him more confidence. The 34 year old added:- "If I listen to my own head, it tells me I am worthless, but I have a team supporting me and now I am at the point where I want to change. The massive thing for me is working for a company that helps with the recovery side of things."
FJH currently has 6 properties and 25 paid staff, as well as volunteers. The project has a 0% reoffending rate for those it has worked with. As well as providing jobs and homes, JFH also offers a complete 'wraparound' service, helping its employees give up addictions and supporting them with mental health issues. The workers are then taught how they can fill their free time with productive activities that do not involve drink and drugs.

Mr Hodgkins said:- "These are people who have caused a lot of problems in the past. We are dealing with broken people and we are trying to fix them. It is hard work and it has never been done before, but we are already seeing some great results. The key thing to this working is the people. The reason this hasn't been done before is that nobody trusts the people we work with. But having the Police on board reassures the wider community. Our employees are inspired that they can have a career and somewhere nice to live when before they had nothing. We find that these people did not know how to live outside of prison. But we offer them meaningful employment, accommodation and friendship so they can get back on track."

Blackpool Council received £128,700 from the Commissioner in 2014/15 to provide substance misuse services. Some of this money was given to JFH to help run the programme. The Commissioner added:- "This is life changing stuff. I was really impressed by all of the work I saw and the renovations to the properties were just stunning. The feedback I have had about this project is really exciting; it is providing a new and innovative way of tackling crime and reoffending. Steve, Matt and the team have shown so much commitment and it is working really well. This fantastic project is a shining example of how by having the right support for offenders, they can become valued members of society."

Clive Grunshaw, the Lancashire Police and Crime Commissioner is responsible for:-
► recruiting the Chief Constable and holding him to account for the work of the Police.
► setting and updating a county wide Police and crime plan.
► meeting and consulting residents about crime and anti-social behaviour.
► setting the Police budget and agreeing the Council Tax precept that goes towards funding the Police in Lancashire.

The Commissioner's Police and Crime Plan includes four priorities.
These include defending front line policing, protecting vulnerable people, tackling crime and re-offending and championing victims' rights.

For more information about the work of the Lancashire Police and Crime Commissioner visit:- Lancashire-PCC.Gov.UK.