Organisers Hail Physical Fest 2015 A Giant Success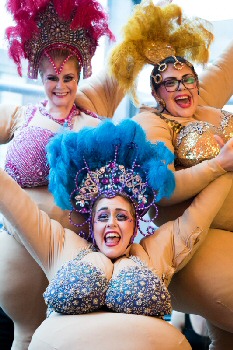 AFTER a sensational 9 days of performances, workshops and street theatre, Physical Fest is over for another year. With a massive presence and a buzz of excitement across the City on the build up to and throughout the festival, organisers Tmesis Theatre are reflecting on what has been the most successful year to date.

Taking place from 22 May to 30 May 2015, the festival presented a huge programme and brought together the very best and most established artists from all corners of the globe, with companies from Italy and Spain joining the UK performers which offered a truly international Physical Fest.

Wendy Houston proved hugely popular and was the perfect opening for the festival with her one woman performance of Pact with Pointlessness; a frank demonstration of how it feels to be knocked sideways by death, renegotiate and carry on. Following the success of his hilarious clown show at last year's festival, audiences could not get enough of Jamie Wood who returned with a new version of his show Oh No!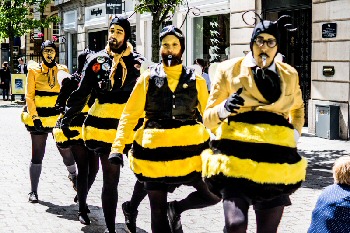 Other stand out performances included self proclaimed 'show man' Faruchio Peru is 'Extraordinare' and international showcase 'Fest Live' which both sold out, as well as Honky Tonk Hideaway from Tmesis Theatre Graduate Company with 3 performances every evening before each Unity show, all of which sold out.

This year's workshops and classes also proved to be an incredible triumph; the sell out programme saw eager participants take over 'The Bluecoat' every day, taking advantage of the opportunity to gain experience from world class performers and practitioners.

Elinor Randle of Tmesis Theatre said of the overwhelming success of this year's festival:- "Physical Fest has been a 'giant' success. It was a year of the animals; from giant giraffes at the opening, the amazing 'man with the chicken head', Animal Religion from Spain, to giant bees buzzing around the City doing the 'Waggledance'. I thought the ten year anniversary would be difficult to top, but this year was even better, packed audiences at every performance- with the Unity as you've never seen it before. People came to take part from all over the world and brilliant projects involving young people. The streets were alive with activity!"

As one of the key events in Liverpool's 'Cultural Programme' the festival brings the world's best local, national and international movement and physical theatre artists to Liverpool.

The astounding response to this year's festival is a true reflection on the quality of the programming and the hard work and commitment from all involved, who manage to make the festival bigger and better year after year. It will be hard pushed to imagine what organisers will come back with next year, but are already excited for Physical Fest 2016.