Rathbones and University of Liverpool team up to attempt world land speed record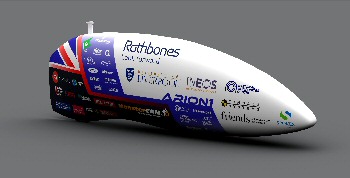 RATHBONE Brothers Plc (Rathbones) have announced that it will provide principal sponsorship for the University of Liverpool's project to design and build ARION1, a bicycle which will attempt to break the land speed record for fastest human powered vehicle, and bring the record to the UK for the 1st time. The project will see a team of undergraduate students from the University of Liverpool's School of Engineering attempt the record in September 2015, as part of the 'World Human Power Speed Challenge.' This event, if you do not know, is an annual event held in Battle Mountain, Nevada, USA. The current men's record is 83.13mph and the women's record is 75.69mph. The University of Liverpool team hopes to break the 90mph barrier, which would set new world records for both men and women. ARION1 is a 'recumbent' bicycle, where the cyclist pedals in a laid back reclining position. As such the rider acts as the ARION1's engine and the University of Liverpool Team have partnered with leading sports scientists from Liverpool John Moores and Liverpool Hope Universities, who have helped select and train the riders and provide ongoing support in the way of nutrition and performance monitoring. Philip Howell, Chief Executive of Rathbones, said:- "Becoming the principal sponsor of ARION1 is a wonderful opportunity to support an enterprising project at the cutting edge of technology and to encourage this team of engineering students. Rathbones has its roots in Liverpool and this endeavour combines the talents from across the city. Our 'Look forward' tagline is the essence of Rathbones' new brand and our sponsorship of ARION1 highlights our support for Britain's young entrepreneurs and future leaders." Dr Tim Short from the University of Liverpool said:- "This is a really exciting opportunity for engineering students at the University of Liverpool to put into practice all the skills they've learnt; and more besides; on a world-class engineering product. By linking in with the sports scientists, the students have put together a real, interdisciplinary team that represents the best way of designing new products. And hopefully we'll collect a World Record into the bargain!"

Further information about the ARION1 project can be found online.