Maggie's Merseyside celebrates over 8,000 visits in 1st year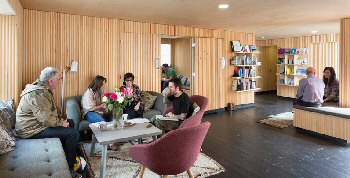 MAGGIE'S, the charity which provides free practical, emotional and social support for people with cancer and their family and friends, is celebrating its 1st anniversary on 23 June 2015. Maggie's Merseyside was opened on 23 June 2014 by Crosby born, George Davies, the founder of Next and George at ASDA. Since then more than 8,000 people have visited the Centre in the grounds of Clatterbridge to access support and information about cancer.

Kathy Wright, Centre Manager at Maggie's Merseyside said:- "It is wonderful to see Maggie's Merseyside celebrate its 1st birthday. The people of Wirral, Merseyside and Cheshire have truly made the Centre their own and I am delighted we have been here to offer a warm Maggie's welcome to men and women of all ages affected by cancer. Every year our Maggie's community develops and grows, but as always the kitchen table and our evidence based programme of support is at the heart of all that happens here. I am incredibly proud to be Maggie's Merseyside Centre Head and I look forward to welcoming many more people to our Centre in the years to come."

Built in the grounds of Clatterbridge, Maggie's Merseyside is a warm and welcoming place, with qualified professionals on hand to offer an evidence based core programme of support that has been shown to improve physical and emotional wellbeing. Emotional support might involve a 1-2-1 or group session with a clinical psychologist, stress reduction and relaxation workshops, or art therapy and creative writing courses. Practical support might include advice about benefits and eating well; specialist support for managing hair loss and skin care during and after treatment; courses such as:- 'Getting Started', for people who are newly diagnosed; or 'Where Now?' for those adjusting to life after cancer. Social support comes from the people who work in and visit Maggie's Centres, the supportive community around each kitchen table of people who understand what it is to be living with cancer. Maggie's relies on voluntary donations to support and grow its network of Centres and to develop its unique, high quality programme of support. The charity's aim is to make the biggest difference possible to people living with cancer and their family and friends. To find out more about Maggie's Merseyside and to see how the Centre supports people with cancer across Wirral, Merseyside and Cheshire please visit the Centre at:- Maggie's Merseyside, Clatterbridge Cancer Centre, Bebington, Wirral, CH63 4JY or get in touch on:- 07557 284816 or email:- joanne.dobbie@maggiescentres.org.