Customers on the ball in bank's keepie uppie charity challenge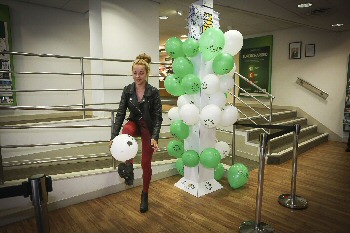 NIMBLE footed customers at a Birkenhead bank played a blinder when it came to a keepie-uppie charity challenge. Peter Evans, who is manager of the Lloyds Branch at the Town's Pyramids Shopping Centre, was looking for a special way of marking the 250th Anniversary of the banking giant at the same time as raising cash for Children in Need.

So as a coach for the Park Royal Junior Football Club's under 13 team in his spare time, 38 year old Peter decided on a special 1 day event in which he invited his customers to try to top a symbolic total of 250 keepie uppies, where the idea is to keep the ball in the air as long as possible just using your legs.

The goal was for every pound his customers paid out to take the challenge to be donated direct to Children in Need, which is the Lloyds Banking Group's charity of the year. And at the end of a hectic day over £200 went into kitty.

Peter, who lives in Birkenhead, said:- "It was our way of commemorating the fact the bank is 250 years old. As well as the keepie uppie challenge we had balloons, flags and other goodies to give away. We made it fun for families while raising some money for Children in Need. At the end of the day our customers did brilliantly. We had over 20 of them taking part and we raised a total of £200, which included donations and match-funding from Lloyds. We smashed through the original target of 250 keepie uppies before lunchtime and went on to notch up 500 by the time we finished at around 4pm. Some of the customers were really good but the real star of the show was 13 year old Anna Cull, the daughter of one of our customer service managers, Elaine Cull. She managed an incredible 87, which was by far the best performance of a very enjoyable day. I'd like to thank Anna and everyone else who took part."

Anna's polished performance was hardly surprising as she spent 4 years as a member of the Everton FC Academy. Anna, who lives in Upton and is in Year 8, at Woodchurch High School, said:- "I think I did quite well, but 87 wasn't nearly as many as the 148 I did when I was just messing about in my garden last week, but that doesn't count. I suppose I'm quite good at keepie uppie because of the football training I've done. Apart from the Everton Academy I also a midfielder for Tranmere Girls for a season and I now play in defence for Merseyside Schoolgirls under 14s. I love football and my favourite team is Liverpool who I go to watch as often as I can."

Anna's mum, Elaine, said:- "We're really proud of her and she did really well on the keepie-uppies. It's early days yet but when she finishes school she wants to do something in the way of sport, perhaps physiotherapy or something like that."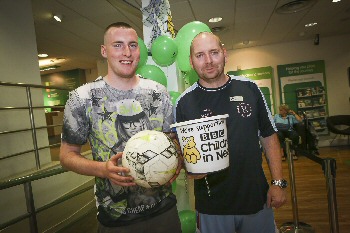 One of the 1st customers to test out his footie skills in the challenge was 22 year old Jack Hardie from Birkenhead. He said that although he used to play quite a bit when he was younger he'd not had a game for some time. "I thought I might be a bit rusty at keepie-uppie but when I had a go I think I managed to do quite well. I did 13 in a row and I reckon it could have been more if I'd had a bit more room. As we were doing it in inside the bank you had to keep the ball well under control."

Jack, who works as a painter, added:- "I was on my day off and just came in the bank to do a bit of business. It was a bit of surprise to be challenged to do some keepie-uppie but it was a lot of fun and Children in Need in a very good cause which I was happy to support."

One of the next customers to take the challenge was Amelia O'Brien, 19, from Woodchurch. She said:- "I just came into the bank with my mate and saw people were being invited to try the keepie-uppie. I was glad to have a go because I always try to support Children in Need whenever I can. I'm a football fan and go to watch either Liverpool or Everton playing most weeks, so I've seen the players do keepie-uppie before. I managed to do five before I dropped the ball. But it was a lot of fun and helped towards the total raised on the day."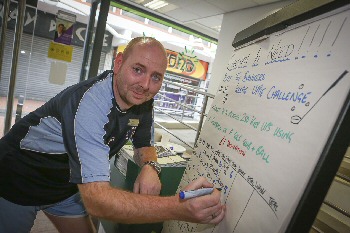 Kenneth Stenhouse, 42, from Birkenhead, managed just a couple more keepie-uppies, recording a healthy 8. But Kenneth, who has been working as a security guard since leaving the army after a 12 year hitch in 2012, reckons his tally could easily have been higher if he'd had on the right footwear. "I was wearing my new shoes and didn't want to spoil them but if it had been my trainers it would have been different. I've done quite a bit of keepie uppie playing five a side football in the army when I was a midfield defender. I'd just come in to do a bit of banking when I was asked to have a go and I was delighted to give it a try as I'm a strong supporter of Children in Need."

Bank manager Peter Evans's colleague Ian Griffiths, a senior personal banking advisor at Lloyds and keen golfer, also lent a hand with the fundraising by bouncing a golf ball on one of his clubs as many times as he could. His total is still being verified.

Derek Millar, Commercial Director at the Pyramids shopping centre said:- "This is a football mad area so I think this was a brilliant way of raising money for such a deserving charity. It's good to see our our tenants putting something back into the community and I'm sure they'll keep it up!"

Liverpool's St George's Hall To Unveil Its Exquisite Minton Tile Floor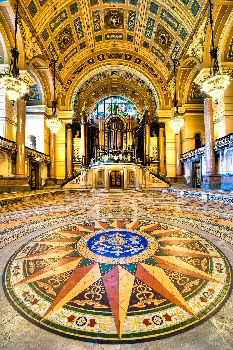 VISITORS to Liverpool's St Georges Hall will get the rare opportunity to view the spectacular Grade II listed building in all of its remarkable glory this August, as its famous Minton Tiled flooring will once again be unveiled from Friday, 7 August to Sunday, 16 August 2015.

Amongst the world's finest examples of an encaustic tiled floor, the handcrafted mosaic of more than 30,000 tiles were concealed in the 1860's to allow dancing and events at the prestigious venue.

The intricate and exquisite patterned tiled flooring depict the Liver Birds, the Roman god Neptune, sea nymphs, dolphins and tridents in what was the largest Minton pavement in the world when reconstructed.

Cabinet member for culture and tourism, Councillor Wendy Simon said:- "The fantastic Minton Tiles at St George's Hall are always hugely popular with tourists and residents each time they are revealed. The craftsmanship that has gone into the tiles is simply astounding and I would urge anyone who hasn't yet seen them to go along to St George's Hall and see these magnificent tiles."

The Hall will be open daily from 10am to 5pm (last entry 4pm) where visitors will be able to view Liverpool's hidden gem and gaze again at the site of the Great Hall in all its original grandeur.

There will also be 1 hour guided Walk the Floor Tours available each day at 10am to 11am and 4pm to 5pm in which visitors will learn about the history of the Hall and the famous flooring and then be able to access and walk on the World renowned Minton Tiled floor.

If that wasn't enough then why not enjoy a Night on the Tiles; each evening from 6pm to 9pm guests will be able to enjoy the rare privilege of being able to "walk" on the world heritage site floor whilst enjoying a free glass of fizz, and there will also be food available to purchase each evening.

Be sure not to miss this rare opportunity to witness one of the city's most iconic and grand buildings in all of its original splendour when it's infamous Minton Tiled flooring is unveiled from Friday, 7 August to Sunday, 16 August 2015.

For further information please visit:- StGeorgesLiverpool.Co.UK.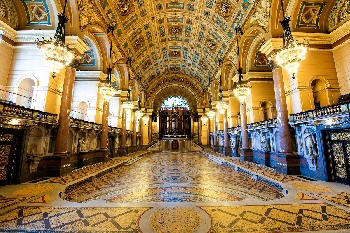 To recap...
EVENT DETAILS
► View St Georges Hall Minton Tiled Flooring... St George's Hall, St George's Place, Liverpool, L1 1JJ, running from Friday, 7 August to Sunday, 16 August 2015. Open daily from 10am to 5pm daily, with last entry at 4pm. Entrance fee is just:- £2.50 and can be paid at the Hall.

► Walk the Floor Tours... St George's Hall, St George's Place, Liverpool, L1 1JJ, running over Friday, 7 August to Sunday, 16 August 2015. Takes place daily at both 10am to 11am and 4pm to 5pm. £10 per person (pre book at the Heritage Shop). Please note that a maximum of 40 people per tour. No more can be added as it risks damage to the floor.
► 'Night on the Tiles' will be held at:- St George's Hall, St George's Place, Liverpool, L1 1JJ, over Friday, 7 August to Sunday, 16 August 2015. it will be open from 6pm to 9pm daily with a £12 per person charge (including booking fee). Tickets can be purchased in person at TicketQuarter at Queen Square, Liverpool, or online. Alternatively, you cal also call:- 0844 800 0410 to book tickets.
Liverpool parks & open spaces survey
LIVERPOOL City Council is asking for people's views on parks and open spaces. The survey will help the Council better understand the provision of open spaces across the city by securing views on the supply, quantity, quality, accessibility and demand for facilities. The results will feed into a wider Open Space Study; highlighting and then investigating where areas are perceived to be lacking or sufficient in open space. It sits alongside the work of the Strategic Green and Open Spaces Review Board, independently chaired by Simon O'Brien, which is looking at ways to help Liverpool retain its many and diverse green and open spaces. Liverpool has 10 large parks, more than 90 other parks and hundreds of other green spaces such as community gardens, sports pitches and allotments.
The survey is 1 of a number of projects feeding in to the preparation of Liverpool's Local Plan, which is a Government requirement and will set out how the city will meet demand for open space, housing, employment and retail between now and 2032/33. Councillor Malcolm Kennedy, Cabinet member for regeneration, said:- "We've got some fantastic parks and open spaces in Liverpool but what we need to better understand is how people use them, why they visit them or why they don't. This survey is about finding out more about their usage, what people think of the quality and availability and how important they are. We are keen to hear from local people in order to gain a greater understanding of local circumstances and views towards the amount and use of open space provision."

The questions are relevant to all publically accessible open spaces, whether owned by the City Council or other organisations. Simon O'Brien, independent chair of the Strategic Green and Open Spaces Review Board, said:- "I would urge people to go online and fill in the survey to help give the fullest picture possible of the use of our parks and open spaces. This valuable piece of research will make an important contribution to my final report."

The Liverpool Parks and Open Space User Feedback Survey can be found online and will run until Friday, 28 August 2015.