Catwalk to celebrate those who stand out from the crowd
ORGANISERS behind Liverpool's planned record breaking catwalk have joined up with a leading anti hate crime charity in a special call out to the alternative community.

The Very Big Catwalk, in association with Very.co.uk, will take over the Pier Head on Saturday, 4 July 2015. Organised by the City Council they are working in partnership with The Sophie Lancaster Foundation to make sure groups such as punks, goths, emos and metallers are represented in this snapshot of Liverpool life.

The Foundation was set up following the death of 20 year old Sophie who was attacked in Bacup, Rossendale because of the way she looked. Sophie's mum, Sylvia, set up the charity to highlight the issues of hate-crime and focus on creating respect for, and understanding of, subcultures in our communities.

After being approached by fashion producer and catwalk manager Jane Galpin, Sylvia didn't hesitate to sign up the Foundation to be part of the event which will see the city attempt to take the Guinness World Record for 'most models on a catwalk'.

And organisers want the region's alternative community to follow the Foundation's lead and join them on the catwalk on the 4 July 2015, when Sophie's mum and family will take the lead in their section.

Sylvia said:- "We are proud to be able to represent alternative subcultures at this unique event. My aim to create a positive legacy to Sophie will be strengthened as together we show how we should celebrate, not fear "difference". I hope as many of our supporters and all the lovely moshers, goths and punks join us to send out the message; Stamp Out Prejudice Hatred and Intolerance Everywhere."

Anyone; alternative or non-alternative; who wants to join The Sophie Lancaster Foundation team on the catwalk just needs to turn up at the Water Street entrance of Liverpool's Cunard Building on the Pier Head at 3pm on Saturday ready to showcase their amazing looks and help Liverpool make record breaking history.

Jane Galpin said:- "It's incredibly important that this catwalk represents all aspects of Liverpool life and celebrating sub-cultures is a huge part of this. I was so pleased when Sylvia agreed to be part of the event as her reach and influence are invaluable. We want to infiltrate all corners of the community, especially those who may not normally associate themselves with a fashion event, and give them this unique opportunity to showcase just how fabulous they are. Whether you dress head to toe in black, walk around the city in hair rollers, dye your hair green or are covered in tattoos; we want all of you! The Liverpool people are a beautiful eclectic mix and that's exactly what we want to see on the 4 July 2015."

The Very Big Catwalk forms part of Liverpool's Transatlantic 175 weekend which is curetted by Creative Director Wayne Hemingway MBE, with the world record attempt organised by Culture Liverpool and hosted in partnership with Liverpool based online retail giant Very.co.uk.

Any individuals interested in signing up to be part of this unique event should visit the Very Big Catwalk section online. Any groups interested should email:- verybigcatwalk@liverpool.gov.uk.
For more information visit:- OneMagnificentCity.Co.UK or follow @OMCLpool on Twitter and One Magnificent City Liverpool on Facebook.

For more information about The Sophie Lancaster Foundation visit SophieLancasterFoundation.Co.UK or follow @sophie_charity on Twitter and The Sophie Lancaster Foundation on Facebook.
2015 NHS North West Games
NHS staff from nineteen different organisations will take part in the fifth annual NHS North West Games on Sunday, 5 July 2015. The annual health and wellbeing event is now firmly established in the NHS calendar with staff taking part to compete for a winning title in a 5k run, football, netball, badminton and rounders' competition. The annual golf competition took place at Hough Wood Golf Course St Helens last week with Team Merseycare taking the 2015 title. The rest of this year's events take place at Edge Hill University sports campus, Ormskirk from 9.30am. As well as the range of field, court and track events for staff, this year's event also includes a host of free family fun activities including children's entertainment, face painting and assault course, climbing wall and a 2k fun run for the children to compete in with sports activity taster sessions on offer too. Alex McCrudden, chair of the NHS North West Games steering group said:- "This is our 5th year, and it gets bigger and better every year. We really want staff to bring their families along and get involved this year. The games are a fantastic opportunity for NHS organisations to promote regular participation in physical activity and sport to encourage healthy lifestyles for their staff and families. And it's just a really good day out! Any NHS staff members are invited to come down with their families and support their organisation." Participating organisations:- 5 Boroughs Partnership NHS Foundation Trust; Aintree University Hospital; Alder Hey Children's Hospital; The Clatterbridge Cancer Centre; Countess of Chester; Cheshire and Wirral Partnership; Liverpool Communty Health; Liverpool Heart and Chest; Liverpool Womens Hospital; Mersey Care; North West Ambulance Service; Royal Liverpool and Broadgreen University Hospitals; Salford Royal NHS Foundation Trust; Southport and Ormskirk Hospital NHS Trust; St Helens and Knowsley Teaching Hospitals NHS Trust; The Walton Centre; Warrington and Halton Hospitals NHS Foundation Trust; Wirral Community Trust and NHS Reserves.

5 year old with cerebral palsy walks 15 miles for his charity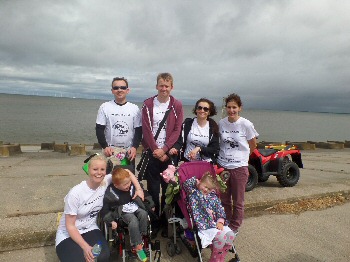 5 year old Zac Owen from Frodsham, and 80 others, walked the Wirral Coastal Walk on 28 June 2015, in support of the charity he attends, Stick 'n' Step. Zac and his group of over 20 family and friends contributing a significant amount to the £3,500 estimated running total. £3,500 will ensure a child, like Zac, can attend Stick 'n' Step for the next year. Stick 'n' Step equips children with cerebral palsy with all the tools needed to lead independent lives.

In its 30th year, the Wirral Coastal Walk is organised by the Rotary Club of North Wirral and is a 15 mile picturesque stroll from Seacombe Ferry Terminal to Wirral Country Park at Thurstaston. Along with their families and friends, a total of 10 children who attend Stick 'n' Step participated in the walk in aid of their charityl; 3 of whom were aged just 5. One of them was Aash Evans, whose dad Mark won £50 for Stick 'n' Step in a prize draw at the start line. This is the 1st year that those who benefit from Stick 'n' Step's services have supported it at the Wirral Coastal Walk on this scale. They made up almost half of its total fundraisers on the day.

Also taking part was trustee Karen Turner Riley and employee fundraiser Clare Ashworth, who recruited 11 others, including her 3 year old son. John Lewis store was the biggest single group supporting Stick 'n' Step this year, with 22 of its staff getting involved. Wirral Chamber of Commerce sponsored the charity by donating £500, which covered the cost of all branded T-shirts given out. 3 of its employees also took part.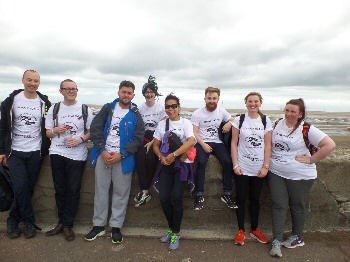 Commented David Owen, Zac's father, who also walked the coast this weekend:- "Zac and his twin sister Hannah were born in the USA in 2010. After moving back to the UK, at 7 months old Zac was diagnosed with low muscle tone, global development delay and hyper extensive joints. When he 1st attended Stick 'n' Step in 2013, Zac was unable to sit, crawl or even walk with a frame; he now does all of these things. These days, Stick 'n' Step is an integral part of Zac's educational week. We love this charity and everything they have done to help Zac and our family. We couldn't think of a more fitting way to raise funds and say 'thank you' than to let Zac show what he can now do. Walking 15 miles was by far the biggest challenge of his life. Zac took every step in his stride; he was inspirational. It was a very special and moving occasion for us all."

Commented Natasha Miner, community and events fundraising coordinator at Stick 'n' Step:- "Our relationship with community fundraisers has grown significantly over recent years. This is the 1st time we've been proactive in recruiting walkers for us and the response was unprecedented. 80 is only our official figure; many people walk for us at this event each year without our knowing. It is only when their donations are made days or even weeks later that we ever get a clear idea of the level of support. These independent fundraisers, who often support us without any direct affiliation to our cause, are as much appreciated as those who we know about. This year's Wirral Coastal Walk was undoubtedly a huge success for us and the amount raised is significant."

Stick 'n' Step provides free conductive education sessions, which are not offered by the NHS, to help children with cerebral palsy learn vital life skills, like walking and talking, through participating in group activities. It's a place where they can make friends and grow in confidence, and where parents have access to respite and support. Families travel each week from across the North West and north Wales to the Stick 'n' Step centre in Wallasey to receive this life changing service. Stick 'n' Step receives no government funding and relies completely on fundraising to cover its annual running cost of £350,000.

For more information about Stick 'n' Step and how you can help visit:- StickNStep.Org or call:- 0151 638 0888.