Children turn out in force for new Fun Run series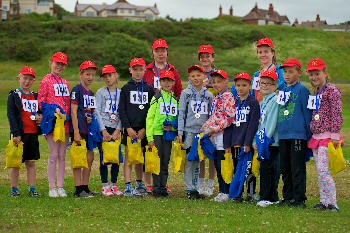 ALMOST 300 children from across the region descended on New Brighton, on Sunday, 28 June 2015, to take part in a new fun run series. The BTR Kids' Fun 1K 2K 3K event was staged on The Dips on Coastal Drive at the seaside resort.

Hosted by established race organisers BTR, the event attracted youngsters of all ages, from toddlers aged 1 up to the age of 14 year old, some of whom were accompanied throughout the run by their parents.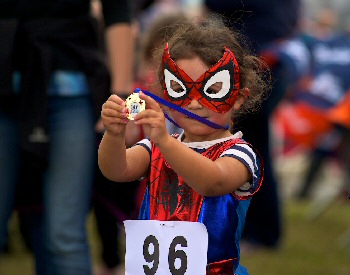 Participants included youngsters in fancy dress, a group from Lydiate Primary School, and a team of Mini Milers from running club Kirkby Milers.

Entertainment was provided by Claire Simmo from Radio City and the Street Team, who were joined by mascots Courage from Radio City charity Cash For Kids, and Claire Bear from Claire House Children's Hospice.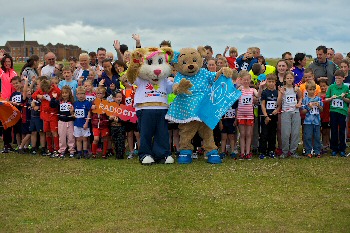 BTR Race Director Alan Rothwell added:- "We already stage 2 popular children's 1K fun runs as part of our Liverpool Santa Dash and a race day at Port Sunlight, but this is the 1st event we have organised just for youngsters. The Dips proved an ideal and safe environment to stage the event. It was fantastic and encouraging to see the next generation of runners thoroughly enjoy themselves, especially when they were presented with their medals and T-shirts. We feel it's important to give young people their own platform as an introduction to the sport, giving them their very own chance to shine."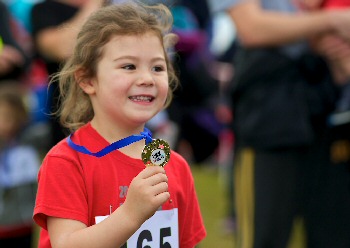 The youngsters taking part included a group from Chernobyl, aged between 8 and 13 years old, who completed the 1K fun run.

The children are from Belarus, which received 70% of the radioactive fall-out from the explosion in 1986. Their trip has been organised by the Wirral branch of Chernobyl Children's Life Line, and they are staying with host families across Wirral for a month's respite.

Bubbles World of Play at New Brighton's Marine Point kindly sponsored the children from Chernobyl to take part in the 1K fun run, which was followed by lunch and a play experience at the children's adventure centre.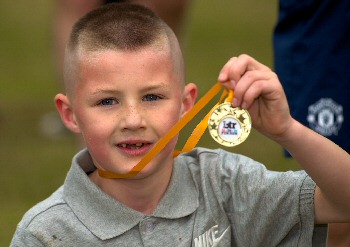 BTR Liverpool is the leading independent organisation for creating, managing and delivering headline race events in Liverpool City Region. Its growing portfolio includes the Mersey Tunnel 10K, Wirral Half Marathon/10K, Port Sunlight 10K/5K, Vitality Liverpool Half Marathon, and Liverpool Santa Dash.

BTR recently won the title of Event Of The Year at the Wirral Tourism Awards 2015 for the Wirral Half Marathon/10K.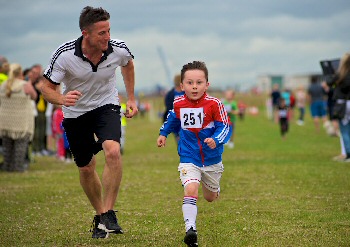 The next event in the BTR calendar is the 52-mile Tour Of Merseyside, over 5 July to 11 July 2015. The event is made of up 6 races across seven days at locations including Southport, Thurstaston and Hale Village.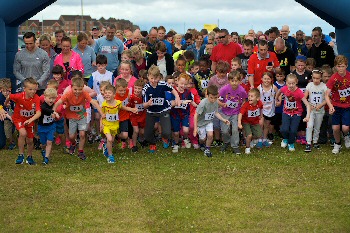 Edge Hill University reveals honorary degree recipients ahead of 2015 graduations
RENOWNED film director Terence Davies, actresses Dame Janet Suzman and Jane Horrocks and The Farm's Peter Hooton are among a number of esteemed figures set to receive honorary degrees from Edge Hill University this summer. Each of the 6 recipients; leaders in a range of areas spanning music, theatre, film, law and neuroscience; will be recognised by Edge Hill for the contribution they have made to society, which resonates with the University's teaching and research. Vice Chancellor Dr John Cater said:- "Each year we seek to recognise individuals whose outstanding achievements resonate with the ethos of Edge Hill University. This summer we are delighted to recognise the contributions of 1 of The Times' 'most influential women of this century', the neuroscientist Professor Sarah Jayne Blakemore, the director and BFI Fellow Terence Davies, his fellow Liverpudlian and pioneer in popular music, Peter Hooton, the 'absolutely fabulous' actor, comedian and singer, Jane Horrocks, former Pro-Chancellor Michael Pinfold, and Dame Janet Suzman, the internationally acclaimed actor, director and writer. We are privileged and delighted to welcome them as part of the University community, and very much look forward to next month's ceremonies." Honorary doctorates will be conferred on the following individuals during Edge Hill University's graduation ceremonies at the Ormskirk campus between 20 and 24 July 2015:-

► Professor Sarah Jayne Blakemore - is a Royal Society University Research Fellow and Professor of Cognitive Neuroscience at UCL. She is Leader of the Developmental Cognitive Neuroscience Group at the Institute of Cognitive Neuroscience, whose research focuses on social cognition and decision-making in human adolescence. Professor Blakemore has been awarded a number of prizes including the British Psychological Society Doctoral Award 2001, the British Psychological Society Spearman Medal for outstanding early career research 2006, the Lecturer Award 2011 by the Swedish Neuropsychology Society and the Young Mind & Brain Prize from the University of Turin 2013. She is actively involved in Public Engagement with Science, frequently gives public lectures and talks at schools, has worked with the Select Committee for Education, and acted as scientific consultant on the BBC series The Human Mind in 2003. She was named in the Sunday Times 100 makers of the 21st Century list 2014 and one of 30 under 45 in The Times Young Female Power List 2014.

► Terence Davies - Liverpool born filmmaker Terence Davies' 1st three films (2 of which he wrote and directed while still studying at Coventry School of Drama and the National Film School), Children, Madonna and Child and Death and Transfiguration comprise The Terence Davies Trilogy, which put him on the cinematic map as one of the most original British film-makers of the late 20th century. In the Trilogy and the 2 films that followed, Distant Voices, Still Lives (1988) and The Long Day Closes (1992), Davies cinematically recreates his childhood and youth in the Liverpool of the 1940s and 50s. Davies regards the past with nostalgia as well as resentment. All the films are imbued with tender memories of the communality of working class life and the old forms of entertainment, such as listening to the wireless, visiting the cinema, and singing together. 'The House of Mirth (2000)' marks Davies' furthest departure from his childhood obsessions. Based on a novel by Edith Wharton set in America at the beginning of 20th century, the main theme explores the struggle of an individual with a culture. The film Of Time and The City, from 2007/08 and produced by Liverpool's Hurricane Films, reflected Davies's growing up in Liverpool in the 1950s and 1960s, using newsreel and documentary footage supplemented by his own commentary voiceover and contemporaneous and classical music soundtracks. Of Time and The City was unveiled at the 2008 Cannes Film Festival to great critical acclaim. Terence Davies was made a Fellow of the British Film Institute and his films have been nominated for awards at all the major international film festivals, including BAFTA, BIFA and the London Film Festival. He is also a published novelist.

► Peter Hooton - is founder of Liverpool band The Farm, who have a key place in the musical life of Liverpool and are acknowledged as pioneers in a period of popular music, with a wide and enduring influence. Hooton was also a driving force in the creation of the Justice Collective number one single in support of the Hillsborough campaign, as well as live touring Justice Tonight concerts that preceded it. He founded influential music and football fanzine The End, and has written several books, chapters and articles on football and popular culture. Peter has mentored young North West musicians, and contributed to the TEDx series of public Technology, Entertainment, Design conferences. He serves on the committee of Spirit of Shankly, a Liverpool Football Club supporters union.

► Jane Horrocks - is a highly accomplished stage, film and TV actor and singer. Born in Rawtenstall in 1964, her strong Lancashire accent remains an essential part of her identity. After taking a drama course at Oldham Technical College, Jane was accepted at the Royal Academy of Dramatic Art (RADA) and, on graduation, joined the Royal Shakespeare Company.

Winning critical acclaim for her role as Nicola in Mike Leigh's film Life is Sweet (1991), Jane came to national prominence in the stage show The Rise and Fall of Little Voice (1998), a musical play written specially for her by Jim Cartwright to showcase her prodigious talent for vocal impersonation. Successfully transferring to film in 1998, her portrayals of legends such as Judy Garland, Marilyn Monroe, Billie Holiday and Shirley Bassey are, quite simply, stunning, leading to Best Actress nominations from BAFTA, BIFA and the Golden Globes in 1999.

On television, Jane is perhaps best known for her role as the ditsy secretary Bubble in Absolutely Fabulous. Most recently, Jane has reverted to the stage playing Ella Khan in the London revival of East is East and many will have been moved by her reading at VE Day 70: A Party to Remember broadcast by the BBC on 9 May 2015.

► Michael Pinfold - Wirral born Michael Pinfold developed a passion for law during his school years at Haileybury College in Hertfordshire. A stellar career followed; admitted as a solicitor in 1970 and going on to specialise in company law, Michael became the 1st Company Secretary of the Universities' Superannuation Scheme, as well as advising companies as diverse as Pilkington's, Johnsons the Cleaners and the Blue Funnel Line. His work for pension funds underpinned investments in many of the shopping centres, retail and industrial parks we use today. In 2001 he took on two external commitments which he would honour long after he retired in 2003, one of which was joining Edge Hill's Governing Body. Appointed Deputy Chair in 2005, he advised on and strongly supported the managed entrepreneurialism that has characterised the University's success over the past decade. In 2008 he was appointed Chair of the Board of Governors, and under Michael's Chairmanship the University was shortlisted as Times Higher University of the Year 3 times, finally being awarded the title after a fourth shortlisting in November 2014, when Michael's maximum twelve years of service had just come to an end.

► Dame Janet Suzman - has remained one of the most respected classical stage actresses of her time. After her professional stage debut with Billy Liar in1962 she joined the Royal Shakespeare Company and received rave notices for her Joan of Arc in The War of the Roses. She made her official London debut in a production of A Comedy of Errors (1963). Janet built up an impressive classical resumé portraying most of Shakespeare's illustrious heroines and also appeared in several BBC-TV versions of the classics.

In 1969 Janet married director Trevor Nunn and together they collaborated on some of England's finest stage productions, notably Antony and Cleopatra (1972) (Janet is currently featured in Sky Arts in this role), Titus Andronicus (1972) and Hello and Goodbye (1973), which won Janet the Evening Standard award. She won a second for her role of Masha in the 1976 production of Chekhov's The Three Sisters. Later work included notable roles in She Stoops to Conquer, The Good Woman of Setzuan and her Hedda Gabler.

In the early 1970s Janet branched out into films and, following an auspicious turn in A Day in the Death of Joe Egg she won the coveted role of Czarina Alexandra in the florid historical piece Nicholas and Ale, for which she was nominated for the Academy Award for Best Actress, BAFTA and the Golden Globe. She went on to grace a number of films including Voyage on Demand (1976), Nijinsky (1980) and Priest of Love (1981).

In a reprise of her real life family's activism, Suzman co-starred in the anti-apartheid film A Dry White Season (1989). In the 1980s Janet was inspired to direct and coach. She was a visiting professor of drama at Westfield College, London, and later returned to South Africa to provide multi ethnic castings in versions of Shakespearean plays. In 2002 Janet returned to the RSC to perform in The Hollow Crown, and most recently appeared in a London production of Whose Life Is It Anyway? (2005) starring Kim Cattrall. Suzman was appointed Dame Commander of the Order of the British Empire (DBE) in the 2011 Birthday Honours, is an Honorary Fellow of the Shakespeare Institute, and was awarded the Pragnell Award for lifetime services to Shakespeare in 2012.
BBC Radio 2 award winning Duo at the Atkinson
JOSIENNE Clarke and Ben Walker the 2015 BBC Radio 2 Folk Award Winners for 'Best Duo' appear at The Atkinson on Friday 10 July.

The couple infuse ageless stories of love and loss with their exquisite command of many instruments. Whether interpreting words centuries old or singing her own authentic lyrics, Josienne's jewel-like voice finds the nuance in the simplest phrase and sends it, effortlessly, straight to your heart. Ben's musical tact and flair for arrangement provide the perfect setting, allowing the song centre stage.

After meeting in July 2009 they have forged their own path through traditional music. The live performance is a thing of delight; enchanted reviewers have spoken of shimmering cathedrals of sound; and its purity will stay with you long after the last note fades.

Critical recognition soon followed, along with the Isambard Folk Award, and the FATEA Award for Best Album and Female Vocalist of the Year, and the Spiral Award for Best Duo.

In 2013 their debut release on Navigator Records, 'Fire and Fortune', reached No.1 on the Amazon folk chart within three months, garnered rave reviews and a constellation of stars across the board, and brought them coveted BBC Radio 2 Folk Award nominations for Best Newcomers and Best Duo in 2014.

Their new album Nothing Can Bring Back the Hour was one of the most anticipated releases of 2014 and reviews have been outstanding.

Tickets are:- £12 and can be booked online* or by calling:- The Atkinson's Box Office on:- 01704 533333*. Tickets are also available over the counter.
* Please be advised that there is a £2.50 booking fee for telephone and online sales.

To be added to the venue mailing list visit:- TheAtkinson.Co.UK.