North West roads plan biggest for 50 years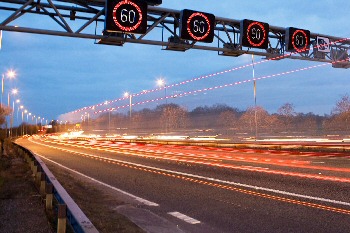 DRIVERS in the North West are set to benefit from the biggest increase in capaCity on the region's roads for 50 years. Highways England has announced that it plans to invest £1.5 billion in the North West's roads over the next 5 years, including creating nearly 80 miles of 'Smart Motorway'. The government owned company, which took over responsibility for England's motorways and major A roads earlier this year, set out its 5 year plan for the North West at a regional launch event at the Macdonald hotel in Manchester on Tuesday, 30 June 2015.

Work will start on 7 new 'Smart Motorway' projects by 2020, in addition to the project currently taking place on the M62 and M60, cutting congestion and improving journey times for drivers. 2 of the schemes on the M62 will link up with existing projects to create the biggest single stretch of 'Smart Motorway' in the country, covering nearly 60 miles between the North West and Yorkshire. Other major schemes planned for the region include bypasses on the A556, A585 and A57, new Motorway Junctions on the M55 and M56, and Junction upgrades on the M6. And during 2015/16 alone, 130 miles of lanes on motorways and major A roads will be resurfaced, 40 miles of safety barriers will be installed, and 2,900 lighting columns will be upgraded.

Alan Shepherd, North West Regional Director at Highways England, said:- "We're investing £1.5 billion on improvements to the North West's motorways and major A roads over the next 5 years, creating the biggest increase in capacity on the road network for 50 years. That includes nearly 80 miles of 'Smart Motorway' where the hard shoulder will be converted into extra lanes and variable speed limits will be used to keep traffic moving. New bypasses and new and improved Motorway Junctions will also all help to tackle congestion, benefitting both businesses and local residents. It's vital that we continue to improve the existing road network as well, which is why we're investing £90 million this year alone on resurfacing, safety barriers and other maintenance projects. The North West's motorways and dual carriageways form the backbone for the region's economy and this huge investment will ensure they remain healthy for many years to come."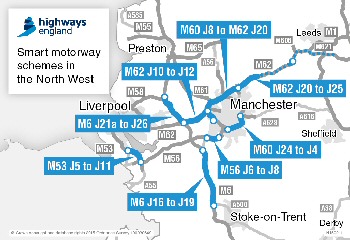 Work on the North West's 1st 'Smart Motorway' began in July 2014 and affects a 17 mile stretch of the M60 and M62 in Greater Manchester. The £202 million project is due to be completed in autumn 2017.

A new £233 million 'Smart Motorway' scheme along an 18 mile section of the M6 between Junction 16 at Crewe and Junction 19 at Knutsford is due to start this autumn.

Construction work on a £192 million project to build a new A556 link road between the M56 near Bowdon and the M6 near Knutsford also began last year and is due to be completed by winter 2016/17.

Other major projects planned to start construction work before 2020 include new bypasses on the A585, to remove a major bottleneck on the main road to Fleetwood, and on the A57, to tackle congestion near Mottram and Hollingworth in Tameside.

Another scheme will improve access to the Port of Liverpool along the A5036, new Motorway Junctions will be created on the M56 (Junction 11a) and M55 (Junction 2) near Preston, and major upgrades will be made to Junction 19 of the M6 near Knutsford and Junction 22 near Newton Le Willows.

Jeremy Bloom, Highways England's Major Projects Director for the North, said:- "These schemes will bring significant long term benefits to drivers on motorways and major A roads in the North West, as well as to the economy as a whole. The construction work will, of course, bring some disruption in the short term but we will ensure that we keep this to a minimum to keep traffic flowing. When the schemes are completed, road users will experience safer, more reliable and less congested journeys."

2 new 'Smart Motorway' schemes on the M62 will run on a 9 mile section between Junctions 10 at the M6 interchange near Warrington and Junction 12, at the M60 interchange, near Eccles, and on a 19 mile section between Junction 20 at the A627(M) interchange near Rochdale and Junction 25 near Brighouse, West Yorkshire (including 7 miles in the North West).

A 7 mile stretch of 'Smart Motorway' will be created on the opposite side of the M60 to the current scheme, between Junction 24 at the M67 interchange near Denton and Junction 4 at the M56 interchange near Cheadle.

A 10 mile section of the M6 between Junction 21a at the M62 interchange near Warrington and Junction 26 at the M58 interchange near Skelmersdale will also become a 'Smart Motorway', along with a 4 mile section of the M56, between Junction 6 and Junction 8m located near Manchester Airport.
Finally, a 6 mile stretch of 'Smart Motorway' will be created on the M53 between Junction 5 at Queensferry and Junction 11 at the M56 interchange near Ellesmere Port.

More details on Highways England's 5 year plan are available online.

The Miss English Rose Model Competition returns to Southport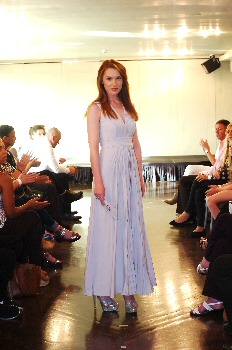 MODELS from across England headed to Southport at the weekend to take part in the Miss English Rose and Miss Teen English Rose competition. The historic competition was re-launched by the organisers of the Miss British Isles competition and will now become an annual event in its traditional Southport Home.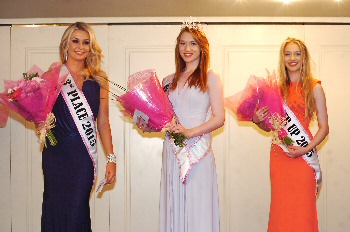 24 year old Victoria Gleeve from Liverpool was crowned Miss English Rose while 13 year old Ellie Brown from Manchester was the Teen English Rose winner. Local Southport model Andrea Lesbirel came 3rd in the Miss English Rose Competition. Both girls were taking part in their 1st modelling competitions and now qualify for the Miss British Isles finals in 2016. Victoria Gleeve has just graduated in Psychology at Hope University, Liverpool. She has also modelled at Liverpool Fashion Week. Ellie Brown attends Cardinal Langley High School in Manchester. Both of the winners will be taking part in local events to promote the Miss English Rose competition which will be an even bigger event in 2016. Further details throughout the year can be found online.