New cancer hospital proposals pass crucial milestone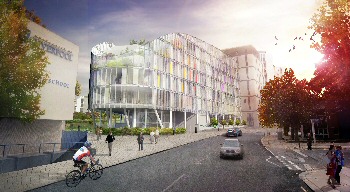 PROPOSALS to develop a major new cancer hospital in the heart of Liverpool have passed a key milestone with approval of an outline business case for the scheme.

The Board of The Clatterbridge Cancer Centre NHS Foundation Trust, which provides the region's specialist cancer service, agreed that there was a very strong case for the Transforming Cancer Care project and it should now proceed to the final stage of pre-construction planning and design.

Proposals for the new cancer hospital; which would be built next to Royal Liverpool University Hospital and the University of Liverpool; went to public consultation last year and received an overwhelmingly positive response. They were also unanimously approved by the Joint Health Scrutiny Committee for Cheshire and Merseyside representing Cheshire West and Chester, Halton, Knowsley, Liverpool, Sefton, St Helens, Warrington and Wirral councils.

Board approval of the outline business case means construction will now go ahead if the project receives planning permission and the full business case is approved in summer 2016. It is not a private finance initiative and will be funded by a combination of NHS money including the Trust's own funds supplemented by a fundraising appeal and internal NHS borrowing.

Andrew Cannell, Chief Executive of The Clatterbridge Cancer Centre, said:- "The new hospital on West Derby Street in Liverpool is a key element in our Transforming Cancer Care programme for expanding and improving specialist care for people in Merseyside, Cheshire, the Isle of Man and surrounding areas. We passionately believe that this major investment will deliver enormous benefits to patients for generations to come. Although we already provide excellent care, this new hospital and associated improvements will truly establish Merseyside and Cheshire as a leading Centre for groundbreaking cancer treatment and research."

Due to open in 2018, the Liverpool hospital will become the Trust's main base and will be in addition to its Wirral site, its radiotherapy Centre at Aintree and the chemotherapy and outpatient clinics it runs across Merseyside and Cheshire including in the Linda McCartney Centre and Marina Dalglish Units.

Unlike Wirral, the new hospital will have on-site access to key support specialties such as intensive care and cardiology which are increasingly important for the most seriously unwell and complex cancer patients. Cancer research and clinical trials of new treatments will be significantly enhanced by bringing The Clatterbridge Cancer Centre together with researchers from the University of Liverpool, NHS and other key partners.

Radiotherapy will be available on three sites; central Liverpool, Wirral and Aintree; rather than the current 2. The main cancer hospital will also be more centrally located than Wirral for people from across Merseyside and Cheshire.

The Transforming Cancer Care project also includes redeveloping and upgrading facilities at The Clatterbridge Cancer Centre's Wirral site, which will remain a busy and vibrant Centre providing outpatient care; the vast majority of cancer patients are outpatients. Services are also being improved across Merseyside and Cheshire to enable patients to have their treatment as close to home as possible. The total project cost, including the new hospital in Liverpool, redevelopment of the Wirral Cancer Centre and equipment, is expected to be £124m.

Since January 2015, frontline NHS staff from The Clatterbridge Cancer Centre have been working with a team from Laing O'Rourke and architects BDP to develop detailed designs and floor plans.
If you did not know the background to the hospital, the Transforming Cancer Care is a £124m investment in expanding and improving services for people in Merseyside, Cheshire and surrounding areas. It includes a major new specialist cancer hospital next to the University of Liverpool and Royal Liverpool University Hospital, and redeveloping and upgrading the Wirral site.

The Clatterbridge Cancer Centre will also retain its existing hospital in Wirral, its radiotherapy unit on the Aintree site, and its chemotherapy and outpatient clinics across Merseyside and Cheshire. These include chemotherapy in the Linda McCartney Centre in Liverpool, the Marina Dalglish Units at Aintree and Southport hospitals, Liverpool Women's Hospital, the Countess of Chester Hospital, CanTreat in Halton Hospital, St Helen's Hospital, and Broadgreen Hospital.

The project is not a private finance initiative. It will be funded by a combination of NHS money including the Trust's own funds supplemented by a fundraising appeal and internal NHS borrowing.

Merseytravel signs up to the Armed Forces Corporate Covenant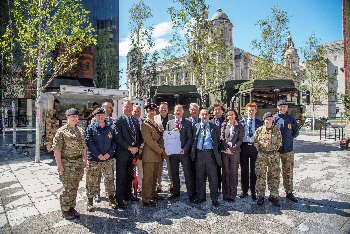 MERSEYTRAVEL has signalled its commitment and support for the men and women serving their country by signing up to the Armed Forces Corporate Covenant.

The Covenant is a public pledge that businesses and other organisations can make to demonstrate their support for the armed forces community. This includes present servicemen and women, as well as those who have since left active service.

Some of the ways Merseytravel will demonstrate its commitment include promoting the fact that we are an armed forces friendly organisation, supporting our employees who choose to be members of the Reserve forces and actively participate in Armed Forces Day, which saw the Mersey Ferries fly the Armed Forces Flag to mark this year's event.

Merseytravel is also looking into ways to support former Armed Services personnel into training schemes to help them get into employment in the transport industry in roles which suit their skillset.

Cllr Liam Robinson, Chair of Merseytravel, said:- "Signing the Covenant is one way we can show our support to the men and women of our City region who currently serve their country and those who have in the past. We recognise that these brave individuals put their life on the line, facing possible serious injury or death to protect our country. As an organisation, we will support them in whatever way we can by following the principles of the covenant."

Lieutenant Colonel David Ashman RLC – Commanding Officer 156 Regiment Royal Logistic Corps, said:- "156 Regiment Royal Logistic Corps has been part of Liverpool's rich history since 1919 and so we very much feel the close ties the Armed Forces have with the City , the local community and its people. Today we are celebrating one of Liverpool's largest employers signing the Corporate Covenant which further strengthens the alliance between Liverpool's business community and the City 's Armed Forces community."

Bob Blanchard, Chairman of the Liverpool Veterans HQ, said:- "It is important that local employers get behind and support our veterans and those returning to Civvy Street. The support and backing from Merseytravel has been excellent and today with the signing of the Corporate Covenant, they have now cemented that partnership and have shown their commitment to supporting our Veterans and Reservists."
Time Travel at the National Waterways Museum
SOLDIERS, sailors, merchants and housewives from 1000 years of Cheshire history and beyond will be bringing the National Waterways Museum to life at the History Fun Weekend on Saturday, 11 July and Sunday, 12 July 2015. Over this colourful weekend the museum will be taken over by re-enactors from many different periods from Vikings to World War II and many periods in between.
General Manager of the National Waterways Museum, John Inch said:- "We're looking forward to welcoming several re-enactors to the museum. It's set to be a great weekend where we will be firing old muskets and cannons and much more… This year you will be able to have a chat with a Roman or a Viking, see soldiers from past eras or why not sneak a selfie and post it to our Facebook page."

A further date for the diary is Sunday, 16 August 2015, when Horses at Work and War will return for the 6th year. This event has become one of the most popular attractions in the Museum's calendar, and visitors will be able to see working horses giving a unique demonstration of horse drawn canal boating, and have the opportunity to take a wagonette or pony ride.

This year there will also be the opportunity to hear about how horses were used during wartime; both the Napoleonic era, 1815 and First World War 1915.

During both of these events, all the usual Museum attractions will be available to visitors; displays of historic boats, indoor exhibitions including the History of Ellesmere Port, soft play area and activities, boat trips and more.
For more information please visit:- CanalRiverTrust.Org.UK/NWM.