Liverpool Pride Needs You! Charity Calls Out For Support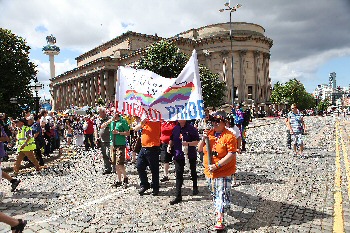 SINCE previously announcing a downsize in scale to this year's festival, Liverpool Pride is now launching new campaigns for the local and business communities to gain financial support to sustain future Pride events in the City .
At a time when the UK is celebrating the USA's decision on legalisation of gay marriage by turning their social media images rainbow colours, the organisers of Liverpool Pride charity has faced difficulties in attracting additional sponsors to help fund the format that attendees have come to expect in recent years. In response to this, businesses are encouraged to sign up to become a Friend of Liverpool Pride where they are able to make a donation to the charity, helping to sustain ongoing work and to secure funding for 2016 and beyond.

By making an annual pledge of £250 towards the charity, Friends of Liverpool Pride businesses will be listed on the Liverpool Pride website on a dedicated page, which will include links to their own web pages, as well as social media support to Liverpool Pride's 28,000 combined Twitter and Facebook followers.

Liverpool Pride also invite local businesses to get involved in a fundraising day they are launching, called Dress to Impress. This year's theme is Love is No Crime and on Friday 31 July the charity are encouraging businesses and their staff to raise money by dressing in their most wild and wonderful interpretations of the theme as well as the trademark rainbow colours. Companies can then share their flamboyant and colourful outfits by posting their selfies on facebook and twitter using hashtag #loveisnocrime. This will help launch the Liverpool Pride programme of events on 1 August and 2 August 2015.

The Liverpool public will also be able to show their support by making donations from as little as £2.50 to the charity via a donation button on the Liverpool Pride website.
Despite the changes to this year's Pride, the event will go ahead for the 6th consecutive year on Saturday, 1 August 2015, with event highlight the Pride March and the Michael Causer Vigil remaining the key focus of the event. A programme of activities will also take place across the City , including market, education and community zone, workshops, guest speakers, acoustic music, a mobile cinema, and a family zone, with locations including Stanley Street Quarter.

The date of Liverpool Pride always coincides with the anniversary of when murdered gay teenager Michael Causer tragically lost his life. Michael died on 2 August 2008, and the festival was specifically created in his memory as a way to celebrate his life and empower the LGBT communities. This year's Liverpool Pride takes place a week before what would have also been Michael's 26th birthday.

Liverpool Pride 2015 is being supported by main sponsors Homes For Everyone and Liverpool City Council. Supporters also include After Adoption, Merseyside Fire and Rescue Service, Hugh Baird College, Unison North West LGBT, and Barefoot Wine.

The dedicated team at Liverpool Pride, which is run entirely by volunteers, work tirelessly to deliver an event which will make LGBT community and City of Liverpool proud and are calling out to local businesses and the community to get behind them and show their support.

Businesses interested in becoming a Friend of Liverpool Pride should get in touch via the Liverpool Pride via visiting:- LiverpoolPride.Co.UK where people can also register to volunteer or find out about sponsorship opportunities. Those interested in holding a Dress to Impress day should contact Michael Carey at:- michael.carey@liverpoolpride.co.uk to discuss any details and to arrange funds to be paid to the charity.

Summer Reading Challenge - Guinness World Record Attempt at The Atkinson
ON Saturday, 11 July 2015, we are inviting families to be part of a world record attempt for the greatest number of people making a pledge or promise to read this summer. All they have to do is to visit the Library between, 11am to 2pm, to sign up to the Summer Reading Challenge on that day.

As part of the celebration The Atkinson is running family activities in The Art Box, between 11am and 2pm, about your favourite stories and books and we will be encouraging families to find out about Southport's previous Guinness World Record attempt (The Land Speed Record) in our museum.

Emma Harrison, The Atkinson's Public Engagement Manager said:- "Reading is so important to everyone's health and wellbeing as well as being great fun for all ages. It increases mental stimulation, reduces stress, improves your memory, focus, concentration and most of all it is great escapism and it's free! Southport Library as well as all other Sefton Libraries have long supported the Summer Reading Challenge and we hope this record attempt will encourage new interest in libraries and what they have to offer, as well as encourage people to pick up a book and read. The Guinness World Record attempt is something families can be part of together so fingers crossed we beat the record and we can all celebrate!"

The Summer Reading Challenge takes place every year during the summer holidays. You can sign up at your local Library, then read 6 library books of your choice, collecting stickers and other rewards along the way; all FREE.

Children can read whatever they like; fact books, joke books, picture books, audio books; just as long as they are borrowed from the Library. Every time children finish a book they get stickers and a reward and there's a certificate and medal for everyone who finishes the challenge. It's FREE just ask at your local Library for more details!

This year the theme for the Summer Reading Challenge is World Record Breakers and the organisers have decided to launch the challenge with a nation wide Guinness World Record attempt on Saturday, 11 July 2015. The attempt will be collecting the most amounts of pledges during a reading challenge.

The Guinness World Record attempt is open to all ages, so bring the family to The Atkinson and join in the fun!
More investment for Lodge Lane
LIVERPOOL City Council is proposing to sell plots of land to bring more jobs, businesses and houses to the Lodge Lane area. A report to the cabinet on 10 July recommended disposing of 4 pockets of land; brownfield sites which had previously been built on; to stimulate further economic growth in the area. This move is the latest potential investment in the Lodge Lane area; known as L1578 after the postcodes the area covers; following a summit three years ago aimed at encouraging business growth in these neighbourhoods. Since then there has been increased investment primarily in the retail, food and restaurant sectors. Now it is being promised that a piece of land in Solway Street be sold to local developers for mixed residential and commercial use.

Canco Limited, a special vehicle company, have bid for plots of land in Grierson Street, Aspen Grove and Lime Grove with proposals for them to be used for local residents to open their own businesses based in shipping containers. The cabinet report says the company wants "to use clever design and place making to create a 'funky' intensely urban thriving street with wide appeal throughout South Liverpool that can become a visitor attraction in its own right."

If approved, under the planning procedure, this would be the first development of its type outside London. Together it is estimated that these potential developments could create 80 jobs. Councillor Malcolm Kennedy, cabinet member for regeneration and transport, said:- "Lodge Lane is an up and coming area which is becoming 1 of the most vibrant shopping Centres in the City . These new proposals will take its development a stage further, bringing new houses, commercial developments and jobs. It also gives local people the chance to start their own businesses and attract more investors into the area."

The cabinet is being recommended to advertise the loss of open spaces at the 4 sites.