Birkenhead students to experience running a business in bid to inspire next generation of entrepreneurs
SCHOOL students in Birkenhead are to be given the chance to start and run businesses as part of a scheme to highlight vocational training and inspire the next generation of entrepreneurs.

The scheme, focusing on 6 schools in disadvantaged areas in Birkenhead, East Ham, Bristol, Chatham, Arfon and Edinburgh is being launched by the Federation of Small Businesses (FSB) and the Young Enterprise, the UK's leading enterprise and financial education charity.

The students will receive a share of £9000 in funding provided by the FSB as they embark on Young Enterprise's Company Programme, receiving mentoring to help them better understand the world of business from seasoned FSB professionals from their local communities.

John Allan, National Chairman of Federation of Small Businesses and Vice Chairman of the FSB's Merseyside, West Cheshire and Wigan region, said:- "We are thrilled to be working with Young Enterprise and the next generation of entrepreneurs on this project. This partnership is crucial because businesses are concerned that young people are not prepared for the world of work. Engaging with employers, education providers and young people is a proven way to remedy this. Research has proven that if a pupil has four or more interactions with a business while at school, they are five times more likely to find themselves in education or training after school. If we want to develop the next generation of small business owners which will help carry the UK economy forward, then schemes like the company programme are important in showing that vocational learning is a valid and beneficial path offering long term career prospects."

FSB Wirral Chairman Clive Marshall, Of TaxAssist Accountants Wirral, said:- "With the right skills and support business ownership can be an exciting and rewarding career path and the importance of vocational learning to equipping young people for the world of work should not be underestimated. The process of selecting a Birkenhead school to take part in the project is underway and I am looking forward to working with the students to help inspire and assist the next generation of entrepreneurs. This is about giving these young people the opportunity to be the master of their own destinies."

Frank Field, the MP for Birkenhead, welcomed the project. He said:- "This is great news for Birkenhead. The project is a brilliant way of trying to teach some important life skills to our young people."

The aim is to excite and educate the students and develop their passion and ambition for entrepreneurship, the world of work and vocational education. This will help them understand what it takes to become the next generation of successful business people.

The Federation's commitment to the work of Young Enterprise will see FSB small business owners volunteering their time and years of experience to help students start and develop their own businesses or social enterprises. Each business will last for the academic year and students will be responsible for everything from design concept to selling, marketing strategies and financial planning.

Michael Mercieca, Chief Executive of Young Enterprise, said:- "We are proud to be working in partnership with the FSB to ensure that more young people leave education ready for the world of work. Business-based education provides a sound environment for the learning of enterprise, financial and life skills at an early age. With this in place, we will see fewer young people falling through the cracks of the education system and more approaching the job market with the skills employers are looking for."
Letters to editor
Removed due to issue being reported to have been resolved.

Plan for 'New Chinatown' in Liverpool...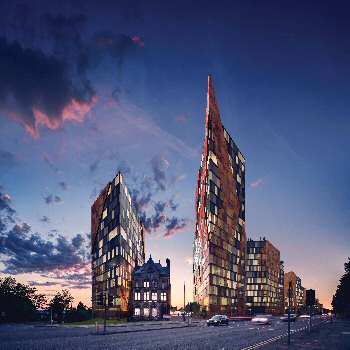 A NEW plan for a key gateway site in Liverpool's Chinatown has been unveiled. The 'New Chinatown' scheme would see around 800 residential units including apartments and town houses built on the Great George Street site, along with 200,000 square feet of commercial space. It is being developed by North Point Global (China Town Developments Limited) the development-arm of established local construction firm PHD1, which has concluded a deal to buy an interest in the site which was held by Urban Splash. The site, close to the Anglican Cathedral and runs up to the Black-E community arts Centre, has lain derelict for many years. A listed building which houses a bridal shop on the site will be retained.
Deputy Mayor, Councillor Ann O'Byrne, said:- "This is a key site in Chinatown right on a main route into the City Centre and has fantastic potential, particularly as it lies so close to the City Centre and the Baltic Triangle. PHD1 have come up with a really exciting project which will completely transform this patch of land and will be the catalyst to breathe new life into the wider area. They have devised some extremely innovative ideas around developing links with China and the universities to create a substantial numbers of new jobs and bring a completely new commercial and retail offer to the area. We are already working with Liverpool Mutual Homes on developing new homes on Duncan Street which will further contribute to the renaissance of this part of the City. I would like to thank Urban Splash for working closely with us and PHD1 to see these development plans progress."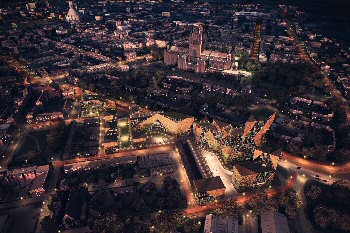 Consultation is getting underway with the local community, with a 2 day public exhibition at Studio 2 Parr Street on Sunday, 12 July and Monday. 13 July 2015, from 11am to 8pm.
In addition, the development team will be holding a series of face to face meetings with local community groups and businesses and distributing 10,000 copies of a bi-lingual consultation newsletter to homes and businesses in the area.

Under the proposal, the site will be developed in 3 phases, with a planning application for the 1st phase expected to be submitted during the summer. Project Director for the scheme Antonio Garcia from BLOK Architecture commented:- "We are delighted to have been selected to take this exciting site forward. From the very outset we viewed this development as an historic opportunity to be the catalyst for the regeneration of Chinatown. We are offering a dynamic mixed-use scheme that will bring people and business to the area and make it an international quality destination. One of the most important elements of our vision, which we have developed with our Chinese investors, is the creation of up to 200 new Chinese businesses with the potential to create over 1,000 jobs. We view this as one of the most important and potentially transformational development opportunities in Liverpool."