Spinal staff fundraise for patients' day room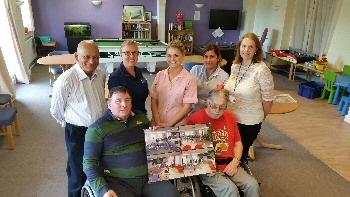 STAFF at Southport hospital are raising money to help some of the most severely injured patients treated by the NHS.

The North West Regional Spinal Injuries Centre is 1 of 8 Centres providing spinal cord rehabilitation. It serves people across the North West, including the Isle of Man and as far as Birmingham.

The Centre opened at Southport and Formby District General Hospital at Kew in 1991 when it moved from the former Promenade hospital in the town. Facilities for patients include workshops, a full size sports hall and swimming pool.

Patients who suffer spinal cord injury are referred to the Centre for specialist rehabilitation and medical support to enable their transition back into community life.

Staff are raising money to help refurbish the day room. The day room provides patients with an area away from the ward where they are able to dine, watch TV, play games and generally socialise with other patients, staff and volunteers.

Centre manager Emily Hoban said:- "The day room is beginning to look its age and the Trust agreed to refurbish it but we want to make it as special as possible for patients which is why we're raising money."

A number of personal donations have already been made and the Trust charitable fund will also be making a contribution.

Emily and her team are planning a number of events over the months ahead.

The first is a Strawberry and Sausage barbecue at the Centre on Saturday 18th July at 5pm. Tickets are £5 and available by calling 01704 70 4333. All proceeds will go to the day room refurbishment project.

Picture shows staff and patients in the day room which will be shortly refurbished.
Liverpool Guild of Students wins Student Opportunities Award at NUS Awards 2015
THE National Union of Students (NUS) is delighted to announce that Liverpool Guild of Students has won the Student Opportunities Award at the NUS Awards 2015.

The NUS Awards ceremony was held Wednesday, 8 July 2015, on the final day of Students' Unions 2015 at the Macron Stadium in Bolton.

Liverpool Guild of Students won the award for their commitment to increasing student opportunities, encouraging students to move from their own individual interests to the interests of the wider community and student body.

The union has increased access to participatory budgets for societies and has also introduced mentoring, providing regular catch ups to check that societies are meeting their goals and to identify any training needs. It has also held a series of master classes, from script writing to education for Sustainable Development, to increase the number, range and quality of opportunities available. Society memberships have increased by 2000 this year alone.

The union has also launched several programmes in order to increase student participation. The Give it a Go programme ensures that there are continual opportunities for our members to 'try', while the Union's Volunteering initiative has seen over 200 organisations/projects registered and over 800 applications to volunteer registered from 514 registered volunteers. Meanwhile the Leave Liverpool Tidy programme has seen 3.9 tonnes of refuse collected and recycled last year.

Harry Anderson, President at the Liverpool Guild of Students, said:- "We're overwhelmed with the award and we're really glad to have got some recognition from NUS."

Richard Brooks, NUS Vice President for Union Development, said:- "I'm really proud to announce that Liverpool Guild of Students has won the award for Student Opportunities at the 2015 NUS Awards. The Awards are fundamentally about celebrating excellence across the many and varied activities of students' unions. We're building a fairer, better education system and a more just world. I hope the awards encourage, inspire and, most importantly, build pride in our national efforts towards that. The unions that have won awards have shown the ability to organise students and make a real change both in the lives of their students and the world around them."
LJLA sees 6% passenger growth for 1st ½ of 2015
INCREASE in passenger numbers seen at Liverpool John Lennon Airport (LJLA) in recent months continued in June with over 9% more passengers choosing to fly through LJLA compared to the same month in 2014. These latest figures take growth at Liverpool to 6% for the 1st ½ of 2015 compared to the same period last year and continue to reflect the recent upsurge in business at the Airport following the addition of a number of new routes and airlines now operating from Liverpool. The growth in passenger numbers is forecast to continue for the second half of the year too. Czech Airlines start their summer season flights to Prague from Liverpool next week whilst important new services due to commence in the Autumn include Flybe's flights to Amsterdam with onward worldwide connections and Aer Lingus' flights to Dublin with onward US connections.

LoveHistory's Ever Popular Catacombs Tours Return With New Stories
Photographs by Ant Clausen.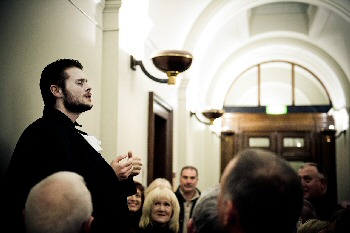 THE increasingly popular theatrical Catacombs tours of St George's Hall Liverpool return this September, with brand new stories in the next instalment of:- 'The Catacombs Of Liverpool's Darkest History'. This is the 5th series of tours which follows hugely successful sell out that ran in March and June 2015.

The new tours will run from Monday, 28 September to Sunday, 4 October 2015, with 4 tours each evening at 6.00pm, 6.45pm, 7.30pm and 8.15pm. Tickets are priced at £15 per person. But please note that capaCity is just 40 people per tour!

Back by popular demand, the tours explore the most chilling and infamous of crimes from Liverpool's dark past, with the shocking tales recreated within the cells and catacombs of Liverpool's most celebrated and historic building.

St Georges Hall can be aptly described as a capsule for Liverpool's history; whilst the rich and influential enjoyed the grandeur and opulence that the Great Hall had to offer, there existed a harsher reality in the cells below. Men, women and children crammed into tiny stifled cells awaiting their punishment. Nowhere in the City could you find a more relevant space to animate some of the darkest elements of Liverpool's criminal past.

Theatrical company Lovehistory who produce the Catacomb series, can promise that these new promenade tours will be the most compelling to date consisting of powerful theatrical performances that will undoubtedly move their audience.

The promenade performances will lead the audience into the dark cells below where those waiting to be condemned would spend their final moments. In the dark shadows of Liverpool's history, visitors will encounter the characters and witness a series of thought provoking and expertly choreographed scenes of Liverpool murders, torment and cruelty. Behind every dark corner lies a hidden story which will be exposed.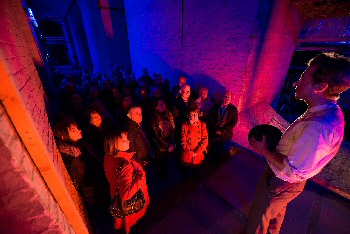 LoveHistory can reveal the first of the new stories to be featured in this new series of tours. Hear the heinous tale of the 1931 murder of Julia Wallace, one of the most baffling crimes to ever hit Liverpool.

After a mysterious caller sent Julia's husband, William Herbert Wallace, on a wild goose chase looking for a street that didn't exist he returned to find his wife brutally slain in their own home. A sensational trial followed and William came within inches of being executed for his wife's murder however the lack of evidence spared him. This was only the start of the story however as the inexplicable aspects of the case that saved William's life continues to intrigue amateur sleuths to this day.

This tale of murder and mystery will be expertly recreated along with other shocking stories which will be announced in due course, by a team of professional actors who will leave audiences spines tingling as they discover the gruesome details of the innocent victims, the not so innocent perpetrators of these vicious crimes and those who carried out the sentence of the court, the executioner.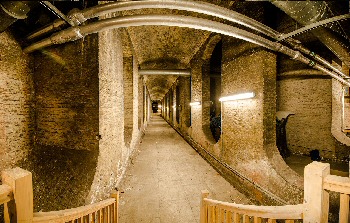 Judy McLean, Creative Director of Lovehistory, said:- "We at Lovehistory are all very excited to return to St George's Hall, in September, with a 5th series of Catacomb Tours. We have had thousands attend these tours and what has been the most pleasing for us has been people's reaction to the stories we tell and how we tell them. These shows always seem to exceed people's expectations due to the quality of the production. It's a fantastic building and so relevant to history of the City."

'The Catacombs Of Liverpool's Darkest History' promises to be the most haunting and gripping tour to date. Tickets are just £15 and can be purchase in person at TicketQuarter, Queen Square, Liverpool, online or via calling:- 0844 800 0410. For further information please visit:- LoveHistory.Co.UK or StGeorgesLiverpool.Co.UK.