Southport Flower Show 2015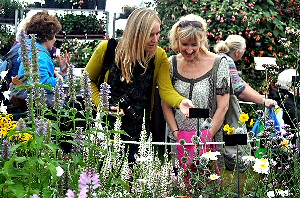 THE largest independent flower show in the Country returns to Southport's Victoria Park, from 20 August to 23 August 2015.

Southport Flower Show is a 4 day celebration of the very best in garden design, arts and crafts, shopping, family entertainment and food.
This year the show will welcome celebrity names including Benidorm TV star, Sherrie Hewson as well as a host of famous gardening names including Christine Walkden, the BBC One Show gardener and Joe Swift, of BBC Gardeners World.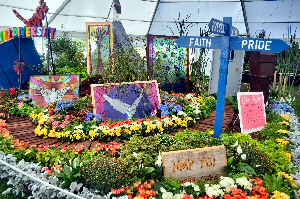 Visitors will enjoy stunning show gardens and displays, live music and a purpose built arena boasting a range of spectacular entertainment including free flying birds of prey, dog displays and circus acts.

Added to this, the four day event hosts what has been termed the "Pop up shopping village," one of the biggest independent shopping experiences in the North West, with over 350 stalls, offering everything from craft wares to items for the home and garden.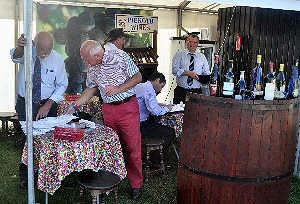 The food festival, featuring celebrity chefs including the French chef, Jean-Christophe Novelli, will be a big feature of the show.
Visitors will have the opportunity to try delicious delights from some of the region's finest artisan food producers and watch live cookery demonstrations from Jean Christophe and other professional chefs.

Tickets cost just £18 in advance, a 20% saving on the gate price. Children under 16 go free. For more information visit:- SouthportFlowerShow.Co.UK or call them on:- 01704 547147.
UK's largest zoo extension opens
THE UK's largest zoo extension has opened to the public at Chester Zoo. This marks a significant day for Barton Willmore, the UK's largest independent, integrated planning and design consultancy, which were instrumental to the 'Islands' scheme by advising on the planning permission, adding the first Zoo project if its kind to their repertoire. Phase 1 of Chester Zoo's £40 million 'Islands' scheme launched on 13 July 2015 and is expected to welcome 150,000 visitors in its 1st year. Islands features 5 different habitats linked with a series of bridges and a 'Lazy River' boat trip for visitors to explore. Islands hosts habitats and animals from Panay, Papua, Bali, Sumatra, Sumba and Sulawesi, with the project being one of the most ambitious zoo developments in Europe, spanning over 50,000 square metres. Designed by Berlin based architects Dan Pearlman and expertly project managed by Turner and Townsend, Phase 2 of Islands will house 'Monsoon Forest', the largest indoor zoo exhibit in the UK, which will be home to Sumatran orangutans, Sulawesi macaques and Sunda Gharial, a type of crocodile. Collectively, the design and planning team has delivered Islands as part of the Zoo's wider vision to retain its position as the UK's number 1 zoo. After running a stakeholder and community engagement programme, Barton Willmore's team first submitted a planning application to Cheshire West and Chester Council in 2009. Outline planning permission was granted in 2010 and the Islands scheme received full planning permission in 2012. Dan Mitchell, Partner at Barton Willmore's Manchester-based team, which led the application, said:- "Our team has worked with Chester Zoo for 8 years. The Zoo is one of the biggest visitor attractions in the UK, and the Islands scheme is a major piece of its 'Natural Vision' strategy this has been a unique, challenging and rewarding project to have supported. Chester Zoo is immensely important to the region. Our team was able to draw upon both their local knowledge and their experience planning internationally significant projects and we are delighted to see its development."

John Pugh MP steps back in time at WaterAid's Victorian street to support taps and toilets for all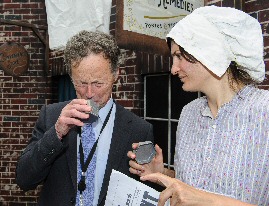 LOCAL Lib-Dem MP, John Pugh, who represents Southport, has stepped back in time to visit WaterAid's pop up Victorian Street, that has been sited outside Parliament. As a result the Merseyside MP got to experience the sights and smells of an era when open sewage ran through our roads and rivers, to mark 150 years of Britain's modern sewers.

The international charity welcomed more than 100 parliamentarians to meet characters from Victorian times to discover what life was like during the Great Stink of 1858 to highlight its call for the UK Government to lead the way in ending the global water and sanitation crisis.

Mr Pugh also met some of the 115,056 supporters who signed WaterAid's 'Make it Happen' petition, who came from across the country to discuss the importance of ensuring everyone everywhere has clean water to drink and somewhere safe to go to the toilet. He said:- "It has been an eye opening day, seeing what life was like in Victorian Britain when people lacked access to safe water and there was no decent sewerage system. Investment in water and sanitation had a huge impact on our health and development, and that these are key to achieving a healthier and more prosperous world. I am proud that the UK Parliament has made the historic commitment to ending global poverty, investing 0.7% of our national income in international development. As we develop the Sustainable Development Goals for addressing global development, it is clear that water and sanitation must play a central role."

Britain's 1st life saving sewerage system was created following the 'Great Stink', when the stench of the polluted Thames was so unbearable, it spurred MPs them into action to clean up the City.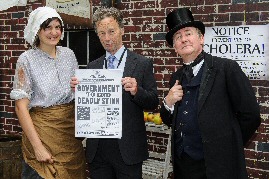 The opening of the 1st modern sewage pumping station in 150 years ago, designed by Sir Joseph Bazalgette, helped prevent cholera outbreaks in London. The disease had had a devastating impact across the country since its arrival in 1831, similar to the effect of Ebola in West Africa today. This marked the start of Britain's drive to protect public health through good sanitation with similar transformations following across the country.

This year also has a global significance, as the framework for the development priorities for the international community until 2030 is being agreed in September.

WaterAid's Chief Executive Barbara Frost presented the 'Make it Happen' petition to Baroness Verma, Parliamentary Under Secretary of State at the Department for International Development. Barbara said:- "Our own history shows how water and sanitation can transform a nation, helping to create a healthier and more prosperous society. Today, 650 million people across the world still lack access to clean water and 2.3 billion have nowhere safe to go to the toilet. Life in a densely populated slum bears far too close a resemblance to UK Cities in the 1800s, representing a real and growing threat to global health and stability. Diarrhoea caused by unsafe water and poor sanitation is the second biggest killer of under 5's worldwide, claiming the lives of 1,400 children every single day. The stink may be a bit further from Westminster now; but that's no reason not to act. With the right political will, we can solve the global water and sanitation crisis. This year we have a unique chance to right this wrong as world leaders agree the new Sustainable Development Goals to eradicate poverty over the next 15 years. Only with investment in sanitation can we achieve a safe and secure future for everyone everywhere."

A recent survey, commissioned by WaterAid and conducted by ComRes in May, revealed that the British public thinks the most important sectors we should support through UK aid are water, sanitation and hygiene, and health. However, water, sanitation and hygiene currently receives a small fraction of UK aid funding; that is just 2%, compared to 20% for health and 13% for education.

WaterAid is calling for increased investment in water and sanitation in order to achieve improvements in health and other development areas, as having access to these simple services is the foundation to climbing out of poverty. For example, for every £1 invested in sanitation there's a return of around £5 in increased productivity.

The charity is calling for the UK Government to:-

► Increase the proportion of aid spent on water, sanitation and hygiene by at least 1% every year over the next parliament to enable the UK to become a leader by 2020.

► Maximise the impact of UK Aid investments by making sure that water, sanitation and hygiene services are in all health clinics, schools, maternal, newborn and child health strategies, and plans to tackle gender inequality.

► End Aid Dependency by working with developing country governments to deliver and sustain water, sanitation and hygiene services as part of sustainable national plans.

► Support the adoption and implementation of a dedicated Sustainable Development Goal for water and sanitation, with targets for universal access to basic water, sanitation and hygiene by 2030.

Find out more please long on the the Water Aid's website.