Liverpool's First Duck Trail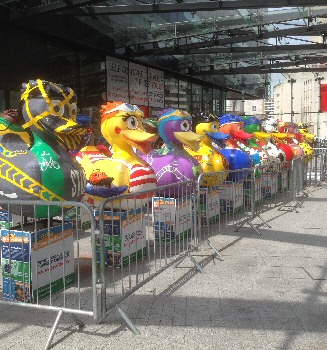 THE Liverpool Duck Trail was a huge success across Liverpool engaging old and younger audiences, audiences, tourists and those local to Merseyside. With the school holidays approaching we have arranged the ducks all in one great place with easy access for all.

The Liverpool Duck Trail has now moved to Mann Island and for the next 8 weeks all the ducks can be viewed here.

The 20 larger than life ducks towering seven feet high celebrated:- 'Liverpool 1sts', with each duck themed on an event in history that Liverpool was the first to achieve. Liverpool artists were chosen to design and paint the ducks, including, Beatles Duck, LFC Duck, EFC Duck and Steamboat Duck.

A range of celebrities have signed many of the ducks once out across the city. Liverpool legends Alan Kennedy, Phil Thompson, Phil Neal and John Aldridge have signed LFC duck. EFC Duck has over 15 signatures littered on its blue duck breast by Everton's First Team.

Liverpool singer and dancer Jennifer Ellison has made her mark on 'Construction Duck' as well BBC's The Royal Family comedian Ricky Tomlinson who singed:- 'Roadie Duck'. The latest singing in the celebrity duck bank was performer, singer and winner of ITV's Dancing on Ice Ray Quinn singed Train Duck outside the backdrop of Lime Street Station earlier this week.

The next phase of the project seeks to acquire more celebrities to sign the ducks for the auction held at the Royal Liver Building, hosted by David Guest and promoted by Smooth Radio and Sutton Kersh, who will auction the ducks

So if you're a business looking for that something to animate your office, a dedicated follower of football love public art or want to contribute to a great cause, make some space in your diary in mid September. For more information about the auction please contact Barry Cole on:- 07702 509227.

More than 2m cohabiting couples at risk of leaving finances in legal limbo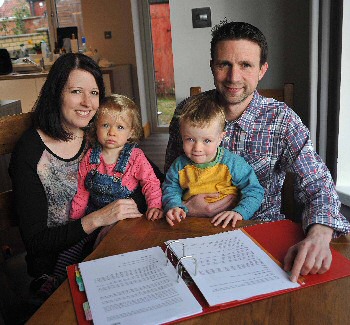 THE ONS revealed the number of cohabiting couples rose by 46% between 2002 and 2014, from 1,407,862 to 2,055,542. Gary Rycroft, solicitor and member of the Law Society's Wills and Equity Committee, said cohabiting couples need to make sure they have a professionally drafted will.

"It is vitally important couples that are not married or in a civil partnership have a will drawn up by a professional solicitor," he said. "Under intestacy rules, if no will is in place assets pass automatically to the closest blood relatives who are often children of the deceased or parents or siblings. This means if you die your surviving partner could be left in an emotional and financial mess, with no access to vital funds to help them cope. Dying without a will not only means your final wishes could go unmet, but could leave problems for your loved ones to sort out. Don't make this mess your legacy."

Under the intestacy rules, only partners who are married or in a civil partnership can inherit. If you are not in this position your children will be entitled to your entire estate; leaving your surviving partner with nothing.

Mr Rycroft said consumers need to be able to distinguish between those who are unregulated, uninsured and untrained, and solicitors who offer a quality service. "Using a regulated solicitor who is a member of the Law Society is the only way to give you future financial security".

Sarah Bibby, 37, a designer from Redcar, North Yorkshire, has been in a relationship with Rob Allinson for 17 years and they have 2-year-old twins, Charlotte and Ethan. Sarah said learning she would inherit nothing if Rob passed away without a will had reinforced her desire to get one written as quickly as possible. "We realise we need to draw up a will and intend to make it a priority. Learning we could be left high and dry has really focused our minds. If Rob died, not only would I have to deal with the grief, I could be left with a financial crisis on my hands as well as struggling to raise 2 children. Wills force you to confront some difficult questions, and I think this puts people off getting one. But ultimately it's in your family's best interests to confront these questions head on."

To find a solicitor specialising in wills and probate visit the Law Society's Find a Solicitor service website. Alternatively, search:- 'Find a Solicitor' from your web browser. To find out more about cohabiting and the associated legal issues, please visit the Law Society website.