Summer brings sparkle to local cancer research charity event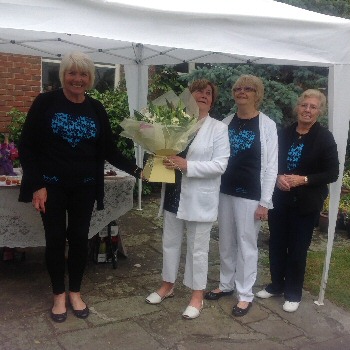 A local fundraising committee has raised £1,200 at its annual summer lunch to help fund cancer research projects in the region.

The Southport committee of North West Cancer Research (NWCR) welcomed 85 locals at this year's Summer Sparkle lunch.

The event, which is now in its eleventh year, took place on July 8 at the home and gardens of Joan and Niall Roy, who once again opened their doors to the public.

Tickets for the event cost £10 and included homemade canapés and sparkling wine on arrival. Guests bought generously from various stalls and enjoyed a raffle with prizes kindly donated by committee members and charity supporters.

The money raised from the Summer Sparkle event has been donated to NWCR to facilitate vital cancer research projects in the region and directly benefit people in the North West, including at the nearby University of Liverpool.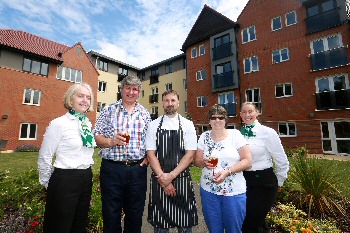 Olive Cutts, chairman of the Southport NWCR Committee, said:- "Our Summer Sparkle is always a popular event and this year was no different, despite the fact the weather wasn't on our side. We're thrilled to have welcomed so many people and to have raised an outstanding amount for NWCR. It clearly shows the passion people have to support local charities and help us beat cancer. I'd like to thank Joan and Niall for letting us use their beautiful garden once again and a say a big thank you to everyone that came along on the day and helped make it another special event."

Anne Jackson, CEO of NWCR, said:- "The success of the event is testament to the strength of our local fundraising committee in Southport and the time and energy they devote, as well as the generosity of the local community. The Summer Sparkle event is always very popular with the local residents and our Southport committee have once again done a fantastic job to raise so much money. Without the vital work of the local fundraising committees, like Southport, and the generosity of our supporters, we wouldn't be able to sustain or fund the world-class research projects in the North West which directly benefits people living in the region."

The next fundraising event hosted by the Southport Committee will be Afternoon Tea at Hillside Golf Club, on Wednesday, 19 August 2015,where guests will be able to enjoy live entertainment from local singer Julie A Scott who will be performing a Cilla Black tribute show.

Still more work to do to drive down costs of transport for young people
FOLLOWING this week's official announcement that bus firms Stagecoach and Arriva are reducing children's ticket prices and are raising the age limit to anyone 18 and under, Merseytravel Chair Cllr Liam Robinson says:- "Bus operators are listening to young people and making transport more affordable, which is something that we too have been fighting for, for a long time. Their reduction in fares is a result of many discussions and meetings with us over many months, which has also resulted in MyTicket the first ticket of its kind outside of London, which was launched in partnership with commercial bus operators over a year ago on a trial basis for 5 to 15 year olds following our pledge to make transport more affordable for young people. It has proved to be such a big hit that it is not only a permanent product but last month our elected Members agreed to extend the age eligibility for the £2 MyTicket;which allows for unlimited all-day travel across the Merseyside bus network; to 18s. This will be starting from 19th July. Effectively from this Sunday, over 90% of buses in Merseyside will be providing cheaper child fares for all young people up to 19. It will make Merseyside the first area outside of London to introduce this, which is a massive win for young people in our area and has directly come by continued pressure from ourselves at Merseytravel. For many young people, the cost of public transport is frequently at the top of their list of concerns. They rely upon public transport, and the bus in particular, not only to get to education and employment, but also for leisure and social opportunities. We've been working hard with partners such as education, training providers, employers, bus and rail operators to provide a range of innovative solutions to transport issues to improve young people's lives. MyTicket was just the start of this journey. And we are the first public transport body to trailblaze a product of this kind for this older age group regardless of whether they are in education or not. This reflects our commitment to listening to our young customers and trying to bring down the cost of travel for them. Plus, it is also now a requirement for young people up to the age of 18 to be in education or work-based training and we want to make sure that they can access these opportunities. We're not stopping at MyTicket, but looking at young people's fares across the board. For example, we recognise that 18 to 21 year olds face similar challenges in terms of the cost of travel and will be looking at this in more detail to see what can be done. We are continually seeking the views of young people on transport, which has led to the Transport Asks Charter where we have committed to look at any issues they raise. As part of this work, on Friday 17th July, we have invited a number of young people to meet us to discuss the latest developments on MyTicket, bus operators new fares and to find out what their other 'asks' are. Young people are the most regular users of buses but their needs are too often overlooked by operators – yet they are the users of the future. In my view, there needs to be a complete re-think of the business model with value for money the secret of its success. It needs to become a travel mode of choice rather than a mode for those who may have no choice. We are currently working on developing a bus strategy to reverse the decline in passenger numbers and will be developing a customer-focused way of working with operators. Young people's needs will certainly play a big part in this work to ensure we can encourage operators to consider their asks relating to improved affordability, frequency, punctuality and reliability. While it's great to see that bus firms Stagecoach and Arriva are taking our advice and reducing children's ticket prices and are raising the age limit to anyone 18 and under; something that ultimately makes good business sense; this must not be the end of the journey."
500+ families in the North West are homeless government stats show
SHOCKING new figures reveal that 536 families in the North West are homeless and living in temporary accommodation. This is a worrying 22% rise since the same time last year, according to analysis of government homelessness statistics by charity Shelter. Many families will be crammed into just one room of a hostel or bed and breakfast, forced to share a kitchen and bathroom with strangers and with virtually no privacy. Shelter is warning that the combination of relentless welfare cuts and a drastic shortage of genuinely affordable homes is leaving more and more families struggling to keep a roof over their heads. And in the wake of George Osborne's latest budget the charity is worried that things are set to get worse. Responding to the figures, chief executive of Shelter, Campbell Robb said:- "These figures are yet another reminder of the impact welfare cuts and the drought of genuinely affordable homes is having on families and children in the North West. Every day at Shelter we see the real families behind these figures, who've gone through the trauma of losing their home and are then left to linger in cramped and unfit rooms, as overburdened Councils struggle to find them anywhere to live that's safe, secure and affordable. Last Wednesday's Budget did nothing to address this country's sky high housing costs, whilst slicing away at the help struggling families depend on to stay in their homes. If George Osborne really wants to bring down the benefit bill his first priority should be to invest in building safe, secure and genuinely affordable homes."