'Mental Health and Me' Competition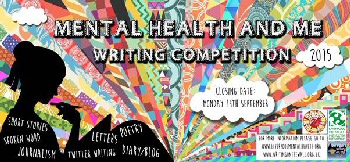 LIVERPOOL'S Mental Health Consortium and Writing on the Wall are delighted to announce that the:- 'Mental Health and Me' writing competition is back for its 2nd year!

As part of Liverpool's World Mental Health Day celebrations on Saturday 10 October 2015, we are inviting you to send us an original response to the expression:- 'Mental Health and Me.' Last year's competition was one of the highlights of the World Mental Health Day programme and attracted a wide selection of creative work across 6 categories:- 'poetry', 'short stories', 'diary pieces' or 'blog posts', 'letters', a piece of 'journalism', or even a 'tweet'. This year, we're adding a brand new category:- 'Spoken Word' which we hope will appeal to the creative flair of even more people.

We would encourage entries from anyone with an interest in:- 'Mental Health and Wellbeing.' If mental distress has affected you or someone close to you, if you have experience as a carer or a professional, or if you have a particular interest in the subject of mental health for any reason, we want to hear from you. Critical voices are also welcome!

This year's competition is open to anyone living within Merseyside (Liverpool, Knowsley, Sefton, Wirral, St Helens) and to all age groups.

Our local ambassador, Councillor Clare Glare says:- "Last year I loved the quality and honesty of writing in the Mental Health and Me competition from such a wide range of personal experiences. People were clearly passionate about sharing their story; the highs and the lows, and the results were incredibly moving."

The 2014 overall competition winner, Gemma Rogers says:- "I am incredibly lucky to be at a stage in my recovery where I can use my experience to help others, and my entry for 'Mental Health and Me' was an honest insight into depression and its side effects. It was an eye opening experience to read other people's work and see how mental illness has such a wide spread effect and how many lives it effects."

Mental Health and Me Competition Rules

The competition is based around the theme 'Mental Health and Me', and will be judged around 7 categories:-
► Poetry

► Short stories

► Diary/Blog

► Letters

► Journalism

► Tweets

► Spoken Word
For each category, there will be a judging panel comprising of professional writers, booksellers, librarians, and people with personal experience of mental distress. The winners of each category will form the shortlist from which the overall winner will be selected. For specific guidelines on each category, please see the Submission Details.
So what will I win?
The overall champion of all 7 categories will win the special WoW and LMHC trophy, and book tokens from our independent book store, News from Nowhere! AND - The winners and runners-up from each category (including the Top 10 Tweets) will be included in an anthology, published by Liverpool Mental Health Consortium and Writing on the Wall. Once the winner has been announced, free hard copies will be available to everyone included in the anthology, with free copies available online.

On the evening of World Mental Health Day on 10 October, all shortlisted entrants will be invited to a celebratory event at Liverpool Central Library and will be given the opportunity to read their work to the public. And between you and me... a special guest will be announced to judge the winner. Last year we were delighted to receive support from Ruby Wax... watch this space!
When is the deadline?
The competition is now open; from 1 August 2015, and closes at 5pm on Monday, 14 September 2015. No entries will be accepted after this date, so make sure you don't miss out!
For more information and for details on competition rules and how to submit your entry, please see Writing on the Walll's website.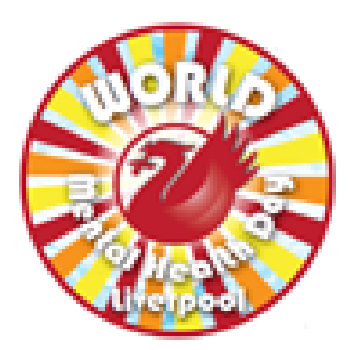 It's Story Time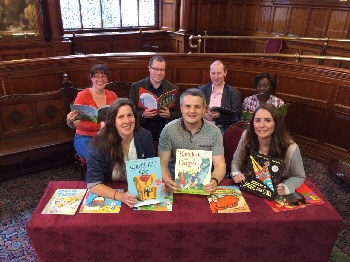 BOOK your place for storytime sessions aboard a ferry, in the City's parks or a community garden as Liverpool joins in a national celebration of reading.

"Anytime is Storytime", part of the the national Read On. Get On. campaign takes place on Monday, 10 August 1015 when stories will be read aloud at seven locations across the City. The storytelling is aimed at Under 5's with the whole family invited to come and enjoy the sessions together.

Liverpool City Council is fully supporting Anytime is Storytime and councillors will be joining storytellers from City of Readers and Beanstalk who will be offering both group and 1 to 1 reading sessions, encouraging families to bring along a blanket, get comfy and relax with some quality reading time.

Councillor Lana Orr, Mayoral Lead for Primary Schooling, will be boarding the Dazzle ferry; Councillor Nick Small, Assistant Mayor and Cabinet Member for Education, Employment and Skills will be joining the session at Chavasse Park and Deputy Mayor, Councillor Ann O'Byrne will be at the L15 Community Garden in Garmoyle Road

The community garden is in the Greenbank ward where Councillors are encouraging reading as a priority.
Councillor Jay Roberts said:- "We have chosen literacy as 1 of the ward priorities and are delighted to participate in the City's 'Anytime is Storytime' event on 10 August 2015. As a ward councillor I have made monthly free books available to all children under 5 in our ward over the past 2 years, part funded by the international Dolly Parton Imagination Library scheme"

Councillor Orr added:- "Anytime is Storytime, is a really imaginative way of getting young children interested in reading. They will be able to hear stories with their families in different locations and I am sure it will encourage them to want to hear more and get them interested in books."

Other locations staging storytime sessions are the Isla Gladstone Conservatory, Stanley Park and Croxteth Hall and there will also be activities taking place at Liverpool Central Station and Liverpool Central Library throughout the day .

The Storytime events will be taking place from 12pm to 3pm. Group storytelling sessions will take place at 12pm, 1pm and 2pm with ongoing family storytelling sessions throughout the day.
The Reader Organisation will also be hosting a special version of their weekly Tiny Reads session from 10am to 11.00am at Calderstones Mansion House in Calderstones Park.
This will be an hour of picture books, crafts, rhymes and songs to entertain the little ones and start them on their reading journey.
The events are free although there is a charge for adults and children over 5 on the ferry.

City's Diverse World Culture Celebrated On 'Liverpool Loves' Festival Day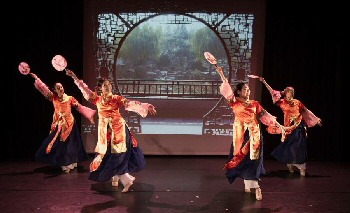 LIVERPOOL'S vibrant and diverse world culture will be celebrated next week as part of the new 3 day 'Liverpool Loves' festival. Often described as having the 'World In One City', Liverpool is home to an exciting mix of cultures and communities; and many will be represented at:- 'Liverpool Loves' next Saturday, 8 August 2015.
The fun starts at 10am when visitors are invited to the iconic setting of Pier Head Liverpool; part of the City's UNESCO World Heritage Site; for a full 12 hours of activities, workshops and entertainment.

The family friendly programme will span across zoned areas covering music, the arts, dance, food and drink and health and well being; creating a real festival atmosphere at the heart of the waterfront.

The day's programme will take place indoor in a bespoke Big Top, outside on a number of stages, and within zoned outdoor areas for culture, health and well being, and refreshments.
Liverpool's fascinating culture will feature traditional dance, music and art from the communities represented. 'Liverpool Loves' is a free festival. Liverpool is home to Europe's oldest Chinese community, and the City has the largest Chinese arch outside mainland China.
To celebrate their Chinese heritage in Liverpool, China Pearl will host a parade of traditional stunning Chinese costumes. The parade will start from the festival's main entrance; located on Canada Boulevard between the Royal Liver Building and the Cunard Building; and will make its way through the festival site to the Big Top. China Pearl will also perform Chinese music and dance, as well as inviting festivalgoers to participate in the grandeur of a Chinese Tea Ceremony.

Visitors can try their hand at the traditional art of Chinese painting and origami with HuaYun Arts, who will also be performing excerpts from the Huanhmei Opera and showcasing the majestic Chinese harp.

The Indian community will celebrate through dance, with RuShee Dance Group performing a number of spectacular Bollywood and Bangra dance routines. This promises to be energetic, colourful and has to be witnessed 1st hand.
Liverpool Arabic Arts Festival presents a wonderful selection of music and dance celebrating the Arab culture, which always proves to be popular during their annual festival.

Brazilian samba drum ensemble Katumba will entertain visitors with their unique sound, colourful look and high impact choreography. A definite crowd puller.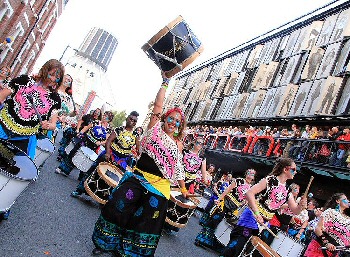 But this isn't all. There will be plenty of nods to Liverpool culture within the programme. Early birds are invited to start their day at 'Liverpool Loves' with a morning rave from Morning Gloryville; the perfect way to shake away that sleepy head with dance, relaxing massages and fruit smoothies.

Sing Me Merseyside Choir's live performances are certain to be a highlight of the day, including live renditions of famous Liverpool songs. So get that voice warmed up as audience participation is a must!

Martin O'Shea from Bold Management is curating the soundtrack to the day, which will feature a live music programme across four stages throughout the day and evening, including 'Liverpool Loves' New Music; Dovedale Social; Merseyrail Sound Station and 'Liverpool Loves' Allstars.

Dance music fans will not want to miss Portuguese producer and DJ Rui Da Silva who closes the Big Top Stage, famous for the anthem Touch Me which went to number 1 in the UK charts in 2001.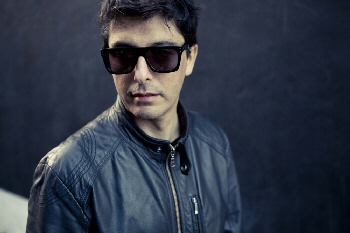 While the live music is on the outdoor stages, those looking for an alternative can try the 'Shush Silent Disco'. Great for all ages; and plenty of fun guaranteed. Play your part in the 'Liverpool Loves' community art piece, 'Love Art UK'. Help spread the word of love by writing a message on 'The Love Wall' about what love means. Shopping and fashion are part of Liverpool's exciting culture. For those who love a bit of vintage shopping, then 'Capstan's Bazaar' will be on hand throughout the day with a range of stalls offering the ultimate vintage finds when it comes to trinkets, arts and crafts. After those vintage discoveries have been made, take a trip to the Button Boutique workshop where visitors can make their own fascinator or for a bit of Liverpool fun, create a Scouse puppet.
The cultural programme will run alongside a dedicated children's activity area hosting arts, crafts and dance workshops. This includes circus skills from the:- 'Free Fall Circus', from The Florrie, who will be offering tasters in hula hooping, the unicycle, juggling and Diablo and poi.

'Liverpool Loves' is the final day of the 3 day festival, which starts with 'Liverpool Loves' Business on Thursday, 6 August 2015, and 'Liverpool Loves' Ireland on Friday, 7 August 2015.

'Liverpool Loves' will shine the spotlight on all that is special about Merseyside, through 4 key core themes for 2015:- "business, culture, food and well being."
The North West Fund are headline sponsors of 'Liverpool Loves' Business. They join Campanile Hotels UK, part of Louvre Hotels Europe, who are also supporting the event. 'Liverpool Loves' is also supported by the City's Mayor Joe Anderson.
Keep up to date with the latest announcements at:- LiverpoolLoves.Co.UK.
National Waterways Museum celebrates the early days for the canals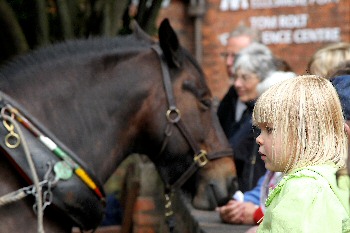 THE Canal and River Trust will be celebrating the early days of canals at the National Waterways Museum, on Sunday, 16 August 2015, with 'Horses at Work and War'. Now in its 6th year, the event has become 1 of the most popular attractions in the Museum's annual calendar of events. Visitors to the Museum will see working horses giving a unique demonstration of horse drawn canal boating, horses being shod, and have the opportunity to take a wagonette ride round the historic canal docks. The Parkgate Pony Sanctuary will be giving pony rides for children; a fun day out for all the family. This year there will also be the opportunity to hear and see how horses were used during wartime; both the Napoleonic era 1815 and First World War 1915. John Inch, General Manager, said:- "We're delighted to be welcoming the Grenadiers a Cheval to the event, fresh from attending the recent 200th anniversary celebrations of Waterloo." As well as the horses, all the usual Museum attractions will be available to visitors:- displays of historic boats, indoor exhibitions, indoor soft play area and activities, boat trips and more. For more information please visit:- CanalRiverTrust.Org.uk/NWM or find them on Facebook. Located next to Junction 9 of the M53.