Music acts take a stand!
LIVERPOOL'S Bandstand Festival is back for 2015 and the full line up has been revealed. More than 50 acts will take to the Sefton and Stanley Park bandstands for a month long celebration of some of Liverpool's best musical talent which is supported by the Liverpool International Music Festival, this year presented by Red Square Vodka.

The free music fun all kicks off Saturday, 8 August 2015, and runs until Sunday, 6 September 2015, and audiences can expect a whole host of eclectic performances from opera and rock n roll to drumming groups, choirs and a ukulele orchestra.

Assistant Mayor and cabinet member for culture, tourism and events, Councillor Wendy Simon, said:- "LIMF and the bandstand programme are both in their third year, with each year proving more popular than the last. Providing a platform for local talent is a key priority for LIMF and this element of the festival makes sure a spotlight can be shone on homegrown acts. It will be wonderful to see two of our Victorian park bandstands being made the most of throughout the summer, green spaces and live music is a great combination, and, fingers crossed, if we can add some sunshine to that it will be the perfect day out!"

The Bandstand Festival is commissioned by Liverpool City Council and co-ordinated by Open Culture which aims to engage members of the public with art and culture. The Bandstand programme is part of Mayor Joe Anderson's strategy to animate parks. Chris Carney, Open Culture:- "We're really proud to be approaching our third year of the free summer Bandstand Festival. Since we began, we've seen some fantastic community artists as well as rising stars performing at Sefton Park and Stanley Park with this year being our best offering yet. There's something for all ages, so come out and enjoy the performances and fun workshops."

The line up is as follows:-
Saturday, 8 August, Sefton Park:-
1pm to 1.25pm = Charlotte Lynch
1.40pm to 2.05pm = Scarlet
2.15pm to 2.40pm = David Barnicle
2.55pm to 3.20pm = SheBeat
3.35pm to 4pm = Joe Kelly
4.15pm to 4.40pm = Emilio Pinchi
Plus special guests from Merseyrail Sound Station and Stylus DJs with acts playing until 5.20pm.

Sunday, 9 August, Stanley Park:-
12.15pm to 1pm = Katumba Drumming Workshop
1pm to 1.25pm = The Frogs
1.35pm to 2pm = Niall Kavanagh
2.10pm to 2.35pm = Jazz it Up School of Dance
2.45pm to 3.15pm = Katumba
3.30pm to 3.55pm = HillHouse
4.10pm to 4.35pm = John O'Connell
4.50pm to 5.15pm = Mervin Gersh

Saturday, 15 August, Sefton Park in association with North West Cancer Research:-
1pm to 1pm = Creaky Bones
1pm to 2.05pm The Salvation Army Liverpool Walton Band
2.15pm to 2.40pm = Mersey Wylie
2.55pm to 3.20pm = Choir with no Name
3.30pm to 3.55pm = Blowback Horns
4.10pm to 4.35pm = Bagga
4.55pm to 5.20pm = Danielle Louise Thomas

Mixnots DJs will also feature throughout the day

Sunday, 16 August, Stanley Park:-
1pm to 1.25pm = Grateful Fred
1.40pm to 2.05pm James Edgar
2.15pm to 2.40pm = Fazzmatazz
2.55pm to 3.20pm = Mersey Swing (free dance workshop)
3.35pm to 4pm = Bad Kitty and the Black Kats
4.20pm to 4.45pm = Joe Symes and the Loving Kind

Saturday, 22 August, LIMF Academy showcase, Sefton Park:-
1pm to 1.25pm = Eleanor Nelly
1.40pm to 2.05pm = Dominic Dunn
2.20pm to 2.45pm = Sophia Ben-Yousef
3pm to 3.25pm = Shamona
3.40pm to 4.05pm = Katy Alex
Plus Adam French DJ set

Sunday, 23 August, Stanley Park:-
10.00am to 6.00pm = KidsFest, in support of the James Bulger Foundation. Features a performance stage, food stalls, educational events, cookery workshops, sporting activities, dance classes and more.

Sunday, 30 August, Sefton Park - Bandstand at LIMF Summer Jam in association with Mellowtone:-
Xam Volo
Sunstack Jones
Little Sparrow
Ivan Campo
Paul Wilkes
Beaten Track DJs
Simon Herron
Katie Mac

Monday, 31 August, Sefton Park - Bandstand at LIMF Summer Jam in association with Mellowtone:-
The Midnight Ramble
Roxanne L Jones
Rosenblume
Me and Deboe
Paul Straws
Grace Hartrey
TJ and Murphy
Sensorites
Luna

Saturday, 5 September, Sefton Park:-
1pm to 1.25pm = Daniel Saleh
1.40pm to 2.05pm = The Shipbuilders
2.20pm to 2.45pm = Liverpool Ukulele Orchestra
3pm to 3.45pm = Simply Dylan
3.55pm to 4.20pm = Alex Gavaghan
4.35pm to 5pm = Mamatung
5.20pm to 6pm = Clinic

Sunday, 6 September, Stanley Park:-
Programmed by Soul Fest, plus wellbeing workshops
For full details about Red Square Vodka presents LIMF, visit:- LIMFestival.Com or follow @LIMFestival on Twitter or Liverpool International Music Festival on Facebook.

Your can get your pet micro chipped for free if you live in Sefton
DOG owners in Sefton are being offered the chance to get their pet micro chipped for free, as part of an initiative by Merseyside Police and the Dogs Trust to promote responsible dog ownership. The chipping is quick and easy to carry out and does not hurt the dog in any way.

Police and partner agencies are offering the free service to anyone who brings their dog along to South Park, in Bootle, from 1pm to 4pm, on 21 August 2015, during the South Park Fun Day, or Moorside Park, in Great Crosby, from 12pm to 4pm, on 5 September 2015.

It follows a rise in dog bites on people in the past 3 years across Merseyside, some of which have resulted in serious injuries and in fatalities.

Officers who are trying to tackle the problem have analysed all the incidents and established that a growing number of dog-related incidents are happening in public parks rather than people's homes.

In the past three years the summer months in particular have seen a rise with most dog bites against people and other dogs happening between 11am and 5pm, when the parks are busiest.

Merseyside Police, Sefton Council and Dogs Trust believe that owners getting their dog or dogs micro chipped is a sign that they want to be a responsible dog owner and ensure their dog does not attack another dog or a person.

Micro chipping enables that particular dog to be linked to its owner and if the dog ever goes missing or is stolen but found by the police or a dog charity, it can be scanned and returned to its rightful owner.

Inspector Karen Dowden, from Bootle and Crosby neighbourhood, said:- "We are absolutely determined to reduce the numbers of children in Merseyside being hurt by dogs. It is crucial that we educate owners about what it means to be a responsible dog lover. This can be anything from getting the dog properly trained from an early age, keeping it a comfortable, spacious and secure part of your property, taking it for regular walks to socialise with other dogs and burn off some energy, and get it chipped, neutered and insured. By working with the Dogs Trust and the Guide Dogs for the Blind to offer a free chipping service we are also hoping to get the opportunity to speak to dog owners in our local parks and make sure they are aware of all the dog legislation, are aware of the advice and have the opportunity to ask our specialist officers any questions they might have. We are lucky to have some fantastic parks here in Sefton and everyone has a right to enjoy them in a safe and legal way without being in fear of being approached by an aggressive or out-of-control dog. This is one part of a wider operation we will be carrying out in August and September to help keep people safe and raise awareness and I'd encourage people to come along and see us."
Police appealing for help after a motorcyclist collides with cyclist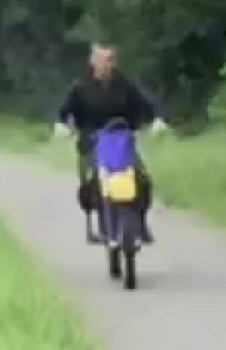 MERSEYSIDE Police are appealing for witnesses or anyone who can identify a motorcyclist who collided with a cyclist, on a footpath in Aintree. The incident happened at around 5.10pm, on Thursday, 23 July 2015, on the loop line footpath near Crescent Road in Aintree. Officers believe the suspect was riding an unregistered off road motorcycle at high speed on the footpath and ran head on into a pedal cyclist, causing serious injuries to the cyclist, including a broken collarbone and 3 broken ribs. The pedal cyclist is profoundly deaf and so did not hear the approaching motorcycle until it collided with him. Officers have issued a picture of a person who they would like to speak to in connection with the incident.

Inspector Chris Dillon ​said:- "We would appeal to anyone who was using the loop line on that day and who may have witnessed the incident, or knows who was riding the bike to come forward. The offender's actions are particularly heartless and callous as he stopped and looked at the seriously injured cyclist for a few seconds before riding away at speed."

Anybody who may have seen the incident, or who can identify the person in the photograph, is asked to contact the MSOC Roads Policing Department on:- 0151 777 5747 or Crimestoppers on:- 0800 555 111.
Care leavers urge Government for more support
CARE leavers in England are calling on the new Government for help with employment, training and housing, and for continued support beyond the current age of 21, a new report says.

The report from Access All Areas, a coalition of leading youth charities, shows that care leavers want support up to the age of 25, whether or not they are in education or training, and also more support for those in prison.

Findings also show that care leavers are calling for better housing, and employment training and financial support.

Care leavers and Access All Areas are now calling on the Westminster Government to review care leavers policies and to commit to improving the lives and opportunities available for young people leaving care.

Access All Areas is a coalition of leading youth charities including Barnardo's, The Care Leavers Association, The Prince's Trust and The Who Cares? Trust. The coalition gives young people a voice to let the government know what they want to Keep, Kick or Change, about leaving care in the new Parliament.

Together, the charities are calling on the Westminster Government to listen to the messages direct from care leavers, making sure that they have the best opportunities as they enter adult life.

Javed Khan, Chief Executive of Barnardo's said:- "Young people who've left care and are taking their first steps into adult life have sent a clear message to the Government; they want more help, and for longer. The Government must now listen to these young people, putting their needs at the heart of policies. They can start by making sure that each care leaver's personal adviser can continue giving them lifeline housing, jobs, training and money advice up until they're 25 years old."

Lindsay Owen, deputy director of policy and evaluation at The Prince's Trust, said:- "Findings from The Prince's Trust's 'From Care to Independence' research show that care leavers are not getting all the support they need from statutory services. It is therefore crucial that the government continues to build on the positive work of the Care Leaver's Strategy and ensures that care leavers receive the help they require."

Natasha Finlayson, Chief Executive of The Who Cares? Trust, said:- "The young people who took part in Access All Areas had a clear message for policymakers: more needs to be done, now, to support thousands of care leavers as they journey into adulthood. Findings from the National Audit Office report published in July only serve to emphasise the urgent need for leadership from central and local government to improve the life chances of the children and young people in their care."

David Graham, National Director of The Care Leavers' Association, said:- "The government needs to improve the system so that care leavers can get the exact support they need when they need it; and not base the support on age related criteria."