Edna tops sales team and raises thousands for charity thanks to 20,000 unwanted books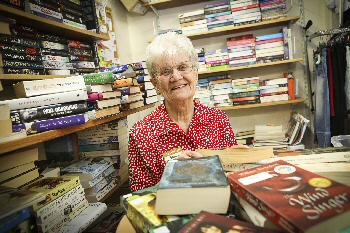 A 79 year old who re-homes 20,000 unwanted books a year has been named as a charity's top book saleswoman. Edna Harrison has raised thousands of pounds for housing body ExtraCare Charitable Trust, during her decade of volunteer work at its branch in Church Square Shopping Centre, St Helens. Her efforts include tracking down sought after novels, with a waiting list of avid readers asking for books from top authors. The gran of 9 has even been back to college to gain her English Language GCSE, picking up an A grade.

Edna's passion for reading means she's now known as the Book Lady in St Helens, and for the seventh year she has been named as one of the company's top sellers. She deals with about 20,000 donated books every year, and has built up her domain into a library-like institution.

The mother of 5 and grandmother of 9, who lives in St Helens, said:- "I do love my job here. I've got my own little corner and I've regular customers who come in and people who ask me to save things for them. I've even been spotted in Birmingham by a man who knew me from the shop! I'm so glad to be here and I'll be 80, in September 2015, but I'm not going anywhere. Retire? That word's not in my vocabulary."

Church Square Shopping Centre manager Steven Brogan said:- "Edna is an absolute star; people come to St Helens from all over to check out her wall of books and see what treasures they can find. It's great to see the work she puts in, all unpaid, to ensure that unwanted books bring new pleasure to people. Plus the donations from people for the books means that the charity can continue carry out its excellent work."

ExtraCare is a charitable trust that collects money to help fund facilities for older people in housing schemes and retirement villages across the north of England and the Midlands.

Store manager Angela Connell said:- "Edna is an absolute asset to our team. She has been with us 10 years now, which is longer than I have and she totally sorts our book collection, which is now enviable for a charity shop. She goes through them all when they come in, makes sure the ones we sell are clean and not torn, divides them all up into sections and she even has a waiting list for customers who like particular styles or authors. She does it all herself and she's absolutely brilliant. She's been up there with the top sellers for the last 7 years and she always keeps an eye on that and is constantly checking her figures."

Edna's love of books began at a young age and she remembers the 1st time she read the stories of Enid Blyton as a little girl. "I have loved reading all my life. My mother used to read to me and from the minute I could read myself I was hooked. I just love a really good story. My favourite book of all time would have to be Fields of Blood by Gerald Seymour. I really enjoyed that. I like watching the telly too, and films, but quite often when they make a film about a book, the book is better. I keep up with all the latest publishings too, but I'm not in to Mills and Boon; each to their own though and we do sell a lot of that. I sold a lot of Fifty Shades Of Grey too, but I didn't read it myself. I had a flick through, but I'm not really interested!"

It is was pure chance the Edna ended up working at the store; she was in Church Square Shopping Centre when she saw a manager putting a notice in the ExtraCare window.

Edna explained that:- "They were looking for someone to specifically take on the role of Specialist Book Volunteer so I asked if I could do it. They said I could have a fortnight trial and I've been doing it ever since. I absolutely love it. But I'm just part of the team here and we all get on so well and all do our bit."

Encouraged by colleagues at ExtraCare, Edna enrolled at St Helen's College 2 years ago and did her GCSE in English Language. She said:- "I hadn't been in a school for 62 years but I loved it and I got an A. I wanted to stay on and do my A Level, but it's all too computerised now and I'm an old fashioned person."

Lamenting the takeover of technology, Edna is disappointed that most of her grandchildren prefer to play computer games rather than read. She said:- "You can't beat a big shelf of proper books in a house. Going to bed with a Kindle is just not the same as going to bed with a good book."

Currently on Edna's bedside table is Michael Connelly's Gods Of Guilt and when she hasn't got her nose between the pages, Edna is happy to keep an eye on programmes like Antiques Roadshow in case she ever comes across a real gem in the Church Square store, which could raise money for the trust. She said:- "I keep an eye out, but I've never found anything rare or valuable. I'd have a pretty good idea if I did, so you never know."

Church Square Shopping Centre is open daily and home to a range of big name stores; such as River Island, BHS, Boots and Superdrug; along with independent retailers plus the busy St Mary's Market. Details on what's happening at the centre can be found online.
RMT slams rail rolling stock scandal in the North
THE Rail Union, RMT responds to reports on rail rolling stock crisis in the UK's Financial Times in the last few days. General Secretary Mick Cash said:- "The crisis in availability of rolling stock , as passenger demand for rail services surges ahead, is just part of the toxic legacy of 2 decades of rail privatisation which created the murky world of the ROSCO's and has left us desperately short of trains and carriages. The fact that 50 year old diesel units, scrounged from the nuclear authorities, are pulling vintage slam door carriages around the North makes a nonsense of George Osborne's "Northern Powerhouse" rhetoric. The lashed up Pacers, supposed to be a short term solution in the 80's, are still in operation, indefinitely and speculation that decommissioned tube trains will be thrown onto our railways shortly just adds to the overall picture of total chaos. This is fragmentation and profiteering in action and it shames Britain that our railways have been reduced to this shambles. The only solution is public ownership."

Sefton Apprentice Graduation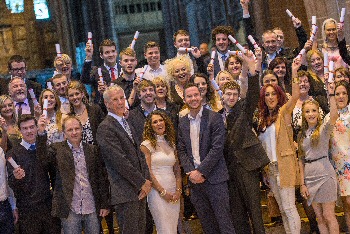 ADVANCED and Higher Apprentices from Sefton attended the UK's biggest apprentice graduation last week to formally recognise and celebrate their achievements.

The high profile event at the Liverpool Anglican Cathedral on 30 July 2015, saw around 1,000 apprentices and their friends, family and employers attend an official graduation organised by the Liverpool City Region Apprenticeship Hub. The ceremony recognised apprentices who achieved Advanced or Higher level apprenticeships in the period, running from 1 May 2014 to 1 May 2015.

Speakers on the day included entrepreneur and star of BBC's The Apprentice, Neil Clough, who reached the semi-finals of the show in 2013. He said:- "pprenticeships are massively beneficial, not only to the apprentices who are learning skills and earning while they learn, but also for what they bring to the economy, by getting more people into business and helping businesses to thrive and succeed, which is why it's so important to recognise this achievement with events like this graduation ceremony."

Stephen Roberts, General Manager of Crowne Plaza and member of the city region's Employment and Skills Board said:- "It is the Government's ambition, and mine, for it to become the norm for young people to achieve their career goals by going into an Apprenticeship or to University or, in the case of some Higher Apprenticeships, doing both, and for there to be 2 routes to success that are equally recognised as stretching, challenging and rewarding."

The Apprenticeship graduation ceremony is part of a nationwide campaign to give apprentices the same recognition that university students receive upon the completion of a degree.

It has also helped to raise awareness of the great employment opportunities available to young people from the 6 Liverpool City Region boroughs, Halton, Knowsley, Liverpool, St Helens, Wirral, who choose the apprenticeship route. This is the second time the event has taken place, following the huge success of the inaugural celebration last year.

Almost 10,000 learners started a Higher Apprenticeship in England during 2012/13, with key employers including Jaguar Land Rover, Barclays, Ford and BT offering apprenticeships. When combined, an Advanced Apprenticeship is equivalent to 2 A level passes and higher Apprenticeships from levels 4, 5, 6 or 7 form the equivalent of Foundation degree level right up to Masters Level.
Charity seeks volunteers for UK wide beach litter count
THE UK's leading marine charity, the Marine Conservation Society (MCS), is looking for volunteers to register now for a citizen science project that involves a trip to the beach!

The Great British Beach Clean takes place over 18 September to 21 September 2015 and it is the only UK wide beach clean that not only spruces up hundreds of beaches around the coast, but records the litter finds as part of a global beach clean event.

Plastic bottles and carrier bags, nappies, balloons, and tiny plastic pieces can be found on almost every beach in the UK; either washed up, blown there or dropped. Our beaches have never been so filthy, and most of the litter found can be traced back to us; the general public!

"Beach litter has steadily risen over the two decades we've been recording it on UK beaches. Last year's Great British Beach Clean attracted almost 5,500 volunteers to over 300 beaches. It's a citizen science project that has become the most respected and long standing beach litter survey in the UK." says MCS Beachwatch Officer, Charlotte Coombes.

In 2014 tiny bits of plastic were the most frequently found litter items on UK beaches. There was a 6.4% rise in beach litter between 2013 and 2014 with wet wipes having the biggest increase at almost 50%!

"Taking part in the Great British Beach Clean really can make a difference. In previous years when we've highlighted increases in dog poo bags and sewage related debris found on beaches we have seen drops in numbers subsequently. We hope we'll see fewer wet wipes in 2015 following our mini campaign showing why these material squares should go in the bin not the loo." says Charlotte Coombes.

MCS says cleaning and surveying a beach only takes a couple of hours at most. Each beach has a coordinator who explains how to fill in a simple data form, and then it's just a case of grabbing a litter picker and a bin bag and filling it up with rubbish!

Volunteers are also asked to record any branded items they find, to enable MCS to approach specific manufacturers and retailers and look at ways they can work with them to reduce the amount of rubbish from their products reaching our beaches. "Beach litter is a serious environmental problem. But the solution is in our hands. The 1st step is to register as a volunteer. We want the 'Great British Beach Clean' weekend to offer a snapshot of what the future could look like for the British seaside by reducing the amount of litter that reaches our shores." says Charlotte Coombes.

MCS beach litter projects are supported by players of People's Postcode Lottery. Clara Govier, Head of Charities at People's Postcode Lottery, says:- "It's really important for everyone to learn about the dangers of marine litter and I'm delighted that players of People's Postcode Lottery are supporting the Marine Conservation Society who are tackling this important cause. I would urge anyone who has the time to spare to take part in this beach clean."

The Great British Beach Clean; be part of the biggest and most influential fight against marine litter in the UK. Find out more at:- MCSUUK.Org/GreatBritishBeachClean or telephone them on:- 01989 566017.