Liverpool Man Pedals His Way to Raising £1,400 for Charity in London to Paris Cycle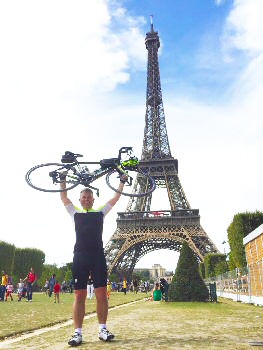 MERSEYSIDE charity Nugent Care is £1,400 better off thanks to the cycling efforts of Liverpool-born supporter Andrew Ware. Andrew, 43, who is a Director of church supply company Hayes and Finch, tackled the mammoth 300 mile journey from London to Paris on 2 wheels over 4 days and raised just over £1,400 for the local charity. The money will go towards a particular Nugent Care project called Epsom Project, a community service for local children to engage with after school and during school holidays, which Andrew wanted to help after visiting. Liverpool born and bred Andrew said:- "The cycle was one of the toughest things I've ever taken on but also one of the most rewarding and knowing that the money I raised will really make a difference to the children at Epsom Project. Hayes and Finch as a company continue to support Nugent Care as a whole too; it's a fantastic cause."

In its 134 year history, Nugent Care has supported thousands of vulnerable children and adults across Merseyside and the North West, and provides them with residential, educational and community care. If you'd like to support Nugent Care with a fundraiser contact them via:- email or by calling them on:- 0151 261 2000. Also for more information on the services you can visit:- NugentCare.Org.
Supermarket cuts could create milk crisis
PITCHUP.COM says farms can earn up to £200,000 annually by diversifying into camping. Farmers were paid an average 23.66p per litre in June, down 10% since January and a quarter lower than a year ago, according to AHDB Dairy. Farmers are declaring war against supermarkets as more milk price cuts are announced, with Morrisons being the target of recent disruption. A farmer quoted in a national paper said:- "There's a crisis. People are selling the core of their business just to pay bills and the banks. It's also a crisis for the consumer. They wish to buy British but if we don't address this situation that's going to be taken away from them by corporate greed." Dan Yates, founder of outdoor accommodation provider Pitchup.com, confirms they have seen a significant increase in the number of farmers looking for alternative revenue streams in the wake of recent cuts, with a growing number of farmers renting land out as pitches or adding lodge, caravan or 'glamping' accommodation. At present Pitchup.com has 240 farmers selling outdoor holidays via its website. Yates said that:- "It's not all doom and gloom as our best selling dairy farm has already taken £36,000 in bookings in 2015. Despite government forecasts that many farms will see incomes fall by between 11% and 21% in 2015*, income from tourism can more than counteract losses in the core farming business. Whilst obviously this doesn't address the problem that the reduction in milk production can cause for local economies, it does show that farmers wanting to diversify into tourism can reap rewards. It can be very straightforward to set up a campsite on a farm but the returns can be game changing: our best selling campsite has received £200,000 of bookings in the last 12 months."

* 8 farms live in July 2014 versus 30 farms live in July 2015.

Town Hall opens its doors to the public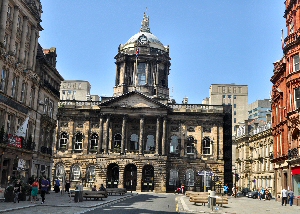 LIVERPOOL'S Town Hall will be opening its magnificent surroundings to the public for the next 2 weeks starting from Monday, 17 August 2015. Members of the public can take a look at the splendour of 1 of the finest surviving 18th Century buildings for free.

Liverpool's Lord Mayor, Councillor Tony Concepcion said:- "It's so easy to overlook the wonderful architecture the City has to offer, especially if you live here, but this is a fantastic opportunity for both locals and visitors to come and see 1 of our many gems. The Town Hall open days are always hugely successful and I hope we can encourage as many people as possible to come and see this amazing building for themselves. This year we also have a beautiful exhibition for visitors to enjoy which will hopefully make the experience even more memorable."

On entering the building visitors will be greeted by the splendid flemish wooden fireplace from 1893. The entrance hall also features a floor made up of hand painted tiles and showing the Liverpool's Coat of Arms. And in an effort to record the City's history the grand frescoes surrounding the fireplace depict important events including the granting of the Charter by King John in 1207.

There will also be a stunning exhibition on display in the East Reception; Threading Dream; an exhibition of textiles and embroidery, from The Sreepur Village Bangladesh and rural areas. All the work on display is created in adverse poverty by amazing women.

In addition handmade cards, silk scarves and other gifts will be available to buy with all proceeds going to the 600 children and 150 destitute mothers who live at Sreepur plus the Street Children project.

A pop up café, provided by Yacht Club Liverpool, will be available on all open days selling light refreshments for anyone wanting to sit and enjoy their surroundings. And as if that isn't enough you can follow in the footsteps of dignitaries such as Her Majesty the Queen and famous Liverpool sons, the Beatles or take time out to view the breathtaking ballrooms and charming chandeliers.

Taking a walk around the Town Hall is free of charge and there is no need to book, but if you wish to go along on one of the guided tours (conducted by legendary local Liverpool historian Steve Binns) there is a charge of £3.00 per person and as places are limited advance booking is recommended simply call the bookings team on:- 0151 233 3020, to reserve your place.

The Town Hall open days will take place on the dates below with guided tours going ahead, at 11.00am and 2.00pm, on each of these days:-
► Monday, 17 August 2015 - (Building is open to the public from 10am until 4pm to last entrance is at 3.45pm)

► Tuesday 18 August (Building is open to the public from 10am until 4pm to last entrance is at 3:45pm)

► Wednesday 19 August (Building is open to the public from 10am until 4pm to last entrance is at 3:45pm)

► Thursday 20 August (Building is open to the public from 10am until 4pm to last entrance is at 3:45pm)

► Tuesday 25 August (Building is open to the public from 10am until 4pm to last entrance is at 3:45pm)

► Thursday 27 August (Building is open to the public from 10am until 4pm to last entrance is at 3:45pm)

► Friday 28 August (Building is open to the public from 10am until 4pm; last entrance is at 3:45pm)