Merseyside's newest tourist attraction is looking for volunteers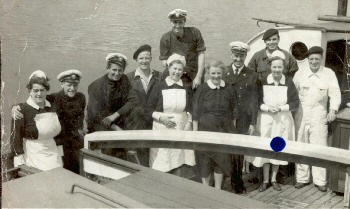 FANCY helping to plan events on Liverpool's docks, or helping to prepare afternoon teas for tourists? Then a role could be waiting for you with The Daniel Adamson Preservation Trust, which will be hoping to launch its new historic steam ship in Liverpool in March 2016. The team behind the 1903 ship has benefitted from lottery funding to aid its restoration, but now need to top the staffing with volunteers to help with all sorts of roles and is looking for people with a bit of spare time, who would like to work on the new tourist attraction which will operate as a museum as well as a sailing attraction along the Mersey waterways. Roles could include helping with school groups, planning events, helping to take bookings, admin support, helping on-board the ship, helping to serve refreshments or welcoming passengers on-board. All ages are welcome. There are also volunteer opportunities for helping with technical and engineering jobs on the ship. No previous experience is required and all help will be gratefully received. To offer volunteer help send then an email and for more information visit:- DanielaDamson.Co.UK.
City Showcase Festival Hailed Huge Success And Will Return In 2016
LIVERPOOL Loves has been hailed an unprecedented success by organisers, attracting crowds of 27,000 visitors over 3 days of the inaugural festival. The exciting weekend of activity took place at Pier Head Liverpool, set against the stunning backdrop of the Three Graces; which forms part of the City's prestigious UNESCO World Heritage Site.
Liverpool Loves was made up of 3 key events to celebrate all that is great about this magnificent City:- Liverpool Loves Business, Liverpool Loves Ireland and the headline event, Liverpool Loves festival day.
The event was the brainchild of Liverpool based Orb CIC, who have a strong proven track record in staging major City events and festivals. Festival Director Josh Boyd from Orb CIC commented:- "Liverpool Loves was borne from the idea that this City is forward thinking, independent, and so unique to this country. It's a City that continues to pioneer in all aspects of life; people, business and culture, and we wanted to create a festival to represent the entire spectrum. The festival became the perfect vehicle to showcase just how much the destination has to offer. Liverpool Loves is for Liverpool, by Liverpool. Each of the 3 days were testament to the bold, ambitious nature of this City. Liverpool Loves was the 1st large scale, not-for-profit, public festival run by a Community Interest Company (CIC). And it achieved exactly what we set out to do; championing independent businesses, social enterprise, arts and culture groups, grass roots talent, communities, and charities."
Liverpool Loves Business, on Thursday, 6 August 2015, officially launched the festival at the Cunard Building, one of the iconic Three Graces. Themed seminars, discussion panels and free business advice provided opportunities for business owners and professionals to develop skills, connect with other entrepreneurs, and inspire independents. A total of 16 sessions featured more than 30 speakers. The business event attracted 700 delegates and hosted 18 exhibitors.
Liverpool Loves Ireland, on Friday, 7 August 2015, welcomed over 400 concertgoers to a show at the Pier Head featuring traditional music and dance. 6 acts from Liverpool and Ireland highlighted links between the City and the Emerald Isle. The event was hosted by Liverpool historian Frank Carlyle, headlined by Cream of the Barley, and featured Eleanor McEvoy, who has the best selling Irish album in Irish history.

Liverpool Loves festival day, on Saturday, 8 August 2015, was the highlight of the weekend, when the Pier Head was transformed into a dazzling landscape of colour and entertainment. A family friendly programme spanning 12 hours included an array workshops; music and dance performances; health and well being activities; and festival food and drink; keeping 25,000 visitors entertained throughout the day.
Liverpool's fascinating and diverse world culture was represented through traditional dance, music, and art with performers representing the communities of China, India, the Middle East and Brazil with dragon dancers, Bollywood demonstrations, Arab Arts, and Brazilian samba drum ensembles.

Martin O'Shea from Bold Management and BBC Radio Merseyside's Dave Monks curated the soundtrack for the festival's Main Stage, whilst the Dovedale Social and Merseyrail Sound Station provided a host of fantastic grass roots talent across two further stages.

Organisers Orb CIC worked with over 35 organisations and contributors to deliver Saturday's packed programme. More than 200 other businesses were represented on the day through crafts, food and drink, and over 50 bands/artistes performed.

The festival gained huge levels of support from key partners in its inaugural year, including The North West Fund and Campanile Hotels UK, part of Louvre Hotels Europe. Backing also came from a range of further partners including Mayor Of Liverpool Joe Anderson, It's Liverpool, Big Lottery Fund, Health @ Work, Mitchell Charlesworth, MSB Solicitors, Click Connect, Love Food Hate Waste, Richmond Fellowship, Shelter, and Legacy Liverpool.
Josh Boyd added:- "We are overwhelmed by the level of support given to Liverpool Loves in its 1st year; not only from our sponsors, partners and contributors, but the support from the general public has been fantastic. Attracting 27,000 visitors is no mean feat for any event, so we cannot thank you all enough for making this festival your own. Over £70,000 worth of work was awarded to local organisations and more than 680 local people were employed to work on Liverpool Loves as a direct result of this investment. We have joined together as a City region to celebrate Liverpool and in doing so we've shown the rest of the UK, and indeed the world, that this is the place to work, live, laugh and love. Watch this space for announcements about a bigger and better Liverpool Loves 2016, as well as a few surprises in the lead up to next year's event; 12 months is a long time to wait! This is 'The Peoples' Festival' for Liverpool, by Liverpool."

Keep up to date with the latest announcements at:- LiverpoolLoves.Co.UK. Follow us on Facebook/Liverpool Loves and Twitter @LiverpoolLoves.

People are 59% more likely to drop litter when outside their home Town
THE people of Britain are generally a caring lot bursting with civic pride and a hatred for people who drop litter on the streets of their Town or city, it's been revealed. However, it's an attitude that evaporates completely when they hit the road or visit another Town, a national waste management company has found. According to the BusinessWaste.co.uk management company, people are around four times more likely to litter the streets of another Town, with litterbugs most likely to strike by throwing their rubbish out of their car window. "Brits are the kind of people who get positively outraged if they find an empty beer can in their front garden. But it appears that they think nothing of doing exactly that when they're away from home." says BusinessWaste.co.uk spokesperson Mark Hall.

This surprising and 2 faced attitude is backed up by a survey of 250 people who were prepared to speak candidly and anonymously about their attitude to litter:-

► 98% said they would be angry if they found litter on their front doorstep.

► 89% said they'd never drop litter in their home Town.

► 55% said they'd say something if they saw somebody dropping litter in their home Town.

► 41% told us that they would actively pick up litter in their own street or Town centre if they thought it was unsightly.

On the other hand:-

► 59% admitted to dropping litter in another Town, or on the road.

► Of these, 71% said they had dropped litter in the street; and 72% said they had dropped litter; including cigarette ends; out of their car window.

► Only 3% said they'd ever been stopped by a local because they have dropped litter.

Despite these contradictory results, there appears to be public appetite for throwing the book at offenders:-

► 68% said they would support a rise in the current £75 fixed penalty for littering to at least £100.

► 1 person's response was typical:- "I love my Town, and I've shouted out kids who drop their sweet wrappers. But I always chuck my ciggie butts out of the car window; they're biodegradable, aren't they?"

Cigarette waste made up the majority of littering to which people admitted, in both their home Towns or elsewhere, followed by fast food wrappers, sweet wrappers and drinks bottles or cans.

Lit cigarette butts are particularly dangerous on the open road as they can cause grass fires; and the heavy metals and poisons are not typically biodegradable, and can poison local water tables. BusinessWaste.co.uk says that even though there are fewer smokers in the UK, the amount of cigarette waste in our streets has actually increased over the past few years because of the smoking ban on most indoor premises.

"Even though people say they don't litter their home Town, they may be doing it unconsciously as a smoker, or simply dropping a wrapper without thinking. In fact, resort Towns aside where the visitor population can outnumber the locals in peak season, we think the majority of litter on Town and City streets in the UK is generated by the home population." says Mark Hall.

But it's on main roads between urban areas that goes to prove how little people think about flinging their waste any which way, says Business Waste. Hall says:- "Every year, our waste operators have to risk their lives picking litter from grass verges on major roads. The end result is tens of tons of cans, bottles and food wrappers. Home Town pride goes right out of the window on a car journey, it seems."

BusinessWaste.co.uk has a simple message for people who litter Towns, highways and the countryside:- "Take it home, and put it in the bin. If it's recyclable, recycle it."

Unfortunately, Hall says, it's a message that's still not getting through.
Beer Garden smoking ban 'work of crackpot killjoys'
BANNING smoking in beer gardens because it looks "bad" would be an outrageous affront to millions of people acting perfectly within the law, says Ukip deputy leader Paul Nuttall. The Royal Society for Public Health says smoking should be seen as "abnormal" and wants even more controls over where people can or cannot light up. Mr Nuttall, MEP for the North West, said further controls on smoking would sound the death knell for the already under-pressure pub industry. He said:- "We should think back to 2007 before the smoking ban came in, when we were told it would increase the number of people visiting our pubs. The truth is the exact opposite happened. In the 1st 6 months of 2014 we were losing 31 pubs a week as the businesses closed down. The idea of now extending the smoking ban from inside the pub to the beer garden is ludicrous. The Royal Society even admits that this is nothing to do with passive smoking. They say that even the 'sight' of someone smoking could influence a child to do the same. This is inflammatory nonsense and an outrageous affront to the ten million people who smoke perfectly legally. Presumably the Royal Society will want to ban BBC Crimewatch, as the sight of it on television might encourage children to break the law. By the same notion we'll have to ban fat people so we can discourage obesity and ban power stations because they encourage pollution. This idea is from crackpot killjoys who refuse to accept that actually, adults are free to make their own decisions and also know best how to bring up their own children."
A level results success in Liverpool
A-LEVEL results in Liverpool have improved again, according to provisional figures. Grades from all schools show the City has matched the national pass rate at 98.1%; while an additional 242 young people have secured the higher grades of A* - C compared to 2014. Of particular note is the success of ethnic minority and traveller students who study after school as part of the Communities Languages project, with 63% achieving A/A* grades. Councillor Nick Small, Assistant Mayor and Cabinet member for Education, Employment and Skills said:- "Our students put a great deal of passionate commitment into their A level studies and congratulations to all of them on their success. It's great news for our City that more of our young people are able to go on to university and in to advanced apprenticeships. Thanks also need to go to their teachers and parents and carers for supporting and guiding them. It is more important than ever to get decent grades in order to secure a decent job, apprenticeship or place at university, and it is vital that every single young person gets the help, guidance and support they need to achieve their full potential. We are working hard with schools and employers to make sure our young people have the right qualifications to take advantage of the opportunities that exist in growing employment sectors here in Liverpool."