Merseytravel's smart ticketing scheme hits next milestone with launch of Solo on Walrus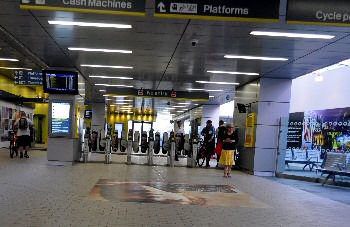 MERSEYTRAVEL'S smart ticketing scheme hits its next milestone with popular pre-paid bus tickets set to go electronic on the Walrus card from Monday, 7 September 2015.

Smart 1 week and 4 week adult Solos and 1 week young persons' Solos will replace the current paper tickets from this date.

Available on Walrus cards from around 800 PayPoint outlets in and around Merseyside, compared with just 50 retailers currently, these types of Solos will be much more convenient to purchase.

In addition, users will no longer be required to provide photos, they can buy 1 or several Solos on the same Walrus card and the smart tickets will become active only on 1st use, meaning they can buy them in advance without wasting any travel days.

From 7 September 2015 there will be an added benefit for Saveaway users, with the ability to buy tickets for use the same day or next day.

Saveaway, the off peak day ticket for buses, trains and ferries, was the 1st ticket to go smart across Merseyside in March and with almost half a million tickets sold by the beginning of August 2015. Merseytravel's smart ticketing scheme is already the most active outside London based on Saveaway sales alone.

The launch of smart Solo now means that people can mix and match some of the most popular smart Solo and Saveaway tickets, having them all on the Walrus card at the same time.

If people don't yet have a Walrus card they can get one for free for an extended period when purchasing a smart Saveaway or Solo.

People are encouraged to keep their cards and re-use them and indications are that people are doing just that, with more than 60% of Saveaway purchases currently on re-used cards.

The developments in Merseytravel's smart ticketing scheme complement those being led by operators Stagecoach and Arriva, with some of their own products now available smart, such as online or via mobile phones.

A strategy, being taken forward jointly by Merseytravel and operators, will seek to transform the approach to tickets and ticket buying in the Liverpool City Region. Recommendations will be set out later in 2015. The focus will be on making the process more convenient and efficient for public transport users, making the most of technology and simplifying the zoning system and price structures where possible.

Meanwhile there are additional benefits for young users, with child Solos and Saveaways amongst the products that will become young people's tickets valid up to and including the age of 18 years old from 1 September 2015.
Merseyside is the 1st area to trail blaze an increase in age eligibility for young people's tickets irrespective of whether they are in education or training.
Said Cllr Liam Robinson, Chair of Merseytravel:- "This is another step forward in going 'smart.' 80% of public transport journeys are on bus so it makes sense for our most popular bus tickets to go electronic, giving people more choice on where to buy, cutting out the need to provide photos and with the ability to mix and match tickets. While our smart ticketing scheme is already the most active outside London, we recognise we're only scratching the surface. As well as making our existing products smart there's much work going on in parallel to ultimately transform the way people buy tickets for travel. Plans for an Oyster style scheme across the North will ultimately build on the work that we and other City regions already have underway."

Further information on changes to the tickets and how to purchase them is available on the Merseytravel website.

BTP helping cyclists at Formby Station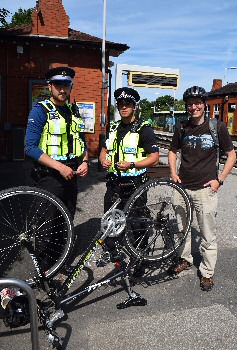 WITH a spate of bikes being stolen from Railway Stations taking place, the British Transport Police along with officers from Merseyside Police, have been helping cyclists by performing a free marking service. This was one of the teams at Formby Station, on Monday, 17 August 2015.
Local Restaurant Welcomes Back Holidaymakers With Free Roast Dinner
A Southport restaurant is asking holidaymakers to think of their 'local' as they're sunning themselves abroad by sending a postcard back home to the family restaurant. The team at Toby Carvery on Liverpool Road will thank people who send a postcard from their travels to the restaurant with a free roast on their return to the UK, so they can indulge in a classic British dish after sampling local food abroad.

Alexandra Wheelton, general manager at Toby Carvery Ainsdale, said:- "Holidays are a great time to relax and enjoy the sunshine but there's nothing like coming back to home comforts like your own bed, a good cup of tea and a roast dinner with all the trimmings; especially one that is cooked for you! As people start travelling back to Southport, we want to extend that holiday feeling and thank our loyal guests for thinking of us while abroad with a great meal and service. Whether a traditional 'Wish You Were Here' postcard or a digital photo postcard through apps like Touchnote, we can't wait to hear what guests are up to on their holidays. In return, we'll welcome families back to reality and ease the post holiday blues with a tasty carvery at the home of the roast."

Southport locals who want to tuck into a free classic roast on their return simply need to send a postcard which includes their email to Toby Carvery, PO Box 11572, Birmingham, B15 1WR. The sender will then be sent a voucher redeem their free Toby Carvery, complete with slow roasted beef, British turkey, honey and mustard glazed gammon or apple, honey and cider glazed pork with crackling, Yorkshire pudding and an unlimited selection of 10 steamed vegetables and potatoes.

The best postcards will also be shared on Toby Carvery's social media channels:- Twitter and Facebook.

Toby Carvery believes there's only 1 way to do Great British Roast; and that's properly. Food is always freshly prepared at Toby to satisfy your carvery craving. You can choose from a selection of tender, slow cooked meats, 8 lots of veg, including crispy, ruffled roasties, and all the trimmings.

With over 160 locations across the UK and over 30 years' experience of laying on a family sized feast, you can be sure that Toby Carvery is home of the roast.

T&C's:- Postcards must be received by Friday, 11 September 2015.... The free meal must be redeemed by Saturday, 10 October 2015... No cash alternative. This website and its owners are not responsible or liable for the offer. For full details please visit:- TobyCarvery.Co.UK.
Appeal following shots being fired at House in Bootle
MERSEYSIDE Police are now investigating a firearms incident that has taken place in Bootle, at around 10.15pm, on Thursday, 20 August 2015. We are told officers responded to a call said shots had been fired at an address on Rose Avenue. Officers attended and found damage to a front downstairs window of a house consistent with a firearm discharge. No one was injured during the incident. Crime Scene Investigators have carried out forensic examinations at the scene and house to house enquiries are still underway. High visibility patrols have been stepped up in the area. Detective Inspector Mike Leyland, said:- "An investigation into the full circumstances of the incident is ongoing. I would appeal to anyone who may have seen anyone acting suspiciously in the area around Rose Avenue shortly before, or after the incident, to contact us, information they have could be vital." Anyone with information is urged to call MSOC officers on:- 0800 230 0600 or Crimestoppers, anonymously, on:- 0800 555 111.