Anxious new drivers in the North West fear bad weather, being alone and driving in the dark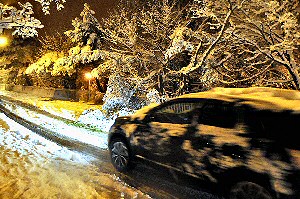 BAD weather, being alone in the car and driving in the dark top the list of the main worries experienced by new drivers in the North West according to research by car insurance specialist, Admiral MultiCar.
Admiral surveyed motorists in the region about their experience while they were learning to drive and after they 1st passed their driving test. It found the main motivation for learning to drive is the need to be independent, according to 65% of motorists asked. ½ said the main reason they learned was to be able to get to places at their own pace, while 38% said they did it to be able to get to work.
Somewhat unsurprising is the main emotion learner drivers in the North West experience during their driving test; nervousness. More than half (54%) said that's how they felt when they 1st took their test. However nearly 1 in 5 (18%) said that they had felt confident on their driving test.
Admiral MultiCar spokesman, Justin Beddows, commenting on the research said:- "It's perfectly natural to feel nervous when you 1st take your driving test. What is surprising is the number who said the main emotion they felt was confidence. I certainly didn't feel confident, and it's a memory that's stayed with me for the last 25 years!"
Once they pass their test, many people in the North West can't wait to hit the road by themselves and do so the same day. 64% said they went out on their own the day they passed their test. However 5% said they waited at least a month.
Admiral MultiCar found that the 1st solo drive is full of worries for most drivers in the region. The number 1 anxiety is driving in difficult weather conditions (29%). This is followed by driving alone (27%) and driving in the dark (23%). Only 19% said crashing was their biggest worry.
Q... "What were you most worried about the 1st time you drove alone?"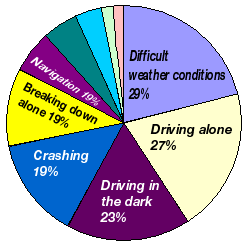 Place
Fear
Response
1
Driving in difficult weather conditions
29%
2
Driving alone
27%
3
Driving in the dark
23%
4
Breaking down on your own
19%
Crashing
6
Not knowing your way around
15%
7
Driving with passengers in the car
8%
8
Ending up somewhere you don't know
7%
9
Not understanding road signs
5%
10
Not knowing how to put fuel in the car
4%
Justin Beddows, continued:- "Nothing quite prepares you for being on the road by yourself for the 1st time and it's almost like you have to learn to drive again without the support of your instructor. Our own statistics show that people who have passed their test and move from a provisional licence are unfortunately, more likely to have an accident than a learner driver."
So do motorists in the North West think they would pass their driving test if they had to re-sit it today? The vast majority are confident in their abilities, with more than three quarters (77%) drivers saying they would pass. Only 23% said they don't think they would.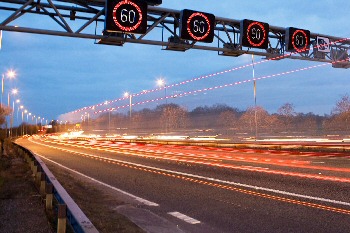 This confidence maybe doesn't match reality however as only 41% of the motorists surveyed said they passed 1st time. For 38% it took 2 attempts and for 13% it took 3 attempts. But does this match you? Please let us know your thoughts on this news item, via emailing us to:- news24@southportreporter.com.

When I'm 64 - Celebratory open day at new retirement living development where Paul McCartney went to school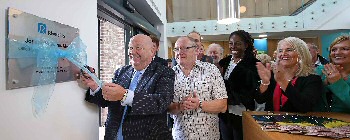 LIVERPOOL Mayor Joe Anderson officially opened the City's newest retirement living housing development on 2 September 2015; prompting a cue for the Beatles' hit song:- 'When I'm 64…' when guests found out Sir Paul McCartney's old school was previously on the development's site.
Joseph Williams Mews is Riverside's newest retirement living development for over 55's, in Belle Vale, located directly opposite the area's main shopping complex. The scheme consists of 56 affordable rent apartments as well as 12 apartments and two bungalows available to buy on a shared ownership basis.

Sir Paul McCartney attended Joseph Williams School from 1949 to 1953. The school was closed in 1997 and the site on Naylorsfield Drive was cleared for Riverside's new retirement living housing built in line, with the Lee Valley Green Space Strategy.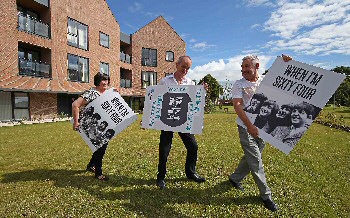 Maureen Pringle, Riverside Regional Operations Manager, said:- "Joseph Williams Mews offers a range of housing options and additional levels of support for couples and single people over 55. The scheme is modern and inviting with a staffed reception area, hairdressers and beauty salon, laundry facilities and a community café themed around the history of Liverpool with a pictorial timeline of historic events dating back to the Belle Vale Prefab Project until the present day."

The £9.4 million 70 home project was developed by Riverside in partnership with Liverpool City Council and contractors Lovell, design agency DK Architects, and landscape planners Planit-IE, following the increased demand for housing for older people in the Lee Valley area Mayor of Liverpool, Joe Anderson, said:- "Joseph Williams Mews means local people can look forward to retiring in their own community surrounded by their friends and family. The modern development has transformed the area not only for the people that live there but the wider Belle Vale community with a number of facilities also open to the public too. The investment in housing for over 55's comes at a vital time and I'm delighted to have opened the stunning development."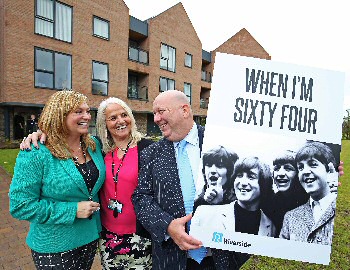 Mr and Mrs Moore were some of the 1st people to move into their purpose built home at Joseph Williams Mews. They said:- "Joseph Williams Mews really brings you out of your home, you have company all the time, and we're really over the moon living here."

Nigel Yates, Regional Director for housing developer Lovell, said:- "It's great to see people moving in and enjoying life in this modern new development which we are delighted to have helped create through our continuing partnership with Riverside. As a locally based company, we're also very proud to have built what is an impressive facility for retirement living, providing high quality housing, designed and constructed to the most exacting standards, for people in the Lee Valley area."

As part of the day, Mayor Joe Anderson toured the development after he officially cut the ribbon declaring the scheme open. Guests had lunch at Joseph Williams Mews' soon to be launched café, which will officially be open to the Belle Vale community later this month.