St Helens author and pet Pugalug help raise funds for children's charity at Church Square Shopping Centre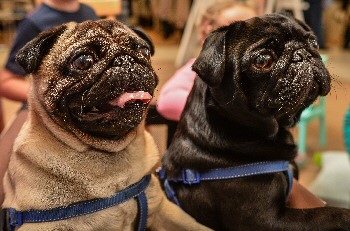 YOUNG fans got to meet their canine heroes at a St Helen's shopping centre thanks to a local author. Jessica Parish took along her pet pooch Pugalugs and his laid back pug companion Dug to Church Square Shopping Centre, where she signed copies of her books.

She also read from the book:- 'Pugalugs - The Beginning and Walkies', at the centre's BHS store as part a charity day to raise funds for the NSPCC.

Jessica donated £1 from every book she sold to the charity, which supports families and works to end child abuse.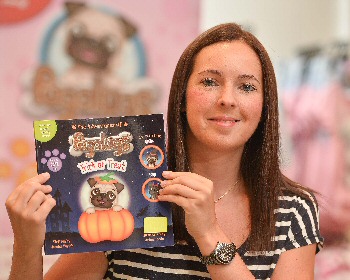 Former recruitment company account manager Jessica and her husband Mark set up their own publishing company, Pugalug Publishing Ltd, and the couple have been distributing the 1st 2 books around the North West region; with a ⅓, due out in September 2015, but the 27 year old from Newbold says her books have proved so popular, they are now negotiating with several national distribution companies and she's confident her work will soon be on sale right around the UK. She said:- "It's been a steep learning curve to be honest. I got my 1st pet pug, Pugalugs, 4 years ago and his character just inspired me to write children's stories about his adventures. No one had written about a pug character and seeing the way children are drawn to them and how they react when they meet Pugalugs and Dug I thought I had to write about it."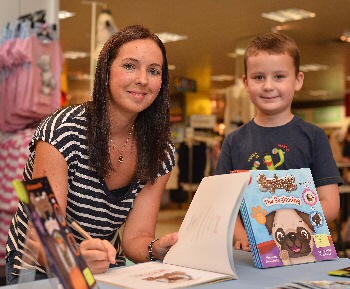 Jessica says she was delighted to be invited to spend the day at BHS in Church Square and help raise funds for the NSPCC. She said:- "It's been really busy and I'm so pleased to have been invited by both BHS and the management of Church Square Shopping Centre. It's been lovely to meet some of the many fans of Pugalugs and to chat about what they like about the books. I certainly don't regret becoming a full time author and publisher and I'm confident the Pugalugs stories will be available in bookshops nationwide before very long. I'd like to thank all the young fans of Pugalugs!"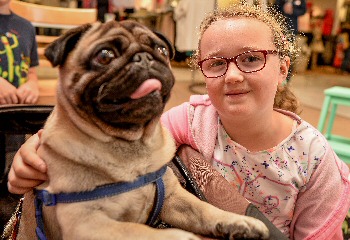 Warrington teaching assistant David Priestly took along his 3 year old son, Joseph, who was dressed in his favourite Pugalug T-shirt to meet the 2 pooch friends and Jessica. David said:- "Joseph can't read yet, but he can pretty much quote the books word for word. It only took him a few days to know Walkies off by heart. Jessica's books are everything you need in a children's book. We have to read him one of the books at least twice every night when he's in bed and before he goes to sleep. He just loves them to bits. They are great for those that are too small to read as they get to know the stories and once a child is reading they get even more from them. Pugalugs is Joseph's favourite by miles. The stories are just so appealing. He can't wait for the new one to come out."

Caroline White, a credit controller from St Helen's took her 7 year old son, Martin, along to meet Jessica, Pugalug and Dug. She said:- "It's been a wonderful event and I'm so glad BHS and Church Square put the day on. Martin reads the Pugalug books all the time he really enjoys them. He also loves pug dogs now, I think children just like their looks and character. It been fantastic getting to meet Jessica and seeing the two dogs we have read so much about."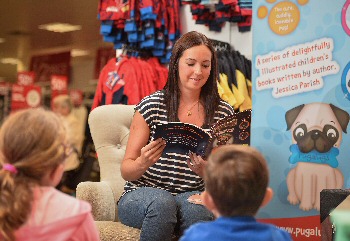 Paul Travis, a computer programmer with St Helen's Borough Council, says his daughter Amy, 9, a pupil of Eccleston Meer Primary School, is one of Pugalugs' biggest fans and he was thrilled she got to meet him. He said:- "Amy is an avid reader and adores the Pugalug books. She asks everyday if we can have a pug dog ourselves and I can see the time coming when I'm going to have to give in!" Amy added:- "It's been the best day of the school holidays meeting Jessica and seeing Pugalug and Dug. I love the stories, especially Walkies, which is my favourite at the moment. I'm really excited about the new 1 that's coming out. I keep asking if we can get a pug for a pet; I'm keeping my fingers crossed!"

Church Square Shopping Centre Steven Brogan said:- "Pugalug and Dug have proved very popular today with our young shoppers. As a dad myself, I know how important it is to get children into reading at a young age, and Jessica's books certainly seem to appeal to them. I'd also like to thank all our shoppers who have been so generous in their donations to the charity day at BHS for the NSPCC, which carries out such excellent work."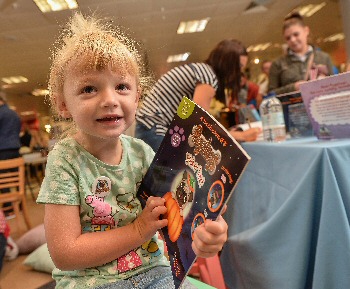 Michael Bracken, manager of BHS, in Church Square Shopping Centre, said:- "We have been raising funds for the NSPCC through a cake and sweet sale, with everything donated by staff, and through sales of Jessica Parish's wonderful books. It's about community involvement and encouraging local people to shop here in St Helens. We ran an event recently called We Love St Helens and this event came off the back of that. We want to support local people such as Jessica, who is a fabulous author of children's books. We are delighted with the response and the number of people that came along to meet Jessica. We are aiming to raise around £250 for the NSPCC, which is one of the stores charity partners."

Author Jessica said she 1st began writing short stories when a pupil at St Edmund Arrowsmith Catholic High School in Ashton in Makerfield She added:- "However, writing children's books is not as easy as it might seem; it's really hard but great work. We found a wonderful illustrator, Helen Poole of Crosby, Liverpool, but decided to set up our own publishing company so we could keep control of everything. We are even producing Pugalugs merchandise now, such as mugs, T-shirts and bags which are proving hugely popular too. I hope my stories help children get into reading and they learn to enjoy books. The books are really all about Pugalugs and Dug. Pugalugs, who is now 4, is hyper and never calms down, he's so full of energy, but a great character. Dug, on the other hand, is totally chilled out and likes to sleep as much as he can. The 1st 2 books are based on the area around Newbold where I walk my pugs. My third book, Trick or Treat, is coming out on 7 September 2015 and is all about Halloween, and sees Pugalugs and Dug dress up to go trick or treating."

Decathlon City of Salford 10K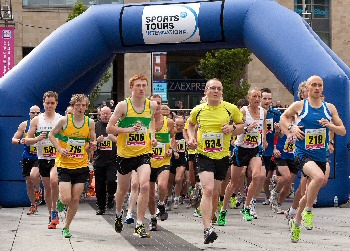 THE Decathlon City of Salford 10K race, which is set to welcome more than 3,500 runners, starts and finishes at the plaza area between the Lowry Theatre and Lowry Outlet Mall before following a route through Media City UK and over to Trafford Park. Reubens Retreat, the Greater Manchester charity set up to support seriously ill children and their families, is this year's official charity partner. Runners can also raise money for their chosen charity. Europe's leading sportswear and equipment retailer, Decathlon, has announced that it will be the Official Title Sponsor. The 1st 3 people over the finish line will win a cash prize; £250 for the winner, £150 for 2nd place and £75 for 2rd place. The run also includes chip timing, a medal and commemorative technical t-shirt given to all finishers. Car parking is available on the day at MediaCityUK car park and the Lowry. Please note, trams will be out of action on race day, but a replacement bus service will be operating. For more information visit:- SportsToursInternational.Co.UK.
2017 Countdown – Retailer Winners from Rating Revaluation
ON 1 September 2015, Colliers International's independent research reveals the nation's top regional anticipated 'winners' for the retail industry when the new rateable values are introduced on 1 April 2017, resulting in a substantial shift for the industry.
With so many businesses closing in the Town Centre it might come as a shock that Southport is amongst the top 20 Towns across the UK, to be listed as benefiting from the new rateable values! The research says that Southport is to expect a reduction in business rates of 41%. Other Towns in the North West to benefit from reduced values include Rochdale (-40.20%), Crewe (-37.90%), Stockport (-35.41%), Ashton-under-Lyne (-35.41%), Oldham (-33.36%), Stretford (-32.30%), Barrow-in-Furness (-31.11%), Northwich (-29.41%), Warrington (-16.82%) and Manchester City (-17%). But will this good news bring back business to our failing Town Center?
In Merseyside, the Top Towns to benefit from reduced rateable values in retail include, not only Southport with a -41% reduction, but also:- St Helens (-38%), Birkenhead (-36%), Bootle (-29%), Liverpool (-17%) and Ellesmere Port (-10%).
Colliers' comprehensive research examines 421 centres surveyed by the company and compares the results with the Valuation Office Agency (VOA's) current values. These findings are based on the prime locations in these retail centres.
Top 20 Retail Towns to benefit from the 2017 Revaluation include:-
| | | |
| --- | --- | --- |
| Town | Region | Decrease |
| Port Talbot | Wales | -63.51% |
| Tamworth | West Midlands | -55.84% |
| Neath | Wales | -55.67% |
| Newport | Wales | -52.00% |
| Ealing | Greater London | -46.18% |
| Torquay | South West | -44.80% |
| Pontypridd | Wales | -43.84% |
| Dewsbury | Yorkshire Humberside | -42.59% |
| Llanelli | Wales | -42.12% |
| Kidderminster | West Midlands | -42.04% |
| Bromsgrove | West Midlands | -42.04% |
| Stockton-on-Tees | North East | -42.04% |
| Dover | South East | -41.28% |
| Scunthorpe | Yorkshire Humberside | -41.28% |
| South Shields | North East | -41.28% |
| Southport | Merseyside | -41% |
| Lowestoft | East | -40.61% |
| Bridgend | Wales | -40.20% |
| Llandudno | Wales | -40.20% |
| Keighley | Yorkshire Humberside | -40.20% |
Adam Burke, Director in Colliers International's Manchester Rating team, commented:- "The regional retailers are finally seeing relief on the horizon from the values taken on 1 April 2015 coming into effect on 1 April 2017. The huge swing in values is due to the Government postponing the revaluation, which was meant to commence this year, so instead of having a 5 year cycle we now have a seven year cycle. This long delay in revaluation is like stretching a rubber band, which when it snaps has a significant impact. The effect is evident that we need shorter revaluation cycles, perhaps of about 3 years, in order to capture the rapidly changes relative values."
Extra information and stats:-
► Top 10 London areas where rateable values are anticipated to decrease include Ealing (-46%), Ilford (-38%), Enfield (-35%), Harrow (-34%), Barking (-30%), Sutton (-19%), Fleet Street (-13%), Tottenham Court Road (-12%), Hounslow (-10%) and Bexleyheath (-5%).
► The South East*, excluding London, also showed rateable value decreases in:- Dover (-41%), Gravesend (-35%), Worthing (-32%), Fareham (-28%) and Chatham (-24%).
► Wales' Top 10 Towns to benefit from reduced rateable values in retail include:- Newport (-80%), Port Talbot (-64%), Neath (-56%), Pontypridd (-44%), Llanelli (-42%), Bridgend (-40%), Llandudno (-40%), Merthyr Tydfil (-34%), Haverfordwest (-28%) and Wrexham (-28%).
► The South West the top 10 Towns to benefit from reduced rateable values in retail include:- Torquay (-45%), Gloucester (-39%), Yeovil (-34%), Bournemouth (-30%), Swindon (-28%), St Austell (-28%), Weston-Super-Mare (-28%), Taunton (-25%), Penzance (-22%) and Christchurch (-18/%).
► West Midlands' top 10 Towns to benefit from reduced rateable values in retail include:- Tamworth (-56%), Kidderminster (-42%), Bromsgrove (-42%), Northfield (-34%), Kings Heath (-34%), Halesowen (-1%), Rugby (-31%), Newcastle-under-Lyme (-22%), Nuneaton (-21%) and West Bromwich (-19%).
► In Yorkshire Humberside, the top Towns to benefit from reduced rateable values in retail include Dewsbury (-43%), Scunthorpe (-41%), Keighley (-40%), Sheffield (-24%), Bradford (-23%), Rotherham (-19%) and Grimsby (-17%).
► North East's top 10 Towns to benefit from reduced rateable values in retail include:- Stockton-on-Tees (-42.04%), South Shields (-41.28%), Redcar (-38.49%), North Shields (-37.21%), Middlesbrough (-36.90%), Whitley Bay (-36.68%), Hartlepool (-34.91%), Peterlee (-33.76%), Newcastle Upon Tyne (-24.65%) and Berwick-upon-Tweed (-15.75%).
► In the Eastern* region, the top Towns to benefit from reduced rateable values in retail include:- Lowestoft (-40.61%), Hemel Hempstead (-39.45%), Southend-on-Sea (-39.16%), Waltham Cross (-37.21%), Great Yarmouth (-35.41%), Stevenage (-33.82%), Kings Lynn (-25.76%) and Dunstable (-24.90%).
Consultation over late night levy
LIVERPOOL City Council's Licensing Committee meets, on Tuesday, 8 September 20125, to consider starting a consultation over the introduction of a late night levy for bars, clubs and pubs. Under the proposed scheme, all licensed premises or clubs that supply alcohol after midnight would be required to pay an annual charge to offset the cost of the night time economy. Merseyside Police; who are backing the move; estimate it costs around £540,000 to cover the City Centre between midnight and 6am, although this doubles to £1 million when taking into account other units that have to respond to incidents. The levy is based on current licensed premises in the City and, assuming the period it is applied is from midnight until 6:00am, would affect approximately 800 premises, with the costs varying dependent upon the rateable value of the premises. The consultation is suggesting that the vast majority; round 700; could pay between £299 and £1259 per year, with 20 paying the highest rate of £4,440 per year. However, the figures are just indicative and are subject to change following the outcome of the formal consultation process. Councillor Emily Spurrell, Mayoral Lead for Community Safety, said:- "Liverpool is a vibrant and safe City and its night time economy is enjoyed by hundreds of thousands of people every week. Obviously this all comes at a cost arising from the minority of people who cause crime and disorder, and the money raised from the late night levy would be used to help offset this. We know that our community safety partners are supportive of the introduction of a levy, so what we are doing now is going out to consultation on a proposal." A total of 70% of the money would go to the Merseyside Police and Crime Commissioner with the money used to fund additional staff at weekends, funding specific operations and assist with 'designing out' crime. The remainder would go to the City Council to support night time economy initiatives. Councillor Steve Munby, Cabinet member for licensing, said:- "It is important to note that if we decide to proceed with the consultation, it is just the very start of the process. No decision will be made until we have completed the consultation and assessed all of the feedback and it is possible that the proposal will change dependent upon the responses that we receive." Consultation will start in September 2015, with a decision on whether to implement it made in January 2016. If the go ahead is given, it would be introduced from June 2016. The Licensing Committee meeting takes place at Liverpool Town Hall on Tuesday, 8 September 2015, at 10am.