Vikings launch new 'Fit Fans' 6 week format touch rugby league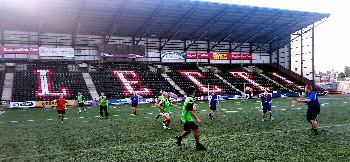 THE Club is pleased to announce that a brand new 'Fit Fans' Play Touch Rugby League format is due to launch on 2 October 2015. The league will be played in a 6 week league format with a finals evening to complete each 6 week block. All fixtures will take place on Friday evening, between 6pm and 7:30pm, at the Select Security Stadium, Lower House Lane, Widnes WA8 7DZ.

Teams must be made up of a minimum of 6 people. Each game will last 20 minutes.

If you do not have your own team or have not played Play Touch Rugby League then you can come to the stadium and join the 'Exiles' team before either joining a team or creating your own. The new 'Fit Fans' league format will commence on Friday, 2 October 2015, at 6pm.

If you would like to take part in the league please register your team by Friday, 25 September 2015.

To register please email:- liamc@widnesvikings.co.uk or call Liam on:- 0151 495 2250.

Following the success of the 'Fit Fans' Play Touch Rugby programme that the Vikings launched last month, open sessions will continue to take place at Select Security Stadium.

There has been a fantastic level of interest in the programme over the past four weeks with lots of local people and Vikings supporters taking part. The sessions, supported by Halton Borough Council, are open to everyone and a new programme will begin this Friday.

Come along and take part in 'Fit Fans' Play Touch Rugby League on Fridays at 6pm.
Everyone is welcome to turn up and play!
Sessions cost:- £2 per person.

EEF Survey - Manufacturers taking action in face of China slowdown
MANUFACTURERS are increasing their vigilance in key markets in light of growing risks and uncertainty in the global economy, according to a new survey of almost 300 companies published this week, by EEF, the manufacturers' organisation.

As a consequence of the stock market turbulence in China, the shadow of crisis talks in the 'Euro Zone' and the potential for further trade restrictions with Russia, economic forecasters aren't the only ones reviewing their outlook for the months ahead....

► 47% of companies are concerned about the possible sharp slowdown in China of which 10% are reviewing their business plans.

► 37% of companies are monitoring events more closely.

► The most directly exposed manufacturing sectors to Chinese demand are road vehicles (16% of exports to China), metal working machinery (8%) and leather goods (7%).

► Companies in the mechanical equipment and metal products sectors are most likely to be incorporating a weaker Chinese growth profile into their business plans (17% and 13% respectively).

► The level of concern about a China slowdown is affected by company size. The smallest companies (turnover of less than £5m) least likely to be worried and those at the other end of the size spectrum (£50m turnover +) most likely to be looking at business plan scenarios.

► Fears about Greece leaving the 'Euro Zone' linger, with only 22% of manufacturers saying they are unconcerned about a re-escalation of the crisis in Greece.

► In comparison to events in China and the 'Euro Zone' , there is less concern about the possibility of an extension or enlargement of the EU's sanctions on Russia; with 30% of manufacturers report concern along with building into business plan or closer monitoring.

Commenting, EEF Chief Economist Ms Lee Hopley said:- "For some sectors in manufacturing the slowdown in China isn't a new story as we've seen exports of vehicles to China on the slide since the end of last year. Overall, UK factories send only a small proportion of their goods to Chinese customers, but a sharper slowdown would also see a halt to growth in export sales through supply chains in Europe. The more widespread impact, at least in the near term, is likely to be the knock to already delicate confidence levels. The stock market turbulence made in China raises more questions about the policy reaction there and in other major markets, giving businesses more uncertainties to navigate. Manufacturers are certainly keeping a closer eye on developments, with some already taking action in their business planning to mitigate risks. Time will tell whether this takes a further toll on growth across the sector."

*** Survey period – 5 Aug to 26 Aug. 284 responses.