Did you know 100,000 renters in the North West could be victim to law breaking landlords
NEW research has revealed that shows shocking numbers of private renters in the North West suffering at the hands of a rogue landlord, with approximately 100,000 experiencing an act by their landlord that could have resulted in legal action.

The survey by Shelter and YouGov revealed alarming reports from renters including landlords threatening, harassing or assaulting them, cutting off utilities and entering their homes without permission.

In just the last year, almost 17,000 people have called the Shelter helpline about problems with their landlord. The housing charity is warning that a small minority of rogue landlords are causing chaos in the lives of renters, who often don't know what their rights are or where to go for support and advice.

Shelter's director of services, Alison Mohammed said:- "It's shocking that a small minority of rogue landlords who are exploiting the housing crisis can cause so much havoc and misery in the lives of renters in the North West. The only way to fix the problem long-term is to make renting fit for purpose for the millions of ordinary families searching for a safe and stable home. For anybody experiencing problems right now, Shelter gives them somewhere to turn for support and legal advice when a rogue landlord crosses the line."

Case study: Soon after Chris and his new wife moved into a rented flat, they found some major problems with the house. But instead of carrying out repairs, their landlord made their lives a misery and finally assaulted Chris.

Chris said:- "There was damp in the bedroom; black walls basically. There was a leaking roof which went on for months, and we had no gas safety certificate. I counted 18 things wrong with the place but the landlord refused to carry out most of the repairs. Eventually we found out the building was at risk of collapse, so I asked him to sort the problems out or we'd take him to court. But instead he started intimidating us by entering our home without permission and we got a repossession order from the court out of the blue. Then one day he became really aggressive and hurled some stones at me. We both just felt so frightened."

Shelter's helpline adviser, Mark Cook said:- "Every day at Shelter we speak to people desperate for help because their lives are being made unbearable by a rogue landlord. Some of their experiences are truly awful; from renters who have been illegally evicted and had their belongings burned, to those who've had their utilities cut off because their landlord wants to intimidate them. No one should have to put up with a landlord who breaks the law and it's so important to know your rights as a renter. Shelter is here to help anyone having problems with their landlord. Our free expert advice is available online or through our helpline:- 0808 800 4444."
Man arrested following a firearm being discharge, in Bootle
A 21 year old male, from Maghull, was arrested on suspicion of criminal damage by Merseyside Police Officers, investigating a firearm discharge, in Bootle, on 20 August 2015. We are told that the male was arrested on Friday, 28 August 2015 and then interviewed by Police in relation to the incident, that took place on Rose Avenue. Merseyside Police later told us that he was then been released on bail pending further enquiries. Anyone with information is urged to call MSOC officers on:- 0800 230 0600 or Crimestoppers, anonymously, on:- 0800 555 111.

MP Bill Esterson Opens New Aintree HomeSense Store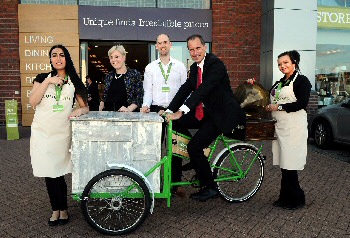 HOMEWARE for less retailer, HomeSense, has officially opened its 34th store, on Thursday, 3 September 2015, in Aintree and celebrated with local MP Bill Esterson officially declaring the new store on the Aintree Retail Park, open. Tim Walker, store manager at the new Aintree HomeSense said:- "HomeSense stores provide customers with an eclectic and ever changing mix of branded homeware for every room in the home at up to 60% off the RRP. We buy direct from brand owners and artisans all over the world, negotiate great deals and then pass the savings onto our customers. Our new HomeSense store features up to 50,000 items for the home with frequent deliveries bringing 10,000 items of new stock each week, customers will always discover something different every time they visit. We had a really successful first day yesterday and look forward to welcoming new and existing lovers of the brand to our store." The new store is located at:- Aintree Retail Park, Ormskirk Road, Liverpool, Merseyside, L9 5AN.
The Southport Alternative Air Show
EXPERIENCE the amazing sights and sounds of huge flocks of birds, twisting and turning in the sky like aerial display teams and the dramatic show of predators doing what they do best, at our Alternative Air Show at RSPB Marshside.

Join this guided walk to enjoy an amazing wildlife spectacle in nature's home, as wading birds and other wildlife move across the marsh looking for roosting sites as the water rises. As the marsh floods, don't forget to keep a look out for small mammals trying to escape the water and hungry raptors above.

Please wear suitable clothing and footwear (walking boots or wellingtons recommended) as this is an exposed site and the walk will be on the old haul road across the saltmarsh, which can be very muddy.

Unfortunately, these walks are not suitable for pushchairs or wheelchairs. No dogs please.

Price:- £4.00 RSPB members / £5.00 non-RSPB members

Venue:- RSPB Marshside nature reserve. Meet in the RSPB car park on Marine Drive, Southport.

Contact:- Booking is essential, so please call the Ribble Discovery Centre on:- 01253 796292 to book your place.