International energy sector trade mission opportunities for North West businesses to fuel the Northern Powerhouse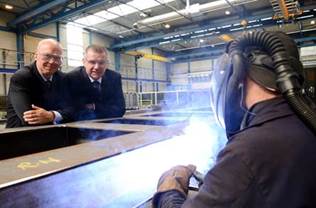 THE North West businesses operating in the oil and gas sector supply chain can boost their export opportunities as part of a Northern Powerhouse initiative led by UK Trade and Investment (UKTI). Working with specialist energy sector business development organisation, NOF Energy, UKTI has organised a series of trade missions to international markets that hold significant opportunities for UK companies. Taking place between the end of September 2015 and March 2016, the visits will take in Mexico and Colombia, Brazil, Singapore and Western Australia; all markets with established and growing energy sectors that are keen to engage with UK suppliers. The initiative has been introduced to highlight the innovations, technologies and services of businesses in the Northern Powerhouse regions by supporting 1st time exporters and new to market enterprises. It will also emphasise the value of the North of England supply chain to the global market and, in turn, the economic benefit the sector brings to the UK economy. To support the export ambitions of companies in the Northern Powerhouse regions, the initiative has secured funding to help companies cover travel costs. During the visits delegates will have the chance to meet potential clients and attend high level receptions with local VIPs from the energy sector. The delegation will also take part in site visits to local industry and attend specially organised networking receptions. Led by an experienced international trade team from NOF Energy, the trade missions provide the opportunity to gain a 1st hand understanding of the current market opportunities and establish potentially mutually beneficial business relationships. NOF Energy, which is the UK business development organisation for oil, gas, nuclear and offshore renewables sectors, has organised and delivered international energy sector market visits for more than 2 decades. The organisation, which represents almost 500 companies and has a robust network of UK and international contacts at all levels of the supply chain community, has helped companies secure exports worth more than £100 million as a result of taking part in its international market visits.
David Coppock Regional Director of UKTI, said:- "Within the Northern Powerhouse regions are innovative companies that have developed technology led solutions that will be in demand from the international market. Therefore, by utilising the strengths of the Northern Powerhouse, we can help fuel our economy by increased exports to industries such as oil and gas. This initiative will help businesses focus on a number of key markets where, with the support of UKTI and NOF Energy, they will have the opportunity to potentially instigate new commercial arrangements."
George Rafferty, Chief Executive of NOF Energy, said:- "From decades of developing technology-led solutions that have been applied in deep water and harsh environments, the UK's oil and gas supply chain is seen as the gold standard across the globe. The North of England supply chain is particularly strong and can support the ambitions of the Northern Powerhouse with its export led activities. The markets we are targeting have active oil and gas sectors keen to engage with UK businesses. This Northern Powerhouse initiative will enable North West companies, with innovative products and services that can be applied to the industry, establish new relationships that can deliver new export streams."
For more information visit NOF Energy vat:- NOFEnergy.Co.UK.

The Atkinson is Awarded £25,000 to Inspire Children with Disabilities
THE Atkinson is expanding its award-winning work with arts and health, with 2 new projects that inspire and engage children and young people with autism and ADHD. The Atkinson has been awarded funding for this important work by the charity Children and The Arts, which runs the Start programme, and from Merseyside Arts in Health Initiative.
£20,000 funding from the Start programme means that The Atkinson will work with three local special education schools throughout the next academic year. The three schools who will benefit from the project are Crosby High School, Presfield High School and Rowan Park Teaching School. The funding will mean that every pupil within the three schools will visit The Atkinson, Sefton's new home for arts, heritage, literature, music, comedy and more, at least twice across the year. Start is aimed at supporting young people to access their local cultural venue and offers them the opportunity to take part in high quality arts activities.

Alongside this, The Atkinson will be hosting for the first time Break the Boredom an innovative programme for children and young people with ADHD, and giving them the opportunity to work with highly creative and inventive artists, and helping to raise their confidence and self esteem and improve their wellbeing through the arts.

The venue run and managed by Sefton Council has now seen over million visitors through its doors since it opened in 2013.
Emma Anderson, Director said:- "This funding offers fantastic opportunities for the children in these schools. The Atkinson is already a fully accessible venue for all its events, exhibitions and activities but this money will mean that we are able to provide additional activities, resources and services for our local special school children that would not be possible otherwise."

This is an ambitious project and will require the input of every member of staff within The Atkinson; but it will also make a genuine difference to the lives of young people involved.

Start is 1 of the many projects being run by The Prince's Foundation for Children and the Arts. The money will mean support for the teachers in bringing the pupils to the venue and experiencing a theatre production.
It will help to develop new resources specifically for children with special educational needs and provide training for The Atkinson staff to make sure their visit is 1 to remember.

Children and the Arts engages with disadvantaged children nationwide who do not have access to high quality arts activity because of either social or economic barriers.
Through a network of partners they use the arts as a platform to inspire and enable personal and social development amongst those who are hardest to reach. Through our work children learn that cultural venues are welcoming, accessible and exciting places to visit.

They are the only national educational charity committed to ensuring that all children in the UK are inspired by the arts.

For more information about The Atkinson's programme and the work it does please visit:- TheAtkinson.Co.UK. For more information on Start funding please visit:- ChildrenAndArts.Org.UK/Our-Projects/Start
Are you going to the Formby RBL Fun Quiz?
THOSE who are looking for a fun night out should come to John Nelson's Fun Quiz, on Wednesday, 16 September 2015, at Formby Luncheon Club, Rosemary Lane at 7:30pm prompt. Tickets cost £5 and there will be a raffle and auction, all proceeds to go to Formby Royal British Legion Branch Funds, which funds Remembrance in Formby, Altcar, Ince Blundell and Hightown. People are asked to bring their own drinks and glasses. Tickets are available from the Luncheon Club or Formby Hardware or by ringing:- 01704 871927. Those who have not been to one of John Nelson's Nights before are in for a treat, please come prepared to enjoy yourselves!