Are you a champion of the outdoors?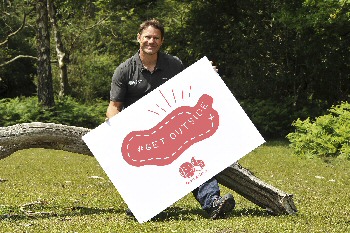 THE UK's Ordnance Survey is looking for inspirational adventurers that are passionate and enthusiastic about Britain, and who are great at motivating others to get out there and enjoy it, to become champions for its #GetOutside campaign.

The chosen champions will have the opportunity to take part in photoshoots and a year long series of events with OS's ambassadors, the wildlife presenter and naturalist Steve Backshall, endurance adventurer Sean Conway and mountaineer and Everest climber Bonita Norris. Each champion will also be able to share their insights, thoughts and outdoor stories through the #GetOutside website and social media.
OS ambassador and TV presenter, Steve Backshall, says:- "I've been lucky enough to travel the world with my job, and Britain is up there as one of the most beautiful and interesting countries to discover and explore. Britain is amazing, and OS is giving people who have a passion for being outside a fantastic chance to share that enthusiasm with others and to get them loving and caring for it, too. There's no excuse. If you love being outside and wonder why others are not getting outside more too, then as an OS champion you'll have the opportunity to do something about it."
The champions will also be given exclusive access to OS products before anyone else and will be able to take part in product trials. Also included will be full access to OS's latest digital mapping product OS Maps, which includes all OS Landranger and OS Explorer maps, and an exclusive #GetOutside champions clothing bundle, £200 cash sponsorship and a special discount on all goods sold in OS's online shop.
Ordnance Survey launched the #GetOutside campaign to urge people off the sofa, to ditch the car and to enjoy the outdoors, after worrying research showed walking to be on the decline in Great Britain. The results suggested a quarter of the British public won't walk anywhere that takes over 15 minutes. ¾ won't walk to work. Almost 70% never walk to the shops, while only a third would ever do the school run on foot, with only around a ⅓ of us admitting to enjoying a weekend walk for pleasure.
Nick Giles, Managing Director for Ordnance Survey Leisure, says:- "These results are shocking and very disappointing. We are in danger of becoming disconnected from our own landscape. The benefits of exercising and getting regular fresh air in your lungs are already well documented, but more needs to be done to get that message across, which is where our #GetOutside champions come in.

Nick continues:- "We are interested in hearing from people of all ages and abilities that love the outdoors and believe they can get others to love it, too. Or we would like to hear from you if you know someone who would make an inspirational champion. It is our hope that the champions will make a difference to their communities and beyond by helping people reconnect with spending quality time outdoors."
People can nominate themselves to be a #GetOutside champion or someone they know by emailing:- getoutside@os.uk; and attached your 250 words, that explain why you or the person you are nominating should be a champion, including any social media accounts which you/they use and 2 photographs; 1 head and shoulders and outdoor activity shot.
Appeal after armed robbery at a Pets at Home store in Southport
MERSEYSIDE Police Detectives in Sefton are appealing for witnesses after a robbery at Pets at Home, in Southport, on Thursday, 3 September 2014. At just before 6.30am a man, dressed in black, wearing a balaclava and carrying a large laptop type holdall, approached the rear of the store, on Ocean Plaza Retail Park, Marine Parade, and knocked on the door. A female member of staff, believing it to be a delivery driver, opened the door to be confronted by the man brandishing a knife. A male member of staff arrived and the masked man escorted him into an office area. The offender then asked the member of staff to open the safe. The offender took a large quantity of cash from the safe and left the store through the rear door still carrying the knife and holdall. It is believed he left the area in the direction of the Marine Lake towards 1 of the bridges. Enquiries are ongoing and CCTV opportunities are being explored. Detective Sergeant Sue Hinds said:- "Although this incident occurred early in the morning people may have been in the vicinity of the store, possibly on their way to or from work, and seen the man either arriving or leaving the scene. We know he was wearing dark clothing and a balaclava and carrying a laptop type bag and spoke with a local accent. We believe that following the robbery he may have spoken to someone on the bridge and we would ask that person to come forward. The scene has been forensically examined and CCTV from the scene and surrounding area is being examined." Anyone with information is asked to contact Merseyside Police on:- 0151 777 3833 or the Crimestoppers line, anonymously, on:- 0800 555 111.
Invitation to Trust annual general meeting
MEMBERS of the public and staff are invited to the annual general meeting of Southport and Ormskirk Hospital NHS Trust on Wednesday, 16 September 2015, at 6pm. The event will be hosted by Trust chair Sue Musson and attended by members of the Board, including interim Chief Executive Ann Marr. There will also be a presentation by district nurses about the work they have done to ensure consistent, high standard, nursing care for patients in the final months of life. Their work was presented at the European Palliative Care Congress in Copenhagen earlier this year. The meeting will be held in the lecture theatre of the Clinical Education Centre at Southport and Formby District General Hospital. Light refreshments will be served from 5.30pm.

90% of firms face a standing start on gender pay gap reporting
THE Government is currently consulting on imminent new gender pay gap reporting requirements. But, a new survey out shows that less than 1 in 10 firms (9%) currently report any gender pay information and providing data is going to be a significant challenge:-
► 83% of firms are aware of Government proposals on gender pay gap reporting, but less than 1 in 10 (7%) are up to speed in their understanding.
► Less than 3 in 10 companies (29%) are prepared for the forthcoming requirements and 30% are concerned about the amount of work required to provide the data.
► Challenges; only a ⅓ of firms (33%) have undertaken a pay audit in the last 5 years; 27% have never undertaken 1 while 45% of firms don't have an official pay scale.
► Opportunity; 47% see gender pay reporting as an opportunity to benchmark against peers and other industries; 38% say that it will help them get to grips with their pay structures and auditing.
► Context, support and a phased roll-out will be key to minimising challenges and maximising opportunities, says EEF.
A new survey out today by EEF, the manufacturers' organisation, reveals that 90% of manufacturing and engineering firms face a standing start when it comes to forthcoming gender pay reporting requirements. Less than 1 in 10 (9%) currently report any gender pay information, while many others do not have the right systems in place to provide accurate and robust pay data. But despite the significant challenges, firms see the forthcoming reporting requirements as an opportunity to improve their systems and to benchmark themselves.
The Government is currently consulting on the new gender pay gap reporting requirements. The survey findings reveal high awareness of the forthcoming requirements (83%), but low understanding (7%) and little preparedness (29%). 3 in 10 firms (30%) are concerned about the amount of work that will be required to provide gender pay gap data.
However, firms will need to contend with significant gaps in their current pay systems and processes and are in danger of underestimating the challenges to be overcome in order to provide meaningful and robust data. Only a ⅓ (33%) have undertaken a pay audit in the last 5 years; over a quarter of companies (27%) have never undertaken one. Similarly, 34% haven't undertaken any work to define pay and job roles, while 35% don't have any measurement systems in place for various pay grades (35%). 4 in 10 firms (39%) don't undertake regular job evaluations.
Many firms (45%) don't have an official pay scale; pay is determined individually and case by case. Other challenges include having a complex pay structure (29%) and TUPE arrangements (22%). Some firms (15%) don't even have a central pay system.
In fact, just 2 in 10 firms (18%) have open and transparent pay scales determined by job evaluation, putting them in a good place to meet any gender pay gap reporting requirements. Despite this, 67% of firms are confident of being able to provide robust and accurate gender pay data and 65% expect that providing the data will be easy. This suggests that firms may be underestimating what may be required of them, or overestimating their ability to extract and provide data.
This danger aside, it is also clear that firms already recognise a real opportunity in gender pay gap reporting. Just under ½ (47%) say it is a great opportunity to benchmark themselves against peers and other industries, while 38% say that the work they will need to undertake to provide the data will help them to get to grips with their pay structure and auditing. Over a ¼ (26%) say that gender pay gap reporting will provide the impetus they need to overhaul their pay structure and to establish better processes.
At the same time, however, 68% of the companies surveyed say that women make up 30% or less of their workforce and there is recognition that this could cause a problem when reporting. A ⅓ (32%) agree that industries struggling to attract women into skilled roles are likely to have a wider gender pay gap. This means that context must be provided when the data is published and that every effort is made to ensure that gender pay gap reporting doesn't make it even harder to attract skilled women into industries where they are currently under represented.
Tim Thomas, Head of Employment Policy and Skills at EEF, says:- "The good news is that many firms recognise gender pay gap reporting requirements as an opportunity to improve their systems and to benchmark themselves against peers and other industries. The bad news is that, if asked for the data today, it's clear that the majority of manufacturing and engineering firms would struggle to provide it. Not only are there significant gaps in many firms' pay processes and systems that will make providing accurate and robust information a real challenge, but there is also a real concern that gender pay gap reporting could reflect poorly on industries with low numbers of skilled female workers. It's critical that the data requirements aren't allowed to undermine the huge efforts being made to attract women into skilled roles in industries where they are currently under represented. If we are to avoid the pitfalls then providing context to published gender pay gap data, support for businesses being asked to provide the data and a phased roll out will be key."
The Atkinson Welcomes Dr Feelgood
THE Legendary rockers Dr Feelgood are set to perform at The Atkinson, in Southport, this September. The 1970s pub rock outfit, which had a top 10 hit single with Milk and Alcohol in 1979, are set to perform at The Atkinson on Thursday, 24 September 2015. Still 1 of the most popular and exciting live rhythm and blues acts in the world. The raw and uncompromising style of their performance resulted in the album Stupidity that immediately went to the number one position in the U.K. charts. Formed on Canvey Island in Essex in the early 1970s, Dr. Feelgood have also enjoyed global success with a string of hit singles Roxette, Back in the Night, Down at the Doctors, She Does it Right, Going Back Home and See You Later Alligator; which gave the group their 1st gold record. The current line up features the rhythm section Kevin Morris on drums and Phil Mitchell on bass, both 29 years in the band and Steve Walwyn on guitar who has been with the band for 23 years. Vocalist Robert Kane (formerly of the Animals) is the most recent addition; joining in 1999 after the tragic death of Lee Brilleaux. The band continues to tour extensively throughout the World and enjoy a loyal following at home and abroad. See Dr Feelgood at The Atkinson on Thursday, 24 September 2015, at 7.30pm. Tickets are £15 and are available online or by calling the Box Office on:- 01704 533333. They are also available over the counter during The Atkinson opening hours.

* Please be advised that there is a booking fee of £1 per ticket online/ phone sales and 50p over the counter.