Annual running day for Merseyside heritage transport charity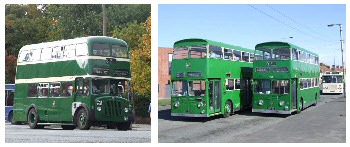 THE Merseyside Transport Trust (MTT) will be holding its' running day event on Sunday, 13 September 2015, to raise funds for the upkeep of its' fleet of over 50 vintage vehicles.

This is a rare and unique opportunity to enjoy a ride on some of buses in our collection. The event is also aimed to attract new members, volunteers, sponsorship and generate interest within the community. This event is in association with 'Heritage Open Days' (HODS).

This year's event will feature services between Liverpool, Pier Head (Mann Island), Liverpool South Parkway and Speke Hall , plus surrounding areas. There will be numerous vehicles on display at Liverpool South Parkway Railway Station, including visiting vehicles from other preservation groups, sales stands and info on how people can become involved.

A souvenir programme and guide to the day will be available for just £5 and any donations you would like to make to the group would be most welcome.

Steve Kelly, Chairman of The MTT is leading the event & has been involved with the group for over 30 years. Steve said:- "This event is now in its' 10th year and has gone from strength to strength using a similar format. We have been consistently attracting large numbers which is encouraging for a small charity and always looking at ways to make this event a huge success. All funds raised at the event will go a long way in helping to keep our collection safe for the future. We rely totally on donations and the good nature of people."

Buses run generally every 15 minutes starting around 10:00am from Mann Island and Liverpool South Parkway and will observe all normal bus stops along the routes.

The event runs from approx.10:00 until approx.16.30. For more information see the Merseyside Transport Trust website. Also if you can put up a poster, please click here , print it out and then display it.
Vikings' Summer Programme effective in engaging local community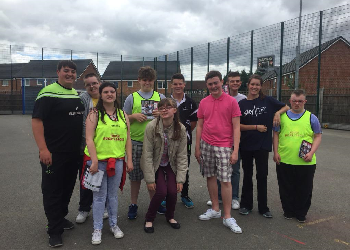 THE Widnes Vikings are now celebrating after enjoying a fantastic summer in the community, with 287 local young people, aged between 6 to 16. All of those celebrating have taken part in the Vikings 4 week summer rugby programme.

The objective of the programme was to provide safe, fun sport sessions that were accessible to the whole community. A number of the Vikings sessions were delivered free of charge in community settings across Halton including Victoria Park, Hough Green, and Upton Community Centre in Widnes, and Grangeway Community Centre, Heath Park, and Runcorn Hill in Runcorn.

This summer the Vikings have also delivered the 'Join the Momentum' dance programme, which culminated in 27 young people from Halton dancing alongside 394 others during half time at the Ladbrokes Challenge Cup Final between Leeds Rhinos and Hull Kingston Rovers.

Over 100 youngsters have also taken part in the Landscape World Summer Rugby Camp.

Edward Price who attended a Landscape World Summer Rugby Camp said:- "I love the camps. I liked training with all the players and I enjoyed training on the i-Pitch."

Richard Munson, Vikings Community Integrated Director said:- "This is the 1st year we have delivered such a broad programme of activity during the summer and we have been delighted that so many young people have come and taken part. In particular we would like to thank the venues and the local partners that supported our programme including Young Addaction, Halton Clinical Commissioning Group, and Halton Borough Council Sports Development."

NHS and Public Health Liverpool urge smokers to give up this Stoptober
LIVERPOOL smokers are being urged to sign up to Stoptober with friends, family and colleagues to boost chances of quitting. The Stoptober campaign calls on smokers to sign up together; as research shows they are 67% more likely to quit if their partner also stops smoking, and 36% more likely to quit if a friend stops. By signing up to Stoptober quitters will get humorous supportive messages from some of the nation's top comedians; Bill Bailey, Al Murray, Shappi Khorsandi and Rhod Gilbert. Combining online support from comedians with a smoker's 'real world' social groups can help increase their chances of getting through 28 days smokefree. Over a ¼ of a million people across the country signed up to Stoptober last year with more than half making it to 28 days. This year it is expected the campaign will welcome the millionth sign up.
Dr Sandra Davies, Liverpool's Director of Public Health, said:- "Signing up to quit smoking is singularly the best thing you can do for you and your family's health. We know that the vast majority of smokers in Liverpool are keen to give up and our message is that there is lots of support to help with this, ranging from Stoptober through to our local services like Roy Castle FagEnds and our local pharmacies across the City. If you have tried unsuccessfully to stop smoking before, don't be put off, give it another go, and join the thousands of people across the city signing up to Stoptober. By stopping smoking for 28 days you are 5 times more likely to stop for good."
Lisa Williams, Service Manager for Roy Castle FagEnds, said:- "Giving up smoking can be very difficult and we know it often takes more than 1 attempt for people to break the habit. The good news is that if you quit smoking for 4 weeks then we know you have a much greater chance of quitting for good. FagEnds is here to support people throughout Stoptober and on into the future, so even if you've tried to quit before and not managed it yet, you shouldn't give up on giving up."

Roy Castle FagEnds has supported over 100,000 smokers in Liverpool through their quit attempt, with over ½ of those successfully giving up. It provides a variety of free support, including group and 1 to 1 sessions with trained advisors and medication such as patches, inhalators and Champix that can support people in quitting. Also available is support for people looking to give up e-cigarettes, as well as traditional tobacco. In 2014, a total of 7,028 people in the city got support to quit smoking through Roy Castle Fag Ends, and just over half (51%) were successful. Over a ¼ of a million people across the country signed up to Stoptober last year with more than half making it to 28 days. This year it is expected the campaign will welcome the millionth sign up.

Professor Kevin Fenton, Director of Health and Wellbeing for Public Health England said:- "Stoptober will be providing people with more engaging and personalised support than ever. Along with receiving proven advice and support, participants this year will get encouragement every day from some of the best comedians in the country to help them through 28 days smokefree. The benefits of stopping smoking are almost immediate: quitters will soon see reduced blood pressure, easier breathing and better circulation. It is one of the best things a person can do to improve their health and reduce their chances of developing long term conditions and dying prematurely. Sign up today and get ready to start your quitting journey with our support on 1 October 2015."

Rhod Gilbert who is supporting this year's campaign says:- "I smoked for about 25 years and probably spent 23 of those trying to quit, trying everything you can think of to kick the habit. I know first hand that it can be hard to find the motivation to quit, but Stoptober is the perfect time to give it a go. Not only will you be joining thousands of others taking part, you'll also have exclusive support from myself, Bill Bailey, Shappi Khorsandi and the Pub Landlord, as well as access to lots of other help along the way. My advice to those taking on Stoptober would be to take the 28 days 1 day at a time."
By signing up to Stoptober, participants can choose from a range of free support tools including daily emails and text messages from the comedians throughout the 28 day quit attempt as well as a mobile phone app which includes lots more tips and advice; all of which have shown to increase the chances of staying "smokefree".
This year's campaign also coincides with new legislation in England and Wales making it illegal to smoke in a vehicle with someone under 18.
To sign up to the nation's biggest mass quit attempt, search Stoptober online or visit:- SmokeFree.NHS.UK/Stoptober.

People who want to use Roy Castle FagEnds can call:- 0800 195 2131. The helpline is open from 9.30am to 7pm, Monday to Friday. To find out which pharmacies offer stop smoking support contact Health Promotion on:- 0151 295 3256, on weekdays 9am to 5pm.
Man arrested following a firearm being discharge, in Bootle
A 21 year old male, from Maghull, was arrested on suspicion of criminal damage by Merseyside Police Officers, investigating a firearm discharge, in Bootle, on 20 August 2015. We are told that the male was arrested on Friday, 28 August 2015 and then interviewed by Police in relation to the incident, that took place on Rose Avenue. Merseyside Police later told us that he was then been released on bail pending further enquiries. Anyone with information is urged to call MSOC officers on:- 0800 230 0600 or Crimestoppers, anonymously, on:- 0800 555 111.