10th anniversary celebrates 11 million free books for children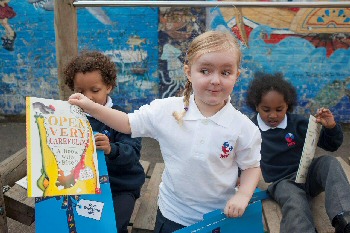 FROM this week 700,000 school children in England aged 4 to 5 years will start to get a free picture book to encourage them and their parents to read together for pleasure.
Booktime, an annual book gifting programme from Britain's largest reading charity Book Trust, was set up in 2006 to give free books to reception age pupils all over England. The aim is to encourage reading for pleasure at home and at school, starting in the 1st school year.
This week, in its tenth anniversary year, Booktime is providing more than 700,000 4 to 5 year olds with a free copy of the award winning Nosy Crow title, Open Very Carefully, by Nicola O'Byrne.
The book is a funny, interactive story about a grumpy crocodile that has ended up in the wrong book. He proceeds to eat his way out as he tries to escape a storybook that is all wrong for him but hilarious fun for the reader.
Book Trust Chief Executive, Diana Gerald said:- "It's great to know that every reception age child will get a really wonderful storybook to enjoy reading at home. We know that children who read with their parents or carers at home do better at school and are more socially, culturally and emotionally prepared for life. That's why Booktime is so important! It brings a fantastic new book into every family home, along with fun games and ideas to help the whole family enjoy it and reap the full benefits."

An event to celebrate the Booktime 10th Birthday was held at Wix Primary School in Clapham today with every reception age child receiving their Booktime book pack. Professional storyteller Emily Cocking, also known as the Reading Fairy.

Wix Primary School Head teacher, Tania Kodjovi-Stapp, said:- "Booktime is such a valuable initiative and one that Wix School wholeheartedly supports. It is important to encourage reading in children from an early age with a variety of reading books and reading experiences both at school and at home. Seeing our children reading for pleasure; so excited and in wonder about the world and adventures within the book pages is such a delight."
Kate Wilson, Managing Director of Nosy Crow publishers, said:- "We are so proud that 1 of Nosy Crow's picture books has been chosen for Booktime this year. To make it through the rigorous selection process is a real validation of what we're always trying to do with our picture books. Open Very Carefully is fun and original and really invites the child and the parent in."
All children should have received their free book by December.
Booktime books so far:-
► 2006-07 - Hairy Maclary's Bone, Lynley Dodd
► 2007-08 - Funnybones, Janet and Allan Ahlberg
► 2008-09 - Harry and the Dinosaurs go to School, Ian Whybrow, Adrian Reynolds
► The Booktime Book of Fantastic 1st Poems, June Crebbin (ed.)
► 2009-10 - Mr Big, Ed Vere
► The Booktime Book of Fantastic 1st Poems, June Crebbin (ed.)
► 2010-11 - "Slowly, Slowly, Slowly..." Said the Sloth, Eric Carle
► Why is the Sky Blue?
► 2011-12 - Tinga Tinga Tales - Why Elephant Has a Trunk
► Face Painting, Monica Hughes
► 2012-13 - Peter Rabbit - The Tale of A Naughty Little Rabbit, Beatrix Potter
► Tim's Din, Monica Hughes, Bill Ledger
► 2013-14 - Charlie and Lola - But Excuse Me That is My Book, Lauren Child
► Tom's Mad Mop, Celia Warren, Bill Ledger
► 2014-15 - Hairy Maclary from Donaldson's Dairy, Lynley Dodd
► Go to Bed, Emma Lynch
► 2015-16 - Open Very Carefully, Nicola O'Byrne, words by Tim Bromley

New teaching talent arrives at King George V College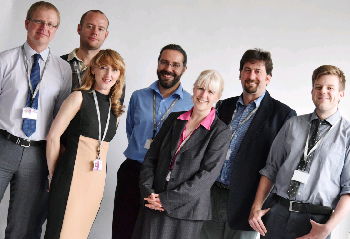 KING George V (KGV) College has recruited a diverse range of talented new teachers to take students' learning to the next level.

Principal Adele Wills says KGV is going from strength to strength, and is injecting new teaching talent into the college's ranks.

The college in Southport recently celebrated a 99% A Level pass rate and is now welcoming students for the new college year.

"This has been an action-packed year for KGV. We've opened our £4million state of the art creative arts building and welcomed new governors to the college's board. The exam results last month were really the 'cherry on top' and demonstrate the hard work teachers and students consistently put in. We've now employed six new teachers across a range of subject areas including languages, media, electronics and science. On behalf of all staff and students I'd like to welcome them to the team and look forward to working with them to help continue to give students the excellent standard of teaching they are used to." said Principal Adele Wills.

The mark of any college's success is its students and this summer KGV's achieved outstanding A-Level results with a 99% pass rate. Grades A* to C were achieved by 80% of the college while more than 53% received the highest possible grades.

Ms Wills said she and the whole staff body were delighted with the results across the college's 38 A-level subjects, it was particularly impressive that a significant number of subject areas achieved 100% high grades (grades A* to B).

The college also achieved a 100% pass rate for BTEC Advanced Level Extended Diplomas with 95% of these at distinction grade or above.

Principal Adele Wills said now is the:- "best time ever" to study at KGV, adding:- "We have a fresh focus on excellence. We have made dynamic changes across the college to ensure we're providing the best education for our students. We value our students and work with them to build their futures."

New teachers:-
► Mark Hughes, Course Leader, Film and Media

Originally from the north east, Mark comes to KGV from West Lancashire College where he worked as Head of Film and Media.

► Claire Barre, Course Leader, French

Claire is fluent in French having lived and studied in France for two years. She holds a joint BA degree in French and English from Sheffield University, and is also a qualified journalist who has previously worked for The Liverpool Echo.

► Fernando Alvarez Gonzalez, Course Leader, Spanish

Fernando is a native speaker of Spanish and is also fluent in French. He lived in France for 5 years and has taught Spanish to all age groups. He moved to England in 2005 where he has taught GCSE and A-Level Spanish.

► Mark Tompkins, Course Leader, Physics and Electronics

Mark graduated from Lancaster University in 1994 with a BEng in Mechanical Engineering. After university he spent 2 years working in the automotive manufacturing sector. He taught physics at Maghull High School for 14 years, 10 of which were spent as Head of Physics, before moving to Wigan UTC where he established the science faculty.

► Stuart Royle, Course Leader, English Literature and GCSE English

Stuart studied English and American Literature at Manchester University where he obtained his BA. He stayed at Manchester to obtain a MA in Post 1900 Literature. He taught for 4 years at an international school in Lisbon and will now head up the college's A-Level English Literature course.

► David Linley, Course Leader, Maths

David has been teaching since 1999, beginning his teaching career in Southport at Greenbank High School where he taught Maths and guitar. He taught at St Mary's College in Crosby for 9 years where he was instrumental in running the Duke of Edinburgh Award Scheme.