'An Evening of Burlesque' at the Liverpool Empire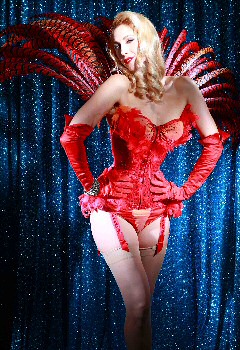 FOR the 1st time ever, the biggest burlesque stars from around the world are set to star on the same stage. An Evening of Burlesque unveils a brand new, spectacular stage show for 2015, promising that Britain's biggest burlesque production is "going global" for 2015.

Among the array of international talent brought together for An Evening of Burlesque's nationwide tour are the very best burlesque performers drawn from five continents of the world. And the themes run thick, fast and from equally far afield, according to show producer Michael Taylor. "For its 5th year. An Evening of Burlesque goes international. The set list can include strutting French showgirls in all their finery, a tutu too funny take on Russia's Bolshoi Ballet, going nuts on Brazil's Copacabana beach, a Roaring (with laughter) Twenties tribute to America's Great Gatsby and international intrigue thanks to a James Bond finale, featuring a giant martini glass glamorously garnished by a splashing Bond Girl." said Michael Taylor.

Already Britain's biggest burlesque extravaganza; a quarter of a million people have now seen this show; 'An Evening of Burlesque', has spent the past 2 years touring the rest of the world, revealing the secrets of the art of burlesque to delighted audiences. Michael adds:- "From Milan to Zurich, St Petersburg to Minsk, Leipzig to Verona, Dresden to Riga, Padova to Dessau the reaction has been the same.... It's absolutely incredible."

While exposing the cream of the West End of London's thriving burlesque scene to the world, the production has uncovered the best of burlesque that the world has to offer on its travels. "Now it's time to put all that uncovered talent together in a brand new spectacular featuring a truly international flavour... It's all tease, no sleaze. The show combines musical and theatrical parody, cutting edge variety, magic, comedy and dance with the art of striptease."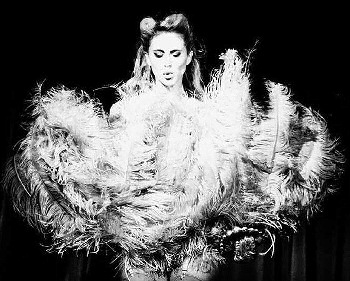 The production promises corsets, killer heels and stockings aplenty; and that's just the theatregoers who come to see the show! "For a spectacle that sparkles from its elaborately decorated headdresses to its immaculately varnished toes. It might not come as a complete surprise that audiences are predominantly female. Also, we're pleased to report that, with a prize for the best dressed member of the audience, theatregoers revel in dressing up for the occasion." says Michael. ...continued...

...continued... For over 18's only, it boasts that its success is built on a combination of sultry vocals, breathtaking choreography, mischief, magic, frivolity and fun.
Michael says he is proud to be bringing variety back to the theatre, claiming An Evening of Burlesque is the slickest, wickedly wittiest, most delightfully choreographed cabaret spectacular of the year. "Dress up and come to the cabaret." he says.

When burlesque star Fallon D says she's going to do something, you'd better believe she's going to do it. At 16 she told her parents that she was going to run away to Paris and perform at the Moulin Rouge. By the age of 19, the feisty Scouse dancer was living in the Monmartre area and performing at... the Moulin Rouge!

"Being 1 of the taller students at dance college, it was thought that it was inevitable that I'd become a showgirl." says Fallon.

Fallon's love of dance began at the tender age of 6 when her parents sent her off for ballet school. "It was the Jan Williams Dance School in Huyton. I was this quiet little girl, but I remember that I absolutely loved my 3 times a week ballet lessons. Then at 8, so my mum says, I grew a personality." Fallon told the press.

And that personality has stood her in good stead as she has emerged as a star of the UK's blooming burlesque scene via dance school, the Phil Winston Theatre Works college in Blackpool and ultimately Paris.

Fallon added that:- "I went to the Moulin Rouge straight from college. It was my dream job and I performed there for 2 years."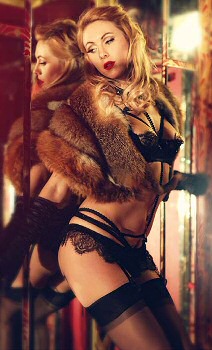 From the Moulin Rouge, Fallon's dancing prowess has seen her:-

Work with a veritable who's who of the fashion industry including Givency, Christian Louboutin and Stella McCartney.

Appear on the X Factor with the likes of Elton John, Take That and JLS.

Perform with Justin Timberlake at Wembley Arena.

Join the influential IT Girls on their tours of Europe, Japan and Australia.

Star in Steve Coogan film Look of Love.
"Justin Timberlake is actually a really lovely man and had time for us all. He's a sweetheart. The IT Girls is a collective of talented ladies from the world of dance and music and has enabled me to perform my burlesque acts around the world. And in Look of Love I got to play a burlesque act called Barbarella which I loved. It was like going back in time and Steve Coogan was hysterical."

Starring in 'An Evening of Burlesque', which plays the Liverpool Empire, on Friday, 23 October 2015, Fallon is eagerly anticipating performing in her home City for the 1st time since she was 16.

She commented:- "All my friends and family are coming..." It could be anticipated that the content of her performance could prove a bit of an eye opener for her nearest and dearest. She then added that:- "That's not the case at all... My family all came down to see me star in the Hurly Burly Show in London's West End. They've all seen my tassels before! I like to perform for the ladies. It's all about women empowering each other and feeling good about themselves."

Fallon believes that being a trained dancer has made her rise to fame on the UK's burlesque scene that much easier. "I'm a sucker for hitting every beat in a song... Also, with my showgirl roots, I'm not too shabby with a feather or 2."

All is perfect in Fallon's world, both professionally and personally, according to the Childwall born and bred livewire.

She reveal that:- "I got married a month ago. I told my Mum I was getting wed and she said 'oh no you dont'."

But when Falon D says she's going to do something...

Catch Fallon in 'An Evening of Burlesque' that will be preformed live at the Liverpool Empire, on Friday, 23 October 2015.