Operation Abbeyville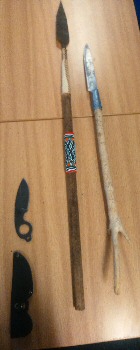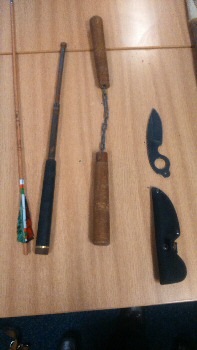 MERSEYSIDE Police have arrested 2 people as part of an operation against those believed to be involved in serious and organised crime in Sefton, on Wednesday, 14 October 2015. The operation is a response to the supply and distribution of Class A and B drugs, along with violence and theft offences, in the Bootle and Netherton areas.
Operation Abbeyville has seen officers execute 4 warrants and the following persons arrested:- a 22 year old male for breach of a Civil Injunction and a 48 year old male for possession of cannabis. Items recovered include bladed articles, crossbows and spears.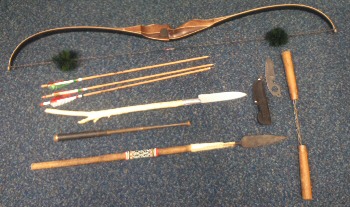 Neighbourhood Inspector Simon Thompson said:- "Merseyside Police continues with their initiative to take drugs and firearms off the streets and are conducting a day of action to send a message to those involved in serious and organised crime. Linked incidents have occurred within the Sefton area, believed to be targeted attacks between members of organised crime groups. The weapons recovered by us show the violent risk that these groups pose. Police and local partners are working hard towards making Sefton a safer place and urge any residents with further information to please come forward. Any members of the community with concerns are encouraged to speak with officers in the area, or to their dedicated Neighbourhood Team on:- 0151 777 3041. Anyone with information who does not wish to speak with us directly can call Crimestoppers anonymously on:- 0800 555 111."

3,000 free books placed on public transport in 'Moved to Read' partnership launch
A total of 3,000 quick read books will be distributed across ferries, trains, buses and even taxis in Merseyside as part of a new joint initiative with Liverpool City of Readers and Merseytravel to give travellers access to free books, and promote public reading. Moved to Read will see the titles Dead Man Talking by Roddy Doyle, Out of the Dark by Adele Geras, Pictures Or It Didn't Happen by Sophie Hannah, Paris for One by Jojo Moyes and Street Cat Bob by James Bowen have all been donated through the National Literacy Trust. To kick start the campaign, on Monday, 19 October 2015, the 1st wave of books will be given to commuters on Mersey Ferries, with further books being distributed at peak times throughout the week. Following this, Moved to Read will be sharing books on bus routes from Monday, 26 October 2015, with books being distributed at Liverpool One and Queen Square terminals. In December Moved to Read will also be placing books in taxis to further expand the reach of the free books throughout Liverpool.

Dr Jane Davis, Director of City of Readers said:- "We're incredibly excited to have this opportunity to partner with Merseytravel on this Moved to Read initiative in our ongoing campaign to make Liverpool the foremost reading City. We want to give people more opportunities to find the time to read whether it's a daily commute, a shopping trip or a family day out; grab a book, enjoy, discuss and share."

Councillor Lana Orr, Mayoral lead for City of Readers, said:- "Getting into the habit of reading when travelling to and from work is not just a great way to relax and learn, but also helps the time pass more quickly! This is all part of our drive to get more people reading for pleasure and make Liverpool the foremost reading City in the UK."

Cllr Liam Robinson, Chair of Merseytravel, said:- "Travelling around the transport network is a great opportunity to grab a book and switch off from your day and our partnership with Moved to Read will hopefully encourage more passengers to do just that."
Robbery at a filling station in Waterloo
MERSEYSIDE Police Detectives, in Sefton, are appealing for information following a robbery at a filling station, in Waterloo, South Sefton, on Monday, 12 October 2015. It was reported to us that at around 10.45pm, a report was received by Police, that a robbery had taken place at the Esso Filling Station, located on College Road, Waterloo. The Police said that 3, as of yet unknown offenders, entered the premises and restrained a member of staff before taking a quantity of cash and cigarettes. The 34 year old member of staff was unhurt, but Police told us that he was left extremely shaken by the incident. He managed to raise the alarm and emergency services attended. Police have added that the offenders also "stole a silver Vauxhall Vivaro Van from the scene, which was later recovered." 1 of the offenders is described as having his face covered and wearing dark clothes and black gloves. A full investigation has been launched and house to house enquiries have been carried out. CCTV opportunities are also being explored and the scene has been forensically examined. Detective Inspector Mike Dalton, who is incharge of the case said:- "I want to stress that incidents like this are extremely rare and we are working hard to trace the 3 offenders responsible. This was an extremely frightening think to happen to the victim, who was just trying to do his job. Merseyside Police are absolutely determined to crack down on attempts to rob businesses like this. We are also continuing to run a range of proactive initiatives to help businesses improve security as well. I can reassure people that we are doing everything we can to trace and arrest the offenders. We'd appeal to anyone who may have seen anybody acting suspiciously in the area last night or witnessed any part of the incident to get in contact. This incident happened near to a busy fast food outlet and I'm sure someone will have seen the offenders before the incident or saw the vehicle driving off afterwards. Anyone with any information, no matter how small, about this incident, is asked to contact Sefton CID on:- 0151 777 3055. If you want to do this anonymously, please call Crimestoppers on:- 0800 555 111."