Hundreds of Lancashire residents are set to benefit from major power project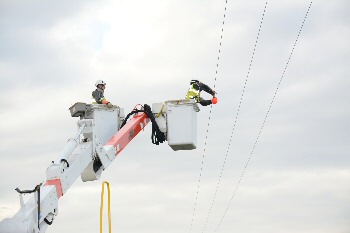 MORE than 300 homes and businesses are set to benefit from a £171,000 major investment to rebuild and upgrade the local power network in Holmeswood and Bickerstaffe, in West Lancashire.

Yesterday engineers from the region's power network operator, ElectriCity North West, started to upgrade 4km of overhead power lines and 60 electriCity poles which have been supplying power to the area for more than 50 years.

As part of the vital 3 month project, engineers will also be installing around 300 special bird diverters to the overhead power lines to help protect birds near WWT Martin Mere Wetland Centre.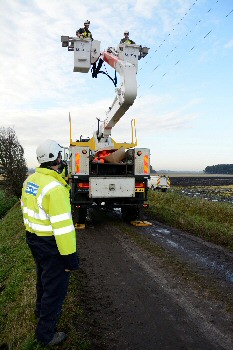 More than 350 bird diverters have already been installed in the area following a study that revealed they help protect migrating birds and reduce the number of power cuts caused by bird collisions.

Adrian Rowley, head of secondary capital for ElectriCity North West, said:- "This is great news for both our customers in West Lancashire and the 30,000 swans and geese that migrate to the area every year. The network has served customers well since the 1960s, but it's essential that we invest in the network to ensure they continue to enjoy a reliable power supply to their homes. It is also a great opportunity to install these special diverters which help raise the visibility of our power lines and therefore help protect birds by preventing collisions which can also sometimes cause power cuts."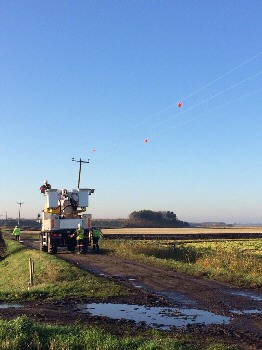 Over the last 2 years ElectriCity North West has worked closely with WWT Martin Mere to help protect birds by installing diverters and studying factors affecting collision risk, which was the first study of its kind in the country.
WWT Martin Mere Centre Manger, Nick Brooks, said:- "Working with ElectriCity North West to trial bird diverters on power lines has helped to ensure the long term protection of these birds as they fly through Lancashire and Sefton over the autumn as well benefitting local communities. This has been a flagship research project and we are looking forward to continuing this relationship for many years to come."

West Lancashire MP Rosie Cooper, said:- "I very much welcome the continued investment by ElectriCity North West to upgrade the electriCity supply infrastructure across West Lancashire that will improve the reliability of the power supply in rural communities, which I know can experience a loss of power supply when there are bird collisions with overhead cables. The action ElectriCity North West is taking to tackle this problem is to be commended."
If customers have any queries about the project, they can call ElectriCity North West on:- 0800 195 4141 or follow @ElectricityNW.

Liverpool firms failing to hire returning mothers
NEW research by global workplace provider Regus has revealed that only 17% of businesses in Liverpool are planning to hire more returning mothers than they did a year ago. This is despite the fact that they are seen to bring a wide range of benefits to the workplace, according to a survey of local business owners and senior managers.

Returning mothers play an important role in the overall economy by contributing to boosting GDP through increased female participation in the labour force. But the contrasting demands of motherhood and work are one of the main reasons women don't return to work. To combat this phenomenon, respondents emphasised the important role flexible working can play in attracting female talent; in fact, 75% believe that flexible working is key to attracting and retaining women workers.

The research highlights a variety of positive attributes that employers believe mothers bring to the workplace. These include their experience and skillset, reliability and excellent time management. Additionally, returning mothers are seen as less likely to change jobs, saving firms the cost of recruitment and re-training.

Other benefits of hiring working mothers identified by the research include:-

► Returning mothers are valued for their experience and skills according to 71% of respondents and are seen as more organised (29%) and better at time management (29%) than other staff.

► Returning mothers were also reported to be very hardworking (19%) and less likely to change jobs (32%).
► Professionals also value working mothers' drive to prove their worth (23%).

Commenting on the research, Celia Donne, Global Operations Director at Regus says:- "There is a vast amount of untapped potential among skilled and experienced mothers who are unable to work due to family commitments. Flexible working enables companies to tap into this important talent supply and offer returning mothers a way back into the workforce. The benefits to businesses are clear; not least, lower staff turnover and associated hiring and training costs. But in order to retain these valuable employees it is critical that firms offer some level of flexible working, such as the possibility to work closer to home. With reports suggesting that if the number of women in the workforce reached the same as that of men national GDP growth could be up to 10% higher, the case for increasing flexible working is very strong. Add to that the value placed on returning mothers and it is evident that businesses need to reassess their use of flexible working to attract top female talent."
70% of the North West are on the dash to capture bad behaviour on camera
IT seems that over the coming year, the roads in the North West of England will be seeing an influx of dashboard cameras (dash cams) and it will be drivers themselves who are fuelling the demand for their journeys to be captured on camera, according to new research by GPS company Garmin. The Garmin Driver Safety research found that attributing fault is the biggest problem for drivers in the North West region who find themselves involved in road accidents, with 16% drivers stating that lack of evidence was to blame for a past claim going unsettled. 58% singled out a dash cam as the product that would have been helpful to prove their innocence and save on unnecessary legal costs. After safety and driver protection, cost saving is the second reason for the rise in the popularity of dash cams in the UK with 55% of drivers from the North West stating that they would be willing to install a dash cam in their car to save on insurance premiums. This is due to the growing number of UK insurers now offering discounts of up to 10% off insurance premiums. The cost-saving benefits are such that 70% of drivers say that they intend to use a dash cam in their cars in the coming year. Kirsty Quartley, Garmin PND (Personal Navigation Device) Product Manager comments:- "The Garmin Driver Safety research has highlighted that the number of people who have had insurance claims go unsettled due to lack of evidence is significant. The resulting cost is something frustrated drivers are actively trying to tackle and they recognise that an in car recording device such as a dash cam that captures bad behaviour on camera can prove invaluable in proving fault in an accident. Installation of a dash cam can also help to lower the cost of insurance premiums so can prove to be a sound long term investment, which is why they are quickly becoming one of the most popular in car accessories in the UK. Garmin are responding to the growing demand by adding a range of dash cams to their portfolio. With models that include GPS to record the exact location of any incident and driver assist features such as forward collision warning and alert for speed cameras, the dash cam becomes an invaluable device whilst on the road. Garmin also includes nüviCam within their portfolio; a Sat Nav with built in dash cam and driver-assist features including forward collision warning and lane departure warning. Garmin will be launching the Dash Cam 30 and Dash Cam 35 later this October 2015, as well as acting as an independent eyewitness on the road, the devices can be removed from the vehicle and used as a portable camera to take close up snapshots of vehicle damage."
Witness appeal after fight at Birkdale Railway Station
THE British Transport Police (BTP) is appealing for witnesses to a large fight that occurred, at Birkdale Station, at around 9pm, on Sunday, 4 October 2015. Investigating Officer, PC Paul Hevey, said that:- "A man who had been waiting on the platform alone became engaged in conversation with two other men before this turned into an altercation. The fight escalated and spread onto the railway tracks with the 2 men narrowly avoiding contact with the electrical rail. A large group then emerged from a nearby pub and became involved in the fracas, during which the fight spilled out onto the Station Car Park. BTP Officers then arrived on the scene and an allegation of assault was made by 2 men. We are now very keen to hear from anyone who may have witnessed this large scale disorder and violence, which must have been frightening to watch." Anyone who thinks they might have information about the incident should contact Officers to assist with their enquiries, via texting:- '61016', quoting reference:- 'PSUB/B5 of 16/10/2015' or you can also pass information on anonymously, to the independent charity, Crimestoppers, on:- 0800 555 111.