Service to be held in Liverpool to mark World Day of Remembrance for Road Traffic Victims on Sunday, 15 November 2015
PEOPLE killed or injured in road crashes are to be remembered at special events in Liverpool to mark:- 'World Day of Remembrance (WDR)' for Road Traffic Victims. They are among a number of services on Sunday, 15 November 2015, taking place across the UK, coordinated by RoadPeace, as part of a global movement to remember lives lost and broken on our roads. The Liverpool events have been organised by the RoadPeace North West Group. They start at 1pm, in St John's Gardens, at the memorial for road crash victims. During the event there will be a silence to remember loved ones who have died or been injured through road crashes and 5 doves will be released in memory of the 5 people who, on average, die in road crashes each day in this Country. Following this there will be light refreshments and the opportunity to talk to each other in St George's Hall. This will be followed at 3pm, by a remembrance service in the Concert Room of St George's Hall, during which names of loved ones killed in road crashes will be read aloud. The Lord Mayor of Liverpool, Councillor Tony Concepcion, and the High Sheriff of Merseyside, Mr. Robert Owen, will attend the events. The theme for this year's WDR is:- 'Say No to Road Crime'. 1.25 million people are killed every year on the world's roads. In the 10 years since the UN adopted this day, over 12 million have been killed in crashes. Many of these deaths are caused by law breaking drivers, with speeding and drink driving identified by the World Health Organisation as key problems. In Britain, 1775 were reported killed in crashes in 2014. That same year, 315 drivers were convicted in Britain for causing a death.
Pauline Fielding ,RoadPeace North West coordinator, said:- "I invite the families and friends of those who have died or been injured in road crashes, together with those who support us, to join us on World Day of Remembrance for Road Traffic Victims. On this special day we bring families and friends together to support each other and we give thanks for the emergency services. It is important to remember loved ones who have died, but it is also important to raise awareness of the needless loss of life, and of lives changed forever by injuries, in road crashes. All road users, whether they be pedestrians, drivers or cyclists, need to use the roads sensibly. This is especially important at a time when funding for Police and Councils has been reduced which has led to fewer Traffic Police and Road Safety Officers."

Brigitte Chaudhry MBE, RoadPeace Founder and WDR coordinator, whose son Mansoor was tragically killed on the road in 1990, added:- "My real hope is that the awareness; of the terrible toll of road death and injury and the suffering of road victims; raised by the World Day will contribute to a serious reduction in road danger and future deaths and injuries, so that we will not need to remember many, if any, new road victims on our World Day of Remembrance in coming years."

The World Day of Remembrance has wide support from the emergency services, politicians and NGOs in the UK. Prime Minister David Cameron has given the following message of support for the Day:- "Road deaths and injuries are utterly devastating for all those affected, imposing a terrible human cost on the casualties of collisions and their families; my heart goes out to you all. The World Day of Remembrance is an opportunity to remember all those whose lives have been tragically affected by road collisions, to recognise the excellent work of our emergency services, and to reflect on how we can make our roads safer for all who use them."

Who Drives Wins? Arriva seeks the finest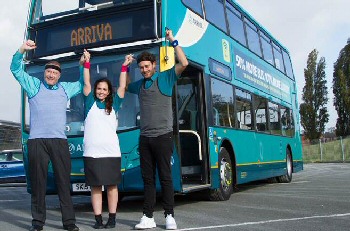 IT'S a case of reaching for the stars and going for gold at Arriva North West this month, as the bus company starts its annual search for the drivers amongst its dedicated team who are the most committed to going above and beyond to you get you safely from A to B.

Arriva, which operates services across Southport, is giving its customers the chance to nominate one of their drivers for its nationwide:- 'Bus Champion' award. This accolade is designed to recognise drivers who make a difference to customers when they travel on Arriva buses, be it through their steadfast reliability or just by adding a little sparkle to their passengers' day. Whether it is their friendly manner, flawless driving or the fact they go above and beyond the call of duty, Arriva wants the people who know best, its customers, to nominate drivers that deserve to have their dutiful deeds acknowledged.

Derek Bowes, from Arriva North West said:- "We're big believers that through great endeavour you can achieve great reward; whether you're a supreme athlete, a corporate high flyer, or a bus driver on the road. We all have greatness within us and that is exactly what we want to showcase with this award. Our drivers are the heartbeat of our business; and they really do care about the customers they serve and communities they are part of. We are incredibly proud of how many of them consistently go that extra mile to ensure excellence on board our buses and want your help in celebrating these unsung champions."

The 'Bus Champion – Driver of the Year' title forms part of Arriva's annual 'Made A Difference' (M.A.D) Awards campaign, a national recognition programme which looks at all elements of the bus company, including:- engineering, depot management and back office functions.

The top regional drivers voted for by customers, will be celebrated during a glittering ceremony on 21 April 2016, where the overall national champion will be announced.
To vote for your Bus Champion please email the organisers, with details of the driver, the route, and reasons for your nomination, or alternatively visit the website.