Diabetes UK Christmas cards go on sale in hundreds of Cards for Good Causes shops and online
HUNDREDS of Cards for Good Causes shops have opened across the UK and are selling Diabetes UK Christmas cards, raising vital funds for the charity. At least 70p of every pound spent on Diabetes UK Christmas cards in the shops will be given directly to the charity. Cards for Good Causes manages around 300 shops around the UK which, in the run up to Christmas, are set up in vacant shop units, churches, libraries and other public spaces, and have already raised over £100 million over the years for hundreds of charities. This year Cards for Good Causes will be available at the Tourist Information Centre, on Lord Street, in Southport.

Judith Rich OBE, Vice President of Diabetes UK and the director of Cards for Good Causes from 1977 to 2000, said:- "This year's range of cards has a selection available for the widest of tastes, and they return a high percentage on all sales as the shops are run by volunteers. If you want to support a charity by buying Christmas cards, buying them directly is by far the most economic way as there are no hidden costs; after administrative costs, all the money goes to the charity, meaning Diabetes UK is raising the maximum possible funds from the sale. If you buy your charity cards from commercial shops, do check what percentage of the sale they will be passing on to the charity."

All the money received from the purchase of Diabetes UK cards will help the charity to care for, connect with, and campaign alongside even more of the 3.9 million people living with diabetes as it works to prevent and, one day, cure the condition.

The full range, of 24 designs, of Diabetes UK Christmas cards, along with wrapping paper and accessories, can also be ordered through its online store. Also to find your nearest Cards for Good Causes local branch, visit CardsForCharity.Co.UK.
Sir Thomas Street stops to close for 5 days for resurfacing work
DUE to repair works to the road surface, Sir Thomas Street bus stop will be closed from Sunday, 15 November for 5 days. As a result of the closure, a number of services, including many cross river buses, will depart from different locations from Sunday to Thursday 19 November. It is expected that services will return to their normal locations from Friday, 20 November 2015. The work being carried out is essential due to the deterioration of the road surface within the bus stop bays and is being carried out now to avoid any disruption during the busy Christmas shopping period. Full details of the changes can be found below. To assist during the closure, Merseytravel staff will also be on hand at Sir Thomas St, Victoria St and St Johns Ln to direct people to the correct location to catch their bus. A PDF leaflet with details of the changes can be found in the Travel Updates section of the Merseytravel website. Where to get your bus during closure of Sir Thomas St bus stops.
CROSS RIVERS
USE STOP
1,2, 423, 487, X8, 18/442/473
Victoria St VE
407, 437, 464, 471/472
Cook St (not after 2100hrs),

Victoria St Temp Stop, Victoria St VE

432/433
Cook St (not after 2100hrs),

Victoria St Temp Stop, Victoria St VE

LIVERPOOL SERVICES
USE STOP
52/52A , 55, 56, 58
St Johns Ln
54
Victoria St VC
139
Queen Square Bus Station Stand 2

Britain's Most Spectacular Backyard Builds needs YOU!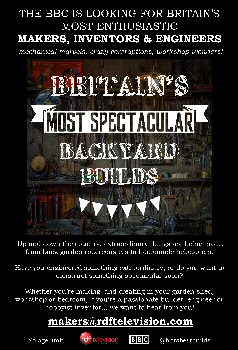 IT is that time of year that we get asked to run TV show update after TV show update, but this one stood out, so read on to find out why!

A brand new BBC2 series called Britain's Most Spectacular Backyard Builds, which is celebrating Britain's most passionate inventors, makers, engineers and tinkerers, is about to start filming, but it needs help...

"We're looking for a variety of people to take part. This is a programme for anybody who loves to create their own inventions, whether that be an 8 year old science fanatic, or an 80 year old hobbyist inventor, we want to find the most passionate and creative backyard builders in Britain. We are looking up and down the country and we have found some extraordinary things are being made, from back garden rollercoasters to homemade helicopters. All the creations are built with passion and created with purpose and now BBC2 are delving into their world to document the most passionate and most magnificent makers in the UK! But we want your help to find people doing more of these hidden engineering tasks. This is a celebration of engineering, invention and innovation and this is a great opportunity for hobbyist inventors, engineers and makers across the country to take part in something magnificent. So please contact us! Also do you have a friend who is always tinkering away in their garden shed, developing and making unique creations? Yes, again please tell us how to contact them!" said Davinia Richardson.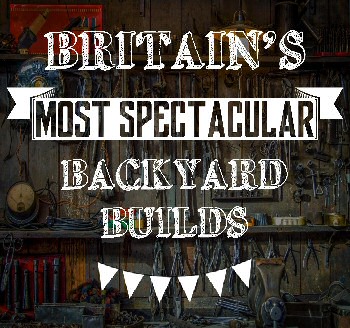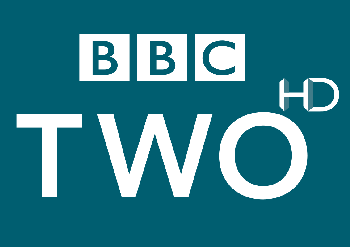 Filming for the series will take place between January 2016 to March 2016 and those who take part will only be required for between 1 to 4 days. For those who are interested, they can email the team on:- makers@rdftelevision.com or visit the BBC website to download an application form this link.