Wirral builder found guilty of fly tipping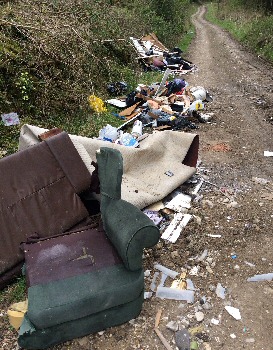 A Wirral man has been prosecuted this week at Scarborough Magistrates Court, North Yorkshire, for fly tipping. Fred Cook, a builder, of Seaview Road, Wallasey, was convicted for using an unauthorised waste carrier to dispose of waste he produced while renovating a property in Scarborough. The rubbish was later found fly tipped in the nearby Wykeham forestry area.

Cook was fined £1000 and ordered to pay £1232 in costs, £100 victim surcharge and £180 courts charge, totalling £2512.

This latest conviction comes as Scarborough Borough Council ramps up its crack down on those responsible for fly tipping and littering across the area. Harry Briggs, Scarborough Borough Council Recycling and Waste Enforcement Manager, said:- "The countryside around our borough is beautiful. It's loved by those who live here and those from all over the country that choose to holiday here, so we take a firm stance on people dumping rubbish and spoiling our area. This case took a long time to investigate with our waste enforcement team working very closely with our legal team to produce this court result. Fly tipping is a serious matter and we will continue to prosecute offenders to the fullest extent of the law. The prosecution should act as a deterrent to any tradesman. Don't forget, if you use someone who is not properly registered and dumps your rubbish, you too can be held responsible. We urge anyone wanting to remove waste from their home or business to check that the removal company has an authorised waste carriers licence."

Checks to make sure a waste carrier is authorised can be made online. Anyone can report incidents of fly tipping in confidence by contacting the Council's Customer First team via email or by calling:- 01723 232323.

Community event on surviving winter
AS winter is approaching, free help and advice about keeping warm and staying healthy is being offered at a community event in St George's Hall, Liverpool. The Winter Survival Community Event takes place on:- Wednesday, 18 November 2015, from 10am to 2.30pm. The event is sponsored by British Gas and Scottish Power Energy Networks and is part of the Viridis Winter Warmth campaign aimed at reducing excess deaths during the winter months. The event will have around 60 exhibitors, from a wide range of organisations including energy companies, charities, Council services and community groups. They will provide information and advice on a number of issues including:-
► Fuel Poverty.
► Debt.
► Energy efficiency.
► Financial assistance.
► Healthy living.
► Keeping Active.
► Social inclusion.
There will be entertainment and demonstrations throughout the day including free bingo sessions and live music from the North West Charity Singers and the Sing Me Merseyside Choir.

The Pagoda Centre will give a Tai Chi demonstration, the CHATS team will offer free health checks and there will be reiki healing sessions with Ursui School of Natural Healing. And you need not even get up to stay healthy as the Liveability Team will lead some chair based exercise.
A free prize draw will offer some great prizes and those attending will get a hot drink on arrival. Free bags of vegetables to make soup will also be handed out while stocks last.

The event will be opened by the Lord Mayor of Liverpool, Councillor Tony Concepcion. He said:- "This event is becoming 1 of the most significant in our calendar with more and more people attending. Last year we had around 800; a record number and this year we are hoping for even more. It attracts so many people because they know it is very important to find out the best way to cope with winter; whether it is how to keep warm or what help is available over energy bills. The Winter Survival campaign is aimed at cutting excessive winter deaths. Although we have seen the number of excess deaths in the coldest months reduced significantly in recent years there were still more than 150 in the City last year in what was a not particularly harsh winter. So the community event is a great way of helping you survive winter."

Chris Tate, head of corporate responsibility at British Gas, said:- "We're proud to sponsor this event, through our partnership with National Energy Action. British Gas has an important role to play in tackling fuel poverty and helping people create warmer, more energy efficient homes is a key part of that."

Stephen Stewart, SP Energy Networks Director, said:- "We have been supporting the Viridis campaign for many years, and are delighted to be lead sponsor. The campaign brings together a wide range of agencies and organisations to offer assistance to those who need it most. As part of the campaign we will be encouraging our most vulnerable customers to join our Priority Register, which gives access to additional support and advice in the event of an issue with power supplies."