Gary Barlow and Tim Firth's new British musical:- 'The Girls'
THE full cast has been announced for Gary Barlow and Tim Firth's new British musical, 'The Girls', based on the true story, the film and award winning play by Tim Firth, Calendar Girls, which will have its world premiere at the Grand Theatre Leeds from Saturday, 14 November to Saturday, 12 December 2015 and at the Lowry Salford, now from Friday, 8 January to Saturday, 30 January 2016, the Lowry has had 5 extra performances have been added due to high ticket sales.
The cast will be led by Debbie Chazen as Ruth, Sara Kestelman as Jessie, Claire Machin as Cora, Claire Moore as Chris, Vivien Parry as Celia, Joanna Riding as Annie and Harriet Thorpe as Marie. Debbie Chazen played Ethel Kingsley in Mike Leigh's film Topsy Turvy and her many television credits include:- the lead roles of Annie in 'Smoking Room' and Kelly-Su Crabtree in 'Psychoville'. Sara Kestelman won an Olivier Award for her performance as Fraulein Schneider in Sam Mendes' Cabaret at the Donmar; Sara has appeared extensively with the RSC, including:- playing Titania in Peter Brook's landmark production of 'A Midsummer Night's Dream.' She also created the role of Margrethe Bohr in Michael Frayn's award winning 'Copenhagen.' Claire Machin's credits include:- 'My Fair Lady', 'Mary Poppins', 'Betty Blue Eyes' and 'Memphis'. Claire Moore originated the role of Ellen in 'Miss Saigon. Her other credits include:- Christine in 'The Phantom of the Opera', Fantine and Madame Thenardier in 'Les Miserables' and the National Theatre's award winning 'London Road.' Vivien Parry's credits include:- Madge in the original cast of 'Top Hat', Donna in 'Mamma Mia!' and Mrs Johnston in 'Blood Brothers.' Joanna Riding won the Olivier Award for Best Actress in a Musical twice for her roles as Julie in 'Carousel' at the National Theatre and as Eliza Doolitle in 'My Fair Lady.' Harriet Thorpe's many television roles include:- Carole in 'Brittas Empire' and Fleur in 'Absolutely Fabulous.' Her recent theatre credits include Great Britain, Wicked and Mamma Mia!. Also in the cast will be Stephen Boswell ('Top Hat' in the West End) as Colin, Joe Caffrey ('The Pitmen Painters' for the National Theatre, and played the Father in 'Billy Elliott') as Rod, Jeremy Clyde (credits include:- 'The Alan Clark Diaries' and 'The Iron Lady') as Denis, Susan Fay as Brenda, James Gaddas (credits include:- 'Bad Girls' and 'Coronation Street') as John, Steve Giles as Lawrence, Shirley Jameson as Miss Wilson, Judith Street as Lady Cravenshire and Karen West as the other Miss Wilson, and introducing the previously announced Josh Benson as Tommo, Ben Hunter as Danny and Chloe May Jackson as Jenny. 'The Girls' is inspired by the true story of a group of ladies, who decide to appear nude for a Women's Institute calendar in order to raise funds to buy a settee for their local hospital, in memory of one of their husbands. This musical comedy shows life in their Yorkshire village, how it happened, the effect on husbands, sons and daughters, and how a group of ordinary ladies achieved something extraordinary. Gary Barlow and Tim Firth grew up in the same village in the north of England and have been friends for 25 years. With Take That, Gary has written and co-written 14 number 1 singles, has sold over 50 million records worldwide and is a 6 times Ivor Novello Award winner. Tim has won the Olivier Award and UK Theatre Award for Best New Musical, and the British Comedy Awards Best Comedy Film for Calendar Girls. 'The Girls' will be directed by Roger Haines and Tim Firth, with comedy staging by Jos Houben, design by Robert Jones, lighting design by Tim Lutkin, sound design by Terry Jardine and Nick Lidster, musical direction and orchestrations by Richard Beadle, associate producer U-Live, with casting by Sarah Bird. Bloodwise (formerly known as Leukaemia and Lymphoma Research) will receive monies from this musical. 'The Girls' will be produced by David Pugh and Dafydd Rogers and The Shubert Organization. 'The Girls' is working in partnership with Welcome to Yorkshire.
To book tickets to see this show at Visit the Leeds Grand Thearter's website, or call in to the Box Office, at:- 46 New Briggate, Leeds, (LS1 6NZ), alternatively call:- 0844 848 2700.
Coastguard Rescue Teams send out..."SOS" ... can you help?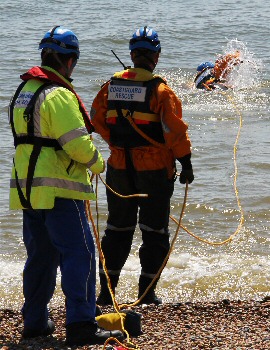 EVERY day, along our coastline stretching from Formby to Preston, people make 999 calls to Her Majesty's Coastguard. Could you be in one of the Coastguard Rescue Teams which help them? Whether it's someone out of their depth in the sea or is stuck in the mud and unable to free themselves, it's the Coastguard Rescue Team at Southport that will be on hand to help. As the emergency service responsible for coordinating maritime search and rescue in the UK, HM Coastguard needs volunteers for its rescue teams. Ordinary people doing an extraordinary job. Coastguard Rescue Teams can be called into action any time, day or night. There are 3,500 volunteers in 347 teams around the coast of the UK, but there are always vacancies. Coastguard Rescue Officers help search for and rescue people in difficulties, be it on cliffs, stuck in mud or in water and also missing people. They report and deal with pollution and other hazards and work with other emergency services and local authorities during major incidents.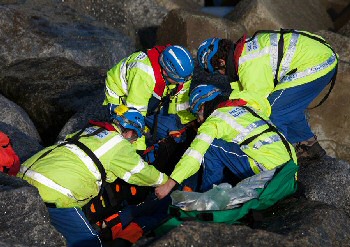 Senior Coastal Operations Officer Christopher Smith said:- "If you live in a coastal community, you'll know how vital the Coastguard Rescue Team is to the area. These are people who are prepared to react day or night; often in matters of life and death. What they do matters. And we need more people like them to join. Coastguard Rescue Officers are trained in first aid and a variety of technical rescue techniques, depending on their location. Aside from giving your time to a worthy cause, volunteering has a number of key benefits for your career too. It can help you stand out from the crowd and learn practical transferrable skills. If you'd like to join, we'll ensure you have regular training, and all we ask in return is that you are within a few minutes of Southport, and available to respond at most times."
So do you think you have it takes to be a member of the Coastguard? Have you got what it takes to conduct a search? To mount a rescue? To save lives? If you would like to find out more, please email the team before the 30 November 2015. Please use this link should you wish to apply!

A smash hit Broadway and West End show, 'Avenue Q', heads to Liverpool
Photos on this page by Jo Forrest.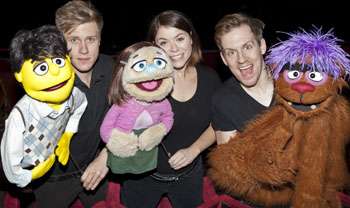 STARTING 2016 off in style, at the Liverpool Empire, over 22 February to 27 February 2016, will be 'Avenue Q.' This comedy musical started life in the Manhattan's Theater District of the "Big Apple", in the US. It quickly became a smash hit on Broadway, later in the UK it became a major box office hit at the West End. Most recently, 'Avenue Q.' has been critically acclaimed, with it's 2014 UK Tour. This award winning show will bringing a host of fuzzy friends to Liverpool, playing at the Empire Theatre, and tickets are now sale, but selling faster than fresh, hot bagels in Time Square.

Featuring the naughtiest puppets in town, brought hilariously to life by an ensemble cast of 11 performers, Avenue Q is a Tony Award winning musical about growing up, dreaming big, and finding your purpose in life.

Meet Princeton, a bright eyed graduate who comes to New York City with big dreams and a tiny bank account. Soon discovering that the only neighbourhood in his price range is 'Avenue Q', he finds himself moving in with some truly quirky characters. There's Brian the out of work comedian and his therapist fiancée Christmas Eve; Nicky the good hearted slacker and his closet gay Republican roommate Rod, an Internet 'sexpert' called Trekkie Monster and a very cute kindergarten teacher named Kate Monster. And would you believe the building's superintendent is Gary Coleman?! Featuring hysterically funny songs including The Internet is for Porn and Everyone's A Little Bit Racist, Avenue Q is a hilarious musical with a warm (and very fuzzy) heart.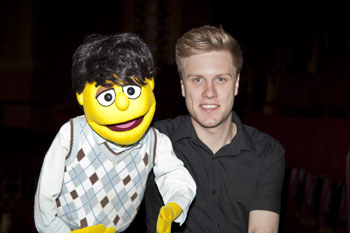 'Avenue Q' 1st opened Off Broadway at the Vineyard Theatre in 2003, before transferring to Broadway later that year where it won three Tony Awards for Best Musical, Best Score and Best Book. In 2006 it transferred to the West End produced by Cameron Mackintosh, where it ran for five years before touring the UK. It has appeared in more than ten countries all over the world.

Avenue Q is co-created by Tony, Grammy and Emmy Award winner Robert Lopez, who also co-created the smash hit Broadway and West End musical:- 'The Book of Mormon.' With his wife Kristen Anderson Lopez, Robert also co-wrote the songs for Disney's recent animated feature, 'Frozen', with his work also seen on television in:- 'Scrubs', 'The Simpsons' and 'Southpark.'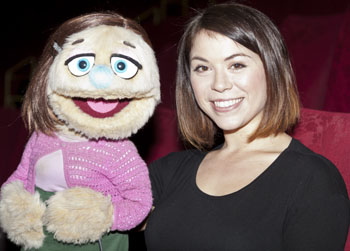 The cast features Sarah Harlington as Kate Monster/Lucy the Slut, Richard Lowe as Princeton/Rod and Arina II as Christmas Eve. Returning to the show following last year's tour are Stephen Arden as Nicky/Trekkie Monster, Richard Morse as Brian, Etisyai Philip as Gary Coleman and Jessica Parker as Mrs T/ Bad Idea Bear. The cast also includes:- Michael Woolston-Thomas, Douglas Walker and Cleopatra Joseph.

'Avenue Q' is produced by Sell a Door Theatre Company, who 1st presented this new production in a 6 month tour in 2014. Formed in 2007, Sell a Door creates touring productions aimed at engaging young adults in live theatre. Recent productions include a forthcoming UK Tour of The History Boys, Seussical in the West End and the debut UK tour of Spring Awakening. Their co-producer is Richard Darbourne Ltd. whose recent work includes Pride and Prejudice on UK Tour and the 25th Anniversary Tour of:- 'Return to the Forbidden Planet.'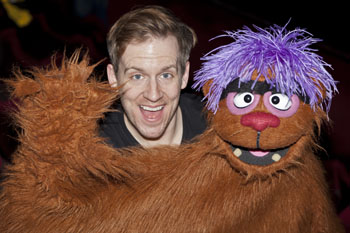 Avenue Q has a book by Jeff Whitty and music and lyrics by Robert Lopez and Jeff Marx. It is directed and choreographed by Cressida Carré, with set design by Richard Evans, lighting design by Charlie Morgan Jones and sound design by Chris Bogg and DBS Solutions. Orchestrations and arrangements are by Stephen Oremus. It is produced by Sell a Door Theatre Co and Richard Darbourne Ltd. Puppets are designed by Paul Jomain for Q Puppets.
For more information about the show, visit the shows official website.

If you want to get to see this amazing show, you must book your tickets now, via going to the Empire Box Office, located on Lime Street, in the Centre of Liverpool, (L1 1JE), call them on:- 0844 871 3017*, or buy online online.* Don't be slow or you will miss out!

* fees apply to telephone and online bookings.