New Charity Christmas Parade Planned for this Christmas!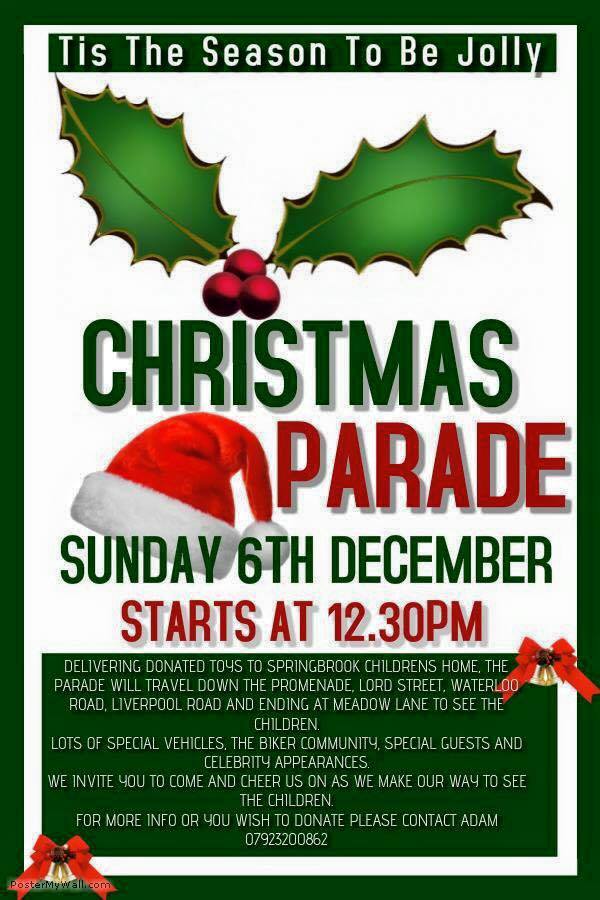 IF you missed the Christmas Parade's that happened 2 years ago, in Southport, well Adam Brown has decided:- "I took it upon myself to bring it back to the town for all the families in Southport to come and enjoy." The new Charity Christmas Parade will take place on Sunday, 6 December 2015, starting at Pleasureland, at 12.30pm, and then head down The Promenade up to the Lakeside Inn Pub. Then the Parade will turn around and will head back up towards Pleasureland; it will then go round the back of Dunes, then heading back up past Morrisons and come out at the end of Lord Street. The parade will leave Southport and will and will then head off down Lulworth Road, Waterloo Road, Liverpool Road and will end at The Scout Hut on Pinfold Lane where all the residents of Springbrook Children's Home will be having a Christmas Party. Santa will then deliver 100s of donated toys for the children at the Party.

Adam Brown said:- "Taking Part in the parade we have, Bike Marshals MD Travel, the Mayor & Mayoress of Sefton, Chris Shaw's Christmas Truck, LFC Double Decker Bus, The Dance Place Two Dance Troop, Santa's Winter Wonderland, Float Jack In The Box, Party Crew Float Supplied by W&M Thompson, BabyBallet, Triviso Ice Cream Vans, The Santa Charity Bike Ride, Blood Bikes North West, Goldwings North West and North West Biker Community, All filmed for TV so get your chance to be seen, Special Celebrity Guest Appearance. It is truly going to be a special afternoon. I am completely overwhelmed by all the local businesses that have agreed to take part with us and a massive thank you for all the donations for the children. Santa will be on his float spreading Christmas joy around Southport."

Southport, Formby and Liverpool Remembrance Services and Parades
Photos on this page by Patrick Trollope & Major Roy Bevan MBE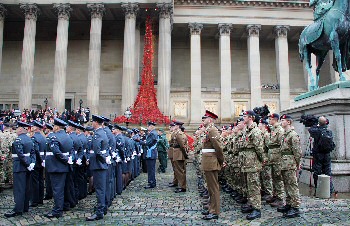 THIS year the eyes of the Nation have been on Liverpool, with the amazing Poppy display, called the Weeping Window. The 10,000 ceramic poppies outside St George's Hall, Liverpool, are part of the remembrance display at the Tower of London in 2014. Major Roy Bevan, MBE kindly took photos of the events at St George's Hall, on Remembrance Sunday for us. Our Editor covered Formby and Southport on Remembrance Sunday, 8 November 2015; video footage shot at them by us can be seen on this report. Also on Armistice Day, 11 November 2015, we attended a service at Formby Village Cenotaph. Then we attended a simple service next door, next to war graves of Polish Air Force World War II airmen, who are buried in war graves at Our Lady of Compassion Church in Formby. Ending the services were prayers at the Village's World War 1 Memorial, also in the grounds of Our Lady of Compassion Church. Video of the Formby services can be found on the this report as well.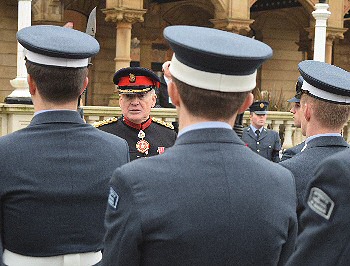 PAGE 1 OF 13
We hope you liked the photos, but please, don't copy them. Please help us to keep our copyright intact and to keep this site online. Click on here to find out how you can get you copy of these photos.