Winter Arts Market returns to St George's Hall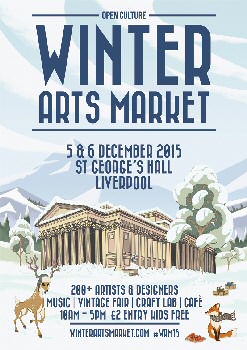 THE Winter Arts Market, Merseyside's largest arts and design market returns to St George's Hall, Liverpool, over 5 December to 6 December 2015. From 10am to 5pm, the visitors will have a chance to meet over 200 contemporary artists, designers and makers selling work at Grade I Listed venue. It's all set to become, once again, the best independent shopping experience in the City and the perfect place to pick up beautiful, unique Christmas gifts.

The stunning Grade 1 listed St George's Hall will be transformed into a bustling festive market with work from more than 200 of the North West's best artists, designers and makers. There'll be thousands upon thousands of items for sale, with everything from paintings, screenprints and handmade jewellery and accessories to beauty products, upcycled items, Christmas decorations, cards, photography and textiles. There will also be a vintage fair upstairs in the Concert Room.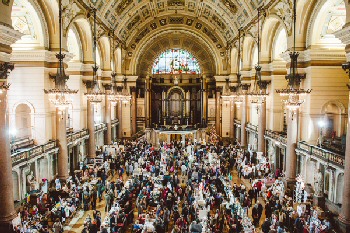 Shoppers will also be able to enjoy a range of other activities, including workshops, performances and live music to be announced in November. Delicious homemade food and drink will be available from Cuthberts Café at the North Entrance.

The Winter Arts Market is organised by Liverpool social enterprise Open Culture, who have been partnering with St George's Hall to stage the event annually since 2009. The market aims to provide the public with a chance to purchase affordable, unique work directly from artists and makers; helping to support independent businesses in the local creative economy.

Christina Grogan, Open Culture Director said:- 'We've been astounded by the record number of applications we've had from brilliant designers and makers who want to be part of the Winter Arts Market and we can't wait to share their work with the public. The selection process has been really tough, but we're really excited to present work by some wonderful new artists alongside favourites from past events. Our audiences really appreciate handmade work that is affordable and we're looking forward to inviting them back to what will be an amazing shopping experience.'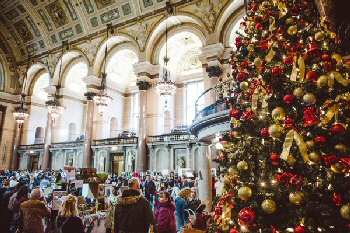 ...Featured artists...
► Lucy Cutler is a freehand wirework artist whose work is largely inspired by natural forms, with every piece completely unique. She creates pieces on various scales and in different gauges and colours of wire.

► Chris Turrell-Watts makes a series of ceramic animal sculptures based on Japanese anime, mythology and memories of childrens' TV programmes. Each one is unique and hand made.

► Jessica Collinge's cute, kitsch and nostalgic designs bring a sparkle to even the gloomiest of days. Laser cut acrylic and plywood jewellery is handmade and embellished here in Liverpool, with all materials sourced from UK suppliers.

► Ticket Illustration is a local print and illustration duo with an interest in 1960s psychedelic poster art. Influenced by artists such as Stanley Mouse and Victor Moscoso, they take inspiration from bands, movies and quotes and blend them into vibrant psychedelic designs.

► Katie Craven's intricate pen and ink illustrations feature wonderful adventures inspired by nature, animals and dreams. Her work has been featured in publications such as OPEN Magazine, The Skinny and The Double Negative.
For more details and a preview of some of the exhibitors visit:- LiverpoolArtsMarket.com.

Teaching assistant shares her wait for a kidney as part of national campaign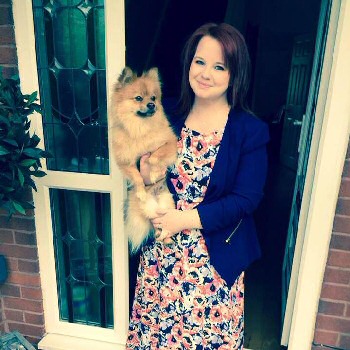 A teaching assistant is video blogging her wait for a kidney as a national campaign highlights the number of patients waiting for transplants across the UK. Figures released by NHS Blood and Transplant show that of the 7000 patients in the UK currently waiting on the transplant list, 30% have been waiting more than 2 years while 500 have been waiting for longer than 5 years. Across Merseyside, more than 180 people are currently waiting for a life changing kidney transplant.

Holly, 28, has been sharing her experiences of dialysis and the anxious wait for a suitable donor. The teaching assistant, whose first video blog about her wait for a kidney has already been watched more than 3000 times, was 17 when she was diagnosed with kidney failure and told she would need to go on dialysis until a suitable donor was found. Despite family members being tested for a suitable kidney, none were compatible. Holly said:- "When I was told that I needed a new kidney, it was a huge shock to me and my family. Being on dialysis is very restrictive. One of the side effects is that I get very tired very easily, which means I can't take my dog, Buddy, for long walks and I have to plan my route to make sure there's a bench so I can rest."

After waiting for 3 years, Holly had her 1st transplant in 2008. However, after 6 years of living with a new kidney, Holly now needs another transplant and is back on a dialysis machine. "I know that I'm waiting for someone; a family; to make a special decision. I want people to know that that decision can transform a life. It only takes a few minutes to register; those few minutes can make a big difference."
Holly, from Warrington, has been trained to use a dialysis machine at home, which now means she doesn't have to make the 40 mile round trip to the Royal for treatment 3 to 5 times a week. "I would love to be able to live a normal life and get back to work and back to taking my dog for long walks; it's my favourite thing to do. Dialysis leaves me feeling completely wiped out, but it's keeping me alive."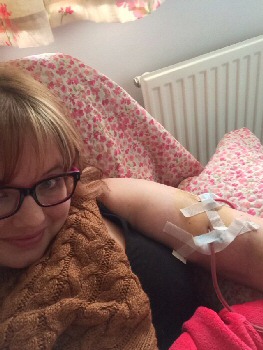 The Royal Liverpool University Hospital is a regional centre for kidney transplantation, treating patients from Merseyside, Cheshire and North Wales. In the last year the Royal performed 102 kidney transplants, 41 of which were form living donors. However there are still 185 people, like Holly, who are still on the waiting list in the Merseyside and Cheshire region.

Dr Peter Hampshire, clinical lead for organ donation at the Royal Liverpool University Hospital, said:- "For many people that wait for an organ can extend into years and it's a wait where what you need the most may never come. Every day 3 people in need of a transplant across the UK die waiting for a donor. Compared to our everyday frustrations, the wait for a donated organ really is a matter of life and death. Joining the NHS Organ Donation Register can really make a difference; 1 donor could potentially change the lives of up to 8 lives."

You can join the register online or by calling:- 0300 123 2323. You can also view Holly's video on Twitter and Facebook using the hashtag #TimeToSign. Holly is also documenting her transplant on her blog.