Should the UK have a 'meat tax?'
THE The Vegan Society have issued a press release this week saying:- "Reducing meat consumption is critical to curbing climate change, declared a report by leading think tank Chatham House earlier do not go far enough." Animal agriculture was identified as 1 of the major drivers of rising temperatures. Livestock is responsible for more greenhouse gas emissions than all global transport combined, yet public awareness of the link between diet and the environment remains low, the report found. Quite a shock was that Chatham House has publicly said that it's main recommendation would be to introduce a:- "meat tax!" We would love to know your views on this!
"This is a watershed report, thrusting the catastrophic yet persistently ignored environmental impact of animal agriculture firmly back into the political spotlight ahead of the UN Climate Conference next week. That it came from an independent, politically influential organisation bodes well for new policy coming out of it. Taxes, however, raise a number of issues and have a history of not working effectively to phase out consumption. Higher prices add to the inequalities we have in society which reinforce oppression, and may also perpetuate the notion that meat itself is more desirable; of greater worth. Rather than looking at taxing animal products, let's instead focus on plant based foods that are better for the planet, everybody's health, the future of our food and, of course, the animals. They are also much more inclusive and affordable. What's needed is financial support for farmers wanting to diversify away from livestock and into protein crops. The UK has some of the world's best conditions for growing plant protein like hemp and fava beans, which we set out in detail in our Grow Green report." said Jasmijn de Boo, CEO of The Vegan Society.

The Vegan Society launched its Grow Green campaign at the Labour Party Conference 2 months ago. More than seeking a reduction in meat eating, it calls for subsidies for those interested in transitioning from farming animals to growing protein crops and other plant based agricultural options. The Vegan Society also said that:- "The benefits are not only environmental. Major studies, including the World Health Organisation's report last month, are frequently reporting on the many health benefits of plant based eating, and its greater sustainability. Farmers could also face a brighter future. Dairy farmers in particular have struggled very publicly this year despite each receiving on average about a third of their income, around £25,000 per year, in EU subsidies. Financial assistance to move out of these failing industry could save their livelihoods."

So please do let us know what you think by emailing us to:- news24@southportreporter.com.
Local families chance to win entire Christmas package
MECCA Southport is calling on residents from across Southport to nominate families or individual family members who they feel deserve to be treated to the ultimate Christmas prize package. Mecca is pledging to provide 5 families from across the UK with the chance to celebrate Christmas in style by providing everything a family could need;decorations, food, drink and presents will all be gifted by Mecca Southport. It could be that the family has been through tough times and deserves a welcome pick-me-up or they have done something extraordinary for their local community. Whatever the reason, Mecca wants to provide a touch of Christmas magic, by making the perfect festive celebration easy and hassle free. Mecca Bingo spokesperson Lesly Clifford, said:- "Christmas is a magical time when many of us look forward to spending time at home with our families, enjoying all the usual festive traditions. However, if you've had a difficult year or have been extremely busy helping others, pulling together all the necessary presents, food and trimmings can be more than a little stressful. That's why we plan to make life easy for 5 worthy families by providing everything they need for a special, and more importantly stress free, Christmas."

The prize package includes a fully decorated Christmas tree with festive ornaments for around the house, as well as all the cards and wrapping paper needed. Children are sure to be delighted on Christmas morning once they receive a bumper set of this year's must have toys. Furthermore all the favourite festive food needed for a slap up turkey dinner will be provided, complete with soft drink options, a traditional Christmas pudding and crackers for the family to pull around the table. A brand new television will be delivered by Mecca Southport, so that the family can watch the must see festive programmes in style. Should they prefer to opt for older favourites, they'll also receive DVD copies of the greatest Christmas films of all time. No Christmas television marathon is complete without chocolates and mince pies, so a holiday hamper filled to the brim with treats will also be on offer. On top of the Christmas package, Mecca Bingo is also offering a night of free bingo to members of the family who are eligible to visit the Southport club.

To make a nomination please email why you think the family deserves a Christmas on Mecca to:- christmasmecca@havasww.com by 6 December 2015. To attend a Mecca Club you do need to be aged 18 years or over and be a customer of Mecca Bingo. Joining is free of charge and you can sign-up here or at the club.

Liverpool Business Club supporting local businesses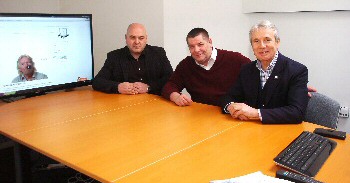 MOST small business owners understand their craft alright, but they do not understand how to run a business. So they soldier on, unsupported, until they run out of money! Are you in business? Do you agree? According to Liverpool Business Club (LBC) Mastermind Group, the reasons for lots of businesses failing are simple:- lack of training, education and support. They group think the skills and confidence to help small businesses are out there, in Liverpool and on Merseyside, yet they feel it has not yet been pooled or shared properly.

In a press statement we received this week, LBC's vision would be:- "to elevate the stature and aspirations of small businesses, so that they become truly entrepreneurial and develop into vibrant and profitable businesses. LBC provide support, training and education and we do this both online and face to face."

Councillor Gary Millar, former Liverpool Lord Mayor and now Liverpool Cabinet Member for Business, Enterprise and Investment says:- "Starting a new business can be a minefield not least due to all the various elements that need to be considered such as do I set up as a sole trader or limited company, where do I trade from, how do I go about marketing my business etc. Having support from experienced business club mentors makes the leap all the less daunting."

For younger people you have groups like Princes Trust, but for others they think this support is lacking. The group went on to say:- "LBC is a philanthropic venture. We aim to reverse the trend of small business failure in Liverpool by giving back. We will empower the small business community with skills and confidence. We do this by collaborating as a mastermind group, sharing knowledge and experience and providing previously unheard of levels of training, education and support, all within an easily affordable monthly budget."

Mark Cohen, managing partner at Alexander Myerson, who is 1 of the City's oldest Chartered Accountants says:- "What Liverpool Business Club offers is exactly the type of hands on, practical and affordable education and support that small businesses need to survive and thrive!"

LBC currently, we are told, have over 1400 members and that membership is free! "We are about to introduce a mastermind membership category for £50 per month. For this, our members receive monthly 2 hour sessions of networking, business education, coaching and peer group work, supported by 7 days per week of online email and business chat line support. Plus also online video education and training. In this way, over time, we will help to transform struggling, small businesses into skillfull, confident going concerns."

What do you our readers think about this? Is the LBC the only option or do other exist? Please email us at:- news24@southportreporter.com.

"Like it or not, social media and digital marketing are transforming news reporting and business engagement across the globe. Yet across the UK, there is a dramatic skills shortage in this aspect of business. LBC is tackling this issue too. Our Social Media Training Academy is 1 of a handful of companies in the UK, equipped to deliver Diploma Level 3 training in Social Media for Business. The great news for small businesses is that the diploma level training is fully funded, subject to certain basic limitations. It is classroom based, 1 day release per fortnight, spread across 12 months combining both knowledge and practical skills training. The course is available to apprentices from age 16 and to established members of staff looking to up skill. Just think, if every 1 man band operation in the UK employed just one member off staff, there would be no unemployment in the UK! It's about time small businesses were treated seriously and given the same opportunities for training, education and support as big business. We're on it and it starts here in Liverpool, on Thursday, 10 December 2015, with a pre-launch event, from 6pm to 8pm, at the Shankly Hotel on Victoria Street." The group added.

For more information about this group please and this event, please visit this link.