Government commits to review pavement parking policy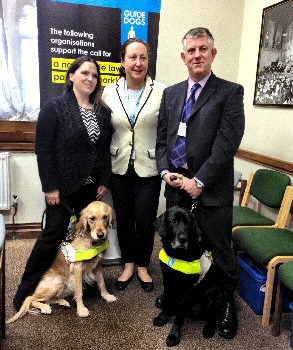 A bill to strengthen and clarify the law on pavement parking was withdrawn on 4 December 2015, following a commitment from Government to undertake a policy review and convene a round table in 2016, to further examine the implications of any legislative change.

The Pavement Parking Private Members' Bill called for the law on pavement parking to be strengthened; only allowing people to park on pavements that have been specially designated to allow it, making it the exception rather than the rule.

Living Streets, the UK charity for everyday walking has worked with the charity Guide Dogs to support Simon Hoare MP in asking other MPs to back the Pavement Parking Private Members' Bill which was due to be read on 4 December 2015.

Simon Hoare MP withdrew the bill in response to an announcement from the Government that they will undertake a policy review with stakeholders to examine the legal and financial implications of an alternative regime and the likely impact on local authorities.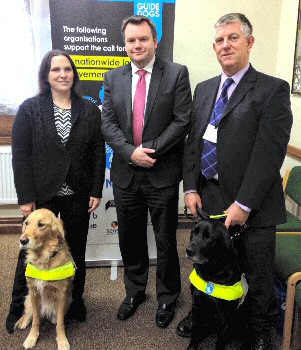 Robert Goodwill MP stated that improving access for all pedestrians remains a priority for the Government. The findings of the work being undertaken will be reported at a round table which Living Streets and Guide Dogs look forward to attending.

Simon Hoare MP, said:- "Following detailed discussions, I have withdrawn the bill, following The Minister's commitment to convene a round table and undertake a policy review. This response demonstrates the Government's commitment to improving access for all pedestrians including disabled and vulnerable people. A government examination of the current issues gives us the best opportunity of securing Government backing for legislative change. I would like to thank my Parliamentary colleagues and the public who have supported this Bill in raising the profile of a need for a review of the current law."

Joe Irvin, Chief Executive, Living Streets said:- "This is an important and positive step towards limiting the danger pavement parking poses to pedestrians in England and Wales. Our streets should be easy and accessible to walk on and vehicles parked on pavements cause an obstruction to all. At best, pavement parking is a nuisance and at worst, it can put people's safety at risk by forcing them into the road. We know that pavement parking is an issue that many people care passionately about with nearly 2,500 people writing to their MP asking them to back the bill. Now it's crucial that the Government acts promptly to see through its commitment to examine the issue properly. Along with Guide Dogs, we look forward to working with the Government on their review of pavement parking legislation and positively informing decisions next year."

James White, Senior Campaign Manager, Guide Dogs said:- "We are pleased that the Government has recognised the scale of the problem that pavement parking causes. It is the most common street obstruction that people who are living with sight loss encounter and frequently forces people out onto the road and into oncoming traffic. For someone with sight loss this is an extremely dangerous and frightening. We look forward to working with the Government in the New Year on their review and ensuring that any work they do addresses the impact that pavement parking has on people with sight loss. We are Living Streets, the UK charity for everyday walking. We want to create a walking nation, free from congested roads and pollution, reducing the risk of preventable illness and social isolation and making walking the natural choice. We believe that a walking nation means progress for everyone. Our ambition is to get people of all generations to enjoy the benefits that this simple act brings and to ensure all our streets are fit for walking. For more than 85 years we've been a beacon for walking. In our early days our campaigning led to the UK's 1st zebra crossings and speed limits. Now, our campaigns and local projects deliver real change to overcome barriers to walking and our ground breaking initiatives such as the world's biggest Walk to School campaign encourage millions of people to walk."

But some have pointed out that, it might not be as clear cut as some might like. Banning pavement parking might affect some businesses, who sometimes have to park on pavements to unload heavy goods, when on narrow roads. Others pointed out that more dangers are coursed on junctions by blue badge holders than parking on pavements, in some places. What are your views? We would love to know! Email us to news24@southportreporter.com and tell us what you think the rules should be!
Man Charged Bill Bailey Tour Van Theft!
ON 26 October 2015, a van outside the Philharmonic Hall in Liverpool hit the headlines all over the world. Comedian and musician, Bill Bailey, was performing at the venue and just before he went on stage his tour van stolen from outside. It was reported to have been found 3 days later in Tuebrook. The comic to tweet his thanks to the Police and the:- "good people of Liverpool" for their help. Mr Bailey's manager then told the press that it had suffered "minor" crash damage. Merseyside Police, on 4 December 2015, issued a press statement saying:-:- "Francis Whittaker, aged 35, of Lynx Way, L12, was arrested and charged with the offence of burglary in relation to the incident at the Philharmonic and also charged driving while disqualified. He was remanded in custody overnight and has since appeared before the Magistrates in Liverpool."

All Star Cast of Cinderella at the Epstein Theatre stage are ready to entertain you!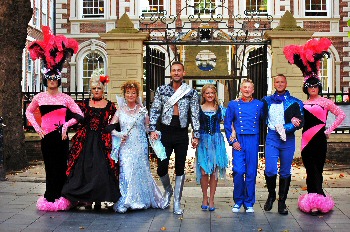 WITH just under a week to go before the opening of its sparkling Christmas pantomime Cinderella, LHK Productions is busy transforming the Epstein Theatre stage into a magical ballroom!

Producer Lee Kelly is polishing his magic wand ready to reveal his all star cast who are getting ready to dazzle audiences with their spellbinding production of the greatest rags to riches tale of them all, Cinderella.

Returning to the Epstein Theatre for his 4th festive season, this year Lee's line-up includes heartthrob Calum Best who makes his panto debut alongside much loved Merseybeat legend, Beryl Marsden.

This Charming Man, Calum is the son of football legend George Best and is guaranteed to get hearts racing across the region in his role as the dashing Prince Charming. Meanwhile, Beryl, the godmother of 60's soul, who was one of the greatest female vocalists of the Merseybeat era and toured with The Beatles, will also be starring in panto for 1st time as The Fairy Godmother!

The cast also includes Grease Is the Word's Alison Crawford, Lesley Butler as the Wicked Stepmother and Michael Chapman and Tom Burroughs as the hilarious Ugly Sisters. Lewis Pryor stars as Buttons and Chris Barton plays Prince Charming's right hand man, Dandini.

Based on the classic fairytale, Cinderella tells the much loved story of a pretty young girl kept captive by her wicked ugly step sisters. When Cinders is invited to a magnificent ball at the palace, her 2 fiendish siblings forbid her to attend.

With a wave of a magic wand, her very own fairy godmother appears to save the day and she is transformed into a beautiful princess. After a magical evening dancing endlessly with Prince Charming, midnight approaches and poor Cinders has to depart before the spell is broken.

With a single glass slipper left behind, will Prince Charming be able to find his princess? Will Cinders escape the clutches of her ugly step-sisters and live happily ever after?

With a live orchestra, real Shetland ponies, lavish sets and exquisite costumes, the audience is in for a real treat this Christmas!

Producer Lee Kelly said:- "I'm so excited about our Panto this year, we have a really strong cast and sales already beating last year's figures, I firmly believe this will be one of our 'Best', especially with Calum on board."

Cinderella runs at The Epstein Theatre from 10 December 2015 to 3 January 2016. Book your tickets now for the most enchanting panto in the land. We do hope to see you there (oh yes we do)!

To book tickets for Cinderella, at the Epstein Theatre, on Hanover House, Liverpool (L13DZ) call:- 0844 888 4411*, visit:- EpsteinLiverpool.Co.UK or book in person at the theatre box office.

* There are no booking fees for cash sales, £1 charge per transactions for card sales. Internet is available 24/7. Calls to the 0844 number might cost up to 7p per minute, plus your telephone company's access charge. Booking fees will vary for call centre and internet transactions, all ticket sales are inclusive of a 50p restoration levy.
St Helens Theatre Royal is now hosting the spellbinding tale of Cinderella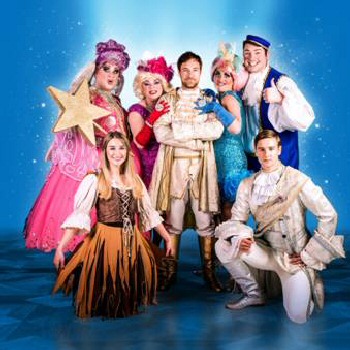 AS the clock strikes 7, the curtains opened to the greatest rags to riches tale of them all on Friday, 4 December 2015, at St Helens Theatre Royal! With 1 wave of a magic wand, the audience was whisked off to a glamorous ball this Christmas as Regal Entertainments present their spellbinding tale of Cinderella. This year's panto is set to be even bigger than ever with an all star cast bringing the nation's favourite panto to life and runs until Sunday, 10 January 2016, at the venue in St Helens. Every panto needs a villain and this year's is a real Christmas cracker! Most recently seen as bad boy Rob Donovan in ITV1's Coronation Street for which he was nominated as 'Best Newcomer' at both The National Television Awards and the Inside Soap Awards, Marc Baylis swaps the cobbles of Coronation Street for the centre stage at Theatre Royal. Not content with wreaking havoc in Corrie, actor Marc is set to cause mayhem as the dastardly Dandini; so get ready to boo and hiss! No stranger to treading the boards, Marc's extensive theatre credits include the UK tour of Hamlet, The Belle's Stratagem for Southwark Playhouse and Prick Up Your Ears for Comedy Theatre as well as seen on screen in hit shows including Misfits, EastEnders and Hollyoaks. Excited to be coming to St Helens, Marc Baylis said:- "I'm very much looking forward to appearing in panto at the Theatre Royal and spending Christmas entertaining audiences of St Helens. Cinderella is going to be great show so bring the whole family and join in the festivities." The sensational line up also includes Benidorm star and Theatre Royal favourite Crissy Rock as one of the hilarious Ugly Sisters. Leaving audiences on the edge of their seat in fits of laughter earlier this year as the Mum in Rita, Sue and Bob Too! as well as other past Theatre Royal productions Escorts: The Musical and Dirty Dusting, Crissy is back to bring plenty of fun and laughter to the stage alongside her Ugly Sister played by Charlie Griffiths. Laura Gregory returns as Cinderella alongside the dashing Jack Rigby as her Prince Charming. Meanwhile, St Helens' resident dame, Simon Foster returns to the stage, this time as the Fairy Godmother bringing lashings of magic and sparkle to the proceedings. The delightful Ben Engelen plays Buttons and Benedict Relton completes the line up as Baron Hardup. Cinderella tells the story of a beautiful girl who is reduced to a life of servitude by her t2 ugly step sisters, but that is all set to change when an invitation to a grand ball at the palace arrives. With a bit of magic and some help from her friend Buttons, Cinderella is transformed in to the belle of the ball. But what will happen at the stroke of midnight? With real Shetland ponies, enchanted pumpkins and a sparkling fairy tale carriage and filled with festive fun to entertain the whole family, Cinderella promises to be the most lavish panto in all the land. Book your tickets now to be sure you go to the ball. Call the Theatre's Box Office on:- 01744 756 000 or visit the venues website.