Merseyside Police Festive Drink Drive Campaign 2015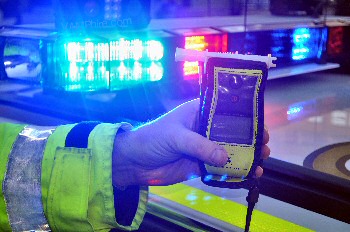 MERSEYSIDE Police on Tuesday, 1 December 2015, launched its Christmas drink and drug driving campaign. Officers from the roads policing unit will be stepping up patrols throughout the month long campaign, which runs until Friday, 1 January 2015. They will be paying particular attention to hotspot areas in the evenings and early in the morning, to target those who are risking driving the morning after drinking or taking drugs the night before.

The aim of the campaign is to reduce the number of road deaths and serious injuries on the roads of Merseyside and to raise the awareness of the dangers around driving while over the prescribed limit or impaired through drugs. Sergeant Paul Mountford, of Merseyside Police's Roads Policing Unit, said:- "The numbers of people drink driving is falling and it has become socially unacceptable to do so. However, new drug drive laws introduced earlier this year have highlighted the prevalence of drug use among people who drive. Drug testing is now routine at the roadside in Merseyside and cannabis and cocaine are the two most common drugs used by drivers arrested in Merseyside. We have a very high detection rate in these cases of 98%. I would also warn people about the risks of using medicinal drugs, particularly at this time of year with the advent of colder weather. Always read the instructions on the packaging or speak to your GP or chemist. Taking certain medicines with alcohol can severely affect a person's driving and if the label says:- "do not operate machinery", that means do not drive. Drugs do affect an individual's driving ability and judgement in exactly the same way as alcohol and are a factor in around 25% of all collisions. People who drive at twice the current legal alcohol level are at least 50 times more likely to be involved in a fatal collision. Therefore, as well as roadside breath tests, officers will be undertaking drug impairment tests. We will also be looking at the issue of people arriving at Liverpool airport and driving after drinking during their flight, and as part of this campaign we will be testing drivers leaving Liverpool John Lennon Airport to make sure people are not taking that risk. Our message to drivers is not to drink or take drugs and then drive, just simply pre-plan your evenings out, use public transport or have a designated non-drinking driver. And don't offer a drink to someone who is planning to drive. We are all entitled to use the roads safely, be it driving, walking, or cycling. Drink and drug driving accounts for hundreds of lives every year in the UK. If you know or suspect that someone is drink or drug driving, report them anonymously via Crimestoppers. Road safety is everyone's responsibility. Play your part!"

During last year's Christmas drink and drug driving campaign, officers carried out 8,203 breath tests in Merseyside. A total of 206 drivers failed the test and were arrested. During the same period, 231 drug impairment and drug tests were carried out, with 64 drivers being arrested.

Chief Inspector John Hogan, Head of MSOC Roads Policing said:- "While the number of drivers arrested in Merseyside is significantly lower than the national average, there are still those that ignore our warnings and place themselves and others at risk. We would urge everyone to take on board our simple, key messages this Christmas; avoid alcohol if driving, if in doubt the 'morning after', do not drive. Think about the effects a drink or drug driving conviction will have on you and your family. Do not think that you will not get caught. Our officers will be conducting roadside tests morning, afternoon and evening and arrest countless drivers every month. Don't chance it; if you're driving, it's better to have none for the road."

Any driver involved in a road traffic collision, or who commits any traffic offence, can expect to be breathalysed and may be required to perform an impairment test. Since April 2015, drivers can no longer request a blood or urine specimen when their breath sample is less than 51 mgs/100 mls (the legal limit is 35mgs/100mls). Should they fail these tests the penalties can be severe.

Did you know that....???
There are strict alcohol limits for UK drivers, in England, Wales and Northern Ireland, the legal alcohol limit for drivers is:-

► 35 microgrammes of alcohol per 100 millilitres of breath
► 80 milligrammes of alcohol in 100 millilitres of blood
► 107 milligrammes of alcohol per 100 millilitres of urine

However it is not possible to say how much alcohol you can drink and stay below the limit. The way alcohol affects you depends on:-

► Your weight, age, sex and metabolism (the rate your body uses energy).
► The type and amount of alcohol you're drinking.
► What you've eaten recently.
► Your stress levels at the time.

There are strict penalties if you are convicted of drink driving, including:-

► A minimum 12 month driving ban.
► A criminal record!
► Up to £5,000 fine!
► Up to 6 months in prison!!!
► An endorsement on your licence for 11 years...!

However, this list does not reflect the everyday consequences of being caught drink driving which can include:-

► Increase in car insurance costs.
► Job loss.
► Trouble getting in to countries like the USA.
► The shame of having a criminal record.
► Loss of independence.

The Institute of Advanced Motorists calculate that a drink drive conviction could cost between £20,000 to £50,000 as a result of fines, solicitors fees, increase in car insurance and loss of job....

Review:- "Yorkshire Goes Crackers for The Girls at Leeds Grand Theatre 2015!"
Review by Jo Forrest...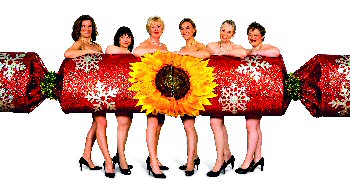 Yorkshire Goes Crackers for The Girls at Leeds Grand Theatre 2015.
Photograph above is by Matt Crockett
THE Girls officially opened in the Leeds Grand Theatre, on Tuesday, 1 December 2015, and what a show that was. This most anticipated of musicals was written by Gary Barlow and Tim Firth, who wrote the original Calendar Girls, 12 years ago, that was 1st made into a film, and then 5 years later as a stage play. The audience was treated to a fun filled evening, as well as Gary joining cast on stage at the end to perform as a special treat, then being introduced to the original Calendar Girls as they also joined the cast on stage. It was a special night indeed, with a well deserved standing ovation.

The story introduces us to a group of women from the Rylstone and District Women's Institute. We gradually get to know and bond with the characters their quirky personalities and their everyday life. Although this is a very funny musical the story itself is actually quite sad. It is hard not to get emotional at times as we go on the journey with Annie (Joanna Riding) as her husband is diagnosed with cancer having never had a days illness in his life, the subsequent treatment and his eventual death. However, there are some very funny moments during this time as well, especially, when Annie's good friend Chris (Claire Moore) bursts onto the stage in a wheelchair that she had found shouting:- "you will not believe how fast I have just got served."

In the 2nd ½ of the show we have Chris coming up with the idea to raise money for a new couch at the hospital where John was treated, which is of course is the now famous 'nude calendar'. We then go on a journey with each of the ladies who are to participate and their inner struggles, as well as dealing with opposition from Marie (Harriet Thorpe) forcing them to travel to London to seek permission from the Women's Institute headquarters, this takes us up to the moment where each of them derobe in turn and strike their pose. I have to admit I thought these ladies were very brave to go on stage in front of hundreds of people and get naked.

The characters are strong and funny, it is hard not to lose yourself in the show and share/feel their joy and pain. We are taken on a journey where the laughter is almost non stop as well as shedding a few tears as well as ultimately friendship overcoming diversity. The set design by Robert Jones was clever and innovative, using boxes, drawers and wardrobes.

A brilliantly funny musical that is an absolute must see. The show is on in Leeds until the 12 December 2015, before opening at The Lowry on 8 January 2016. After that that show heads to the West End, where there is no doubt that this will be another huge success for both Tim and Gary.

The show runs at:-

Leeds Grand Theatre until 12 December 2015. Tickets can be obtained via calling:- 0844 848 2700.

The show will then move to the Lowry Manchester, running over 8 January to 30 January 2015. Tickets can be obtained via:- 0843 208 6000.
Photographs below by Jo Forrest.