Male Voice Choir to get Freedom of Liverpool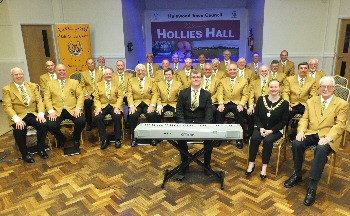 THE FREEDOM of Liverpool is being awarded to Liverpool Male Voice Choir, on Monday, 7 December 2015. The organisation was formed in 1911 by a small group of men living in Wavertree and has been performing and representing the City ever since, often supporting charitable events.

Lord Mayor of Liverpool, Councillor Tony Concepcion, said:- "I am delighted to be able to confer the Freedom Roll of Associations and Institutions on Liverpool Male Voice Choir in recognition of its cultural contribution to the City. The choir and its members have been true ambassadors and a credit to Liverpool and all members past and present can be very proud of their achievements. The choristers share a unique passion, entertaining so many with their beautiful music and I am particularly delighted that they are going to perform at the ceremony."

Michael Gollop, Chairman of Liverpool Male Voice Choir, said:- "Liverpool Male Voice Choir is deeply honoured to receive the City of Liverpool's highest accolade and it is a great thrill for the choir to be recognised in this way. We are moved and humbled yet supremely proud to stand alongside the many illustrious Associations and Institutions who have hitherto rendered eminent service to this City. Our founding choristers could not have envisaged such a prestigious award back in 1911, as they forged the new choir. The Constitution they pioneered still holds true today as we continue to study the practice of Male Voice singing, while striving for choral excellence, and the concert performance of suitable works. It is our passion for singing that draws us together, but underpinning this is the camaraderie and friendship we share. After 104 years, the choir continues to thrive, remaining committed to Liverpool's vibrant music scene."

Liverpool Male Voice Choir regularly hosts choirs from around the UK and overseas with recent visitors from South Wales, Japan and Norway. For more information about Liverpool Male Voice Choir, log on to the groups website.

Tax dodging club owners to be stripped of profits
ADULT club owners and adult entertainers in the North West who don't pay their taxes are being targeted by a new, UK wide taskforce launched by HM Revenue and Customs (HMRC). The rise of the internet has caused a drastic increase in online escort agencies and HMRC estimated, in 2010, that the adult entertainment industry could be worth up to £5 billion. For the 1st time in this sector, the taskforce will target the traders and entertainers, some of whom earn thousands of pounds a day, working in this industry. Those who continue to operate in the hidden economy and not register with HMRC for VAT, Income Tax and PAYE are being targeted. Jim Stevenson, Head of HMRC Taskforces, said:- "Large numbers of people working in this industry are paying the Tax they owe and they don't have anything to worry about. The people being targeted by this taskforce have no intention of playing by the rules, and we won't tolerate this. No industry is safe where Tax evasion is concerned; we won't stop tracking people down and taking back what they owe."

More than 140 taskforces have been launched since 2011, collecting more than £404 million that goes towards funding vital public services. This includes:- £109 million brought in during the 1st 6 months of this financial year (2015/2016).
Currently here at Southport and Mersey Reporter are looking into some aspects of this industry, from a media point of view. We have found people don't often like talking about working in the adult industry, openly, in public. That has made us think, is the UK prudish about the adult industry, thus making it easy for criminals to take advantage?
But oddly critics of these types of operations are now saying:- "If the adult industry, in all areas became fully legal, it would make it easier to Tax. Plus this would also make it safer for those in the industry."
1 of the charities we have recently talked also said:- "The words 'adult industry' are characterized by major taboos. This is an underground world. Gaining access to some parts of the community is a challenging and often risky practice. In reality, if we treat those within it with respect and dignity, the person behind the label, says a Pole Dancer, it would help. Sadly, even though pole dancing is getting wider respect with law makers, it is often seen as just dirty slut dancing. It's understandable why people keep it hidden that they are in that industry! But in reality, in pole dancing for example, that view is often far from being correct. In this case the glitterati of pole dancing are determined to redefine the dance as 'sport'. We should help people to do this, as it is just as skilful as any form of dance, if not more demanding on the physical ability and strength of a dancer. Only when we stop seeing the 'adult industry' in a dirty way, will that world open up. It could be a massive revenue generator as well as making it safer, should that happen! Quite how many people hide income due to not wanting a label is unknown..."
Do you agree, that the industry, including or excluding prostitution, should be made fully legal and more open? Please send us your emails with your views on this topic to:- News24@SouthportReporter.Com. Let us know what you think! If you are in the adult industry and need help and advice about it, see:- SAAFE, BeyondTheStreets also this SupprortLine, all 3 might help you find out what support you can get and from whom. Also if you know someone who is dodging Tax, you can tell the HMRC by calling the Customs Hotline on:- 0800 59 5000.