Rail journeys in the will undergo the biggest transformation in decades
RAIL journeys in the North West will undergo the biggest transformation in decades, thanks to an unprecedented package of improvements being delivered in new franchise deals, the government announced Wednesday, 9 December 2015.

More than 500 brand new carriages, the removal of the outdated and unpopular Pacer trains, room for 40,000 extra passengers at the busiest times, and more than 2,000 extra services a week will be delivered across the north.

The government has announced it intends to award the Northern franchise to Arriva Rail North Limited, and the TransPennine Express franchise to First Trans Pennine Express Limited. Together they will oversee a massive £1.2 billion boost to rail services with brand new modern trains, more seats, more services and a host of improvements to deliver a modern, 21st century passenger experience; as well as playing a vital role in bringing the Northern Powerhouse to life, rebalancing the economy, creating jobs, opportunity and growth, and providing significantly better journeys across the region.

As part of the government's commitment to ensure local passengers are at the heart of the Rail Network and devolve power to those that know their economies and customers best, the franchises will be jointly managed from Leeds, by the Department for Transport and Rail North Limited; which represents 29 local authorities across the North.

Transport Secretary Patrick McLoughlin said:- "We promised passengers in the north west a world class rail service that would make the Northern Powerhouse a reality and I'm delighted that we have found two operators that will deliver exactly that. As a one nation government we are committed to closing the economic gap between north and south. This deal, and the joint management of the franchises, will bring the Northern Powerhouse to life. In 2004, the last time these contracts were awarded, the government did not plan for growth; today we've put that right. Arriva Rail North Limited and First Trans Pennine Express Limited went far beyond our requirements with exciting, ambitious plans that will make a real difference to customers, and coupled with our commitment to push ahead with electrifying the vital Transpennine route; will help the region realise its full economic potential, ensuring it has a modern 21st century transport system. This is fantastic news for the north west."

Sir Richard Leese, chair of the Association of Rail North Partner Authorities said:- "Passengers were clear that they wanted to see a transformation including a lot more newer, better, trains running more regularly with a step change in services provided off peak and on Sundays. They also wanted improvements to stations and changes to make ticketing easier; and thanks to all the partnership work by Rail North and the Department for Transport, that's exactly what we are able to announce today. This is another crucial move towards devolution for the North. Rail North will now play a key role in the management and development of both new franchises, providing an excellent platform for further development and full devolution in the future. Rail North will work very closely with Transport for the North to drive forward economic growth by developing visionary proposals to deliver radically improved connectivity across the north."

Arriva Rail North Limited will run the Northern franchise; which is the second largest in the UK and operates regional and commuter services across the region; from April 2016 until March 2025. The operator will oversee the complete removal of the outdated and unpopular Pacers by the end of 2019, introduce more than 2,000 extra services each week, and will invest £400 million in 281 brand new air conditioned carriages to be rolled out across the North; more than double the minimum required in the government's Invitation to Tender.

In the North West, specific improvements on the Northern network include:-
► Longer trains and more frequent services providing space for nearly 13,000 more passengers; around 26% more capaCity; into Manchester and Liverpool during the morning rush hour; plus longer, newer trains serving Bolton.

► a new high quality 'Northern Connect' service, meaning new or refurbished trains on longer-distance services, faster journeys and stations staffed daily with catering services and free Wi-Fi at each one. As well as serving Liverpool and Manchester, this network will also serve other destinations including Blackpool North, Lancaster, Barrow, Chester, Windermere, Huyton, Carlisle and Warrington.

► Brand new electric trains on services from Manchester to Preston and Blackpool once electrification is complete.

► New late evening services on the Todmorden Curve from Manchester Victoria to Blackburn via Burnley and Accrington.

► More services into Manchester from Liverpool, Wigan, Blackburn, Chester, Hazel Grove and Macclesfield; into Manchester Airport from central Manchester, Liverpool and Warrington Central; and a new direct service from Chester to Leeds

► More services and space on the Cumbrian Coast line, with timetable improvements to benefit workers at Sellafield and Whitehaven.

► improved ticketing, including mobile and print at home tickets, and discounted fares for jobseekers.

Chris Burchell, Managing Director of Arriva's UK Trains division, said:- "We are proud to be given the opportunity to transform rail travel for passengers in the north of England and to work closely with our partners to connect towns, Cities and communities like never before. We will be investing more than £1billion to deliver a step change in quality for customers and dramatically improving services, stations, information and ticketing. Our aim is to be the communities' local railway and to leave a positive lasting legacy for the north of England."

First Trans Pennine Express Limited will operate services on the TransPennine Express franchise; which runs interCity services across the region and into Scotland; from April 2016 until March 2023. They will bring in 220 new carriages, equivalent to 44 trains, providing fast 125mph services across the network, as well as introducing in the North West:-

► Nearly 4,000 more seats on Liverpool and Manchester services; an overall increase of 59%; during the morning peak.

► A new, direct Liverpool to Glasgow service, from December 2018, with new electric trains and additional services from Manchester to Glasgow and Edinburgh from December 2017.

► More trains from Manchester to Hull, Middlesbrough and Liverpool , with faster, more regular services from Liverpool to Manchester and Leeds, plus a new direct link from Manchester Airport to Newcastle.

► Discounted advance fares for 16 to 18 year olds and jobseekers.

Tim O'Toole, chief executive of FirstGroup, said:- "Our new TransPennine Express franchise will deliver faster and more frequent interCity train services between the north's major towns and Cities and we are excited to help the government achieve its vision for a Northern Powerhouse. Our plans include investment in new and refurbished trains on every part of the network, with millions more seats available, free Wi-Fi and simpler smart and mobile ticketing, allowing us to build on the success we have had over the past 11 years, in which we have more than doubled passenger journeys on the network. We will work with local authorities, customers and community groups to give them a real stake in the future of their interCity rail travel. The new TransPennine Express will connect the north and keep people moving and communities prospering across the region."

Both operators will provide free Wi-Fi; on TransPennine Express services and stations by July 2018, and on all Northern services and 36 stations by December 2019; with media servers on trains providing entertainment and information to smartphones and tablets.
The operators will also be expected to meet challenging targets to improve customer satisfaction and reduce cancellations and short formations, and to introduce automatic Delay Repay compensation for passengers who buy season and advance purchase tickets online.
They will also make £55 million of much needed investment in stations to bring them into the 21st century.

During the franchises, the government and Network Rail will also forge ahead with electrification of the Transpennine line to deliver faster journey times and significantly more capaCity.
Network Rail is currently developing a detailed plan for the work which, when finished, will provide a fully electrified route between Liverpool and Newcastle.
The work is expected to be completed in 2022.
The operators will also support the roll out of Oyster style smart ticketing on public transport across the north, backed by £150 million of government funding. The deal will also mean significant returns to government and better value for the taxpayer.
The government will receive £400 million in premiums from First Trans Pennine Express Limited over the life of the franchise; previously, the franchise was subsidised by the government. The amount of annual subsidy the government pays for the Northern franchise will be reduced by £140 million by the end of the 9 year contract.

Following the announcement, and in accordance with usual procurement practice, there will be a standstill period of 10 days before the department will be in a position to enter into, and complete, the formal contractual documentation and make the award to Arriva Rail North Limited and First Trans Pennine Express Limited.

Franchise awards to bring better quality rail services to the Liverpool City Region
PEOPLE travelling to and from the Liverpool City Region, and within it, are set to benefit from more and better quality rail services following the announcement of the new Northern and TransPennine Express franchise awards Wednesday, 9 December 2015.

The most notable change is the introduction of a direct service; 3 services a day; between Liverpool Lime Street and Glasgow, avoiding the need for travellers to change at Wigan or Preston.

Meanwhile, connections between the Northern Cities will be more frequent and there will be improved services between Southport and Manchester, including more evening services.

While the franchises have been awarded by DfT, for the first time the specifications for bidders to meet were drawn up jointly by DfT and Rail North; a consortium of the 29 transport authority areas in the North, including:- Merseytravel; to ensure that they best reflect local need and support economic growth.

A key factor for Merseytravel was ensuring that people using the City line, such as those living in places like St Helens, Huyton and Newton-le-Willows benefit from similar service standards to those who have access to the MerseyRail Network, including improved evening and Sunday services.

► Direct services to Scotland. A new direct TransPennine Express service; 3 services a day; from Lime St to Glasgow, removing the need to change at Preston or Wigan. In addition, an hourly direct TransPennine Express service to Edinburgh (via Newcastle).

► Improved connections between the Northern cities, with a commitment to four fast services an hour (TransPennine Express and Northern) between Lime Street and Manchester and 2 per hour between Liverpool, Leeds and York (TransPennine Express), as well as more services to Preston (Northern and TransPennine Express)

► Improved evening and Sunday services on the City Line, benefitting people living in places such as in Huyton and St Helens.

► Improved services between Southport and Manchester, including more evening services.

► A new hourly (Northern) service from Southport right through to Leeds via Manchester and either Bradford or Dewsbury.

► An early Northern Service from Lime St to Manchester Airport (arriving no later than 0445).

► Daily services to Manchester Airport via both Newton-le-Willows and Warrington Central.

► Over 500 new build carriages will be introduced across both franchises, across the North, with Pacer units withdrawn by 2020.

► Longer trains and more frequent services will mean commuters benefit from increased capaCity.

Said Cllr Liam Robinson, Chair of Merseytravel and Chair of the Rail North:- "This is a big step forward, not only in better connecting the Liverpool City Region to other Cities to make the most of employment and leisure opportunities to support economic growth, but also in driving up standards for people who live locally. I have always been conscious that the City Region's Rail Network is in two halves and the standards people enjoy can vary greatly depending on postcode. This isn't acceptable. The MerseyRail Network is managed locally and scores consistently highly for reliability and customer satisfaction, while the City Line is part of the national Rail Network and standards lag behind. Being part of Rail North has given us the opportunity to influence the franchising process beyond a 'like for like' to better tailor it to support the Liverpool City Region's transport and growth ambitions and improve consistency and standards across the board."

People will benefit from some additions and changes to service from December 2017 when the timetable changes, which have to be scheduled well in advance and agreed nationally, will 1st be able to reflect the services outlined in the successful bids.

It is likely to be December 2019 before services that require new rolling stock to operate them will be added to the timetables.

Robert Hough, Chair of Liverpool City Region Local Enterprise Partnership said on behalf of the Linking Liverpool campaign, "This is excellent news for the people and businesses of Liverpool City Region and is a key milestone in realising our wider transport connectivity ambitions. It shows what we can achieve when all partners in the City region work together to achieve a common goal and the importance of the business community coming together in our Linking Liverpool campaign. We will now continue to campaign working with Transport for the North and the Government for the very best transport connectivity for the City region."
Charity searching for angels to help older people this winter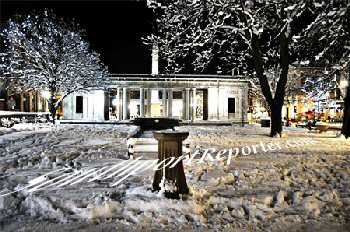 THE dangers of icy and wet footpaths can result in older and vulnerable people being left stranded in their homes during bad weather. Living Streets, the UK charity for everyday walking, is urging people to become:- 'Snow Angels' to help reduce feelings of isolation this winter.

A 'Snow Angel' is simply someone who clears ice and snow from outside their house and their neighbours', if they are less able to do so themselves.

Becoming a Snow Angel is as easy as equipping yourself with rock salt and sparing a few minutes at the beginning and end of the day to grit. Alternatively, you can get in touch with your local Council and find out if they have a volunteer scheme you can join.

Alan Benson, 46, is a wheelchair user. He finds getting around in icy weather very difficult and in the past has not left his home for a month due to a fear of falling out of his chair. Alan Benson says:- "I had my very own Snow Angel once; I don't think they even realised. I lived in a block of flats and one winter it snowed heavily. It was particularly treacherous and very nasty. Someone kept clearing the outside path from the front door so I could get out. I'm forever grateful; it was such a generous act. I think it would be great if people became Snow Angels this winter. It can make such a difference to people's lives."

Sophie 7, Michael 5 and Hannah Thompson 3 are Snow Angels in their village, just outside Elgin in Scotland. Together with their dad, Chris, they clear paths with a homemade, push along plough. Chris Thompson says:- "The children push the plough about 100 metres up and down our street to help clear access to our elderly neighbours' houses. They know how the snow and ice can create problems for our neighbours and stop them going out to the shops or to see friends. They like to help me as much as they can to make sure they can still get out and about in the bad weather. Plus, they enjoy being able to build a much bigger snowman with the snow they collect."

Dave Taylor, Regional Director (North West), Living Streets, said:- 'Each year thousands of people in the UK are admitted to hospital after slipping on ice or snow. This prevents a lot of people from leaving the house during bad weather, which can result in loneliness and all the health problems associated with not being fit and active. We hear a lot about the importance of gritting and making roads safe for drivers, but pavements and walkers are often overlooked. This winter, we are urging not only the government to ensure these people are not forgotten, but also asking everybody to think about their neighbours.'

More than 200 snow angels will be recruited around the country to help communities this winter. Visit the Living Streets website to find out more about being a Snow Angel and how you can join them.
If you're already a 'Snow Angel' or have benefitted from 1, Living Streets would love to hear from you. Please email us your story to our newsroom via:- news24@southportreporter.com!