Winner Announced for the North West Schools 'Design A Jump' Competition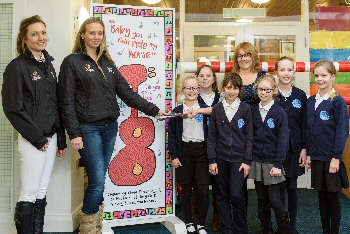 A youngster from Cumbria has been announced as the winner of the prestigious Design a Jump competition in association with The Equestrian.com Liverpool International Horse Show. The brand new show is the newest international sporting event to be held in Liverpool, and will take place at the Echo Arena over the New Year holiday from 1 January 2016 to 3 January 2016.

Schoolchildren across the North West were asked to create a design for one of the show jumping fences that will be brought to life as a bespoke jump to be included within the Arena course at the event. Children were asked to get creative and use paints, crayons or computers to create a colourful and eye catching show jump design. Several of the entries included famous Liverpool landmarks and views including the Liver Buildings and the City's skyline. Nine year old Olivia from St Martin and St Mary's Primary School in Windermere, beat off stiff competition with her winning design involving musical notes, iconic song lyrics and guitars. Olivia's classmates at St Martin and St Mary's Primary School also received 200 free tickets for the New Year show as part of the prize package.

Show Director, Nina Barbour, said:- "The show team have really enjoyed reviewing the competition entries and were so impressed by the children's vivid imaginations and the creative efforts made to produce their masterpieces. They felt that the winning artwork reflected Liverpool's musical heritage which is something we are really celebrating during the show, with live performances from acts such as The Bootleg Beatles. We are so excited to welcome the children and their families to the Arena to see the specially designed jump positioned within the course, and during the show it will be seen by more than 30,000 people."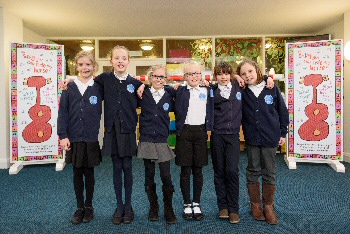 The winner of the Liverpool International Horse Show 'Design A Jump' Art Competition was presented with her winning jump by European Games Bronze medallist show jumper Abi Newbery. Abi won Bronze Individual and Team medals at the European Games in 2012. She continues to compete at:- 1.45m/1.50m ranking classes and is aspiring to compete at the 2020 Olympic Games. European Games Bronze Medallist Abi Newbery commented:- "I'm delighted to be here to present Olivia with her prize and I can't wait to see her designed jump in place in the Arena in the New Year. The Liverpool show is going to be incredible and the excitement is really building among the riders."

Visitors heading to the New Year show will be able to enjoy 3 days of live music, food, fashion and family entertainment taking place around an unforgettable showcase of world class show jumping action in the main arena. As well as the international sporting action, each performance will be packed with family friendly, high energy acts including live music from The Bootleg Beatles and the Bella Voci opera duo, daring tricks from stunt rider Clemence Faivre, as well as thrilling antics from the world record breaking 'The Horseman Team' and the fire breathing 'Black Fire Girls.'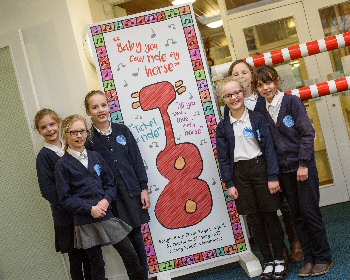 Children will get to experience the high speed dash of the Shetland Pony Grand National, bringing all the excitement of a day at the races, condensed down to Shetland pony size. January shoppers keen to spend their Christmas money will be able to browse at more than 60 retailers in the extensive shopping village next to the 'collecting ring.'
Head-teacher at St Martin and Mary's School, Judith Gore, added:- "We are proud to have a strong sporting ethos at our school and encourage the children to get involved with all aspects and activities. I am delighted that Olivia has won this competition and we are so grateful for this opportunity, I have very many excited children looking forward to seeing the Horse Show. "

Legislation preventing the sale of alcohol to drunk individuals has huge impact
A campaign to ensure people in Liverpool who are excessively drunk do not get served alcohol in pubs and bars in the City is proving to be a huge success, according to new research.

In 2013 a study by the Centre for Public Health, at Liverpool John Moore University, showed that in Liverpool 84% of attempts to purchase alcohol by actors pretending to be drunk were successful. This study was replicated in the City towards the end of November 2015, and resulted in just 26% of the actor attempts being successful; a huge 58% reduction.

Crime figures show that 97% of people arrested for a violent offence after 11pm have been drinking and excessive drunkenness places a huge strain on public services such as the police, Ambulance staff and hospitals. To tackle the issue, a CitySafe initiative:- 'Drink Less Enjoy More' between Liverpool City Council, Merseyside Police, and Liverpool NHS Clinical Commissioning Group, is being run aimed at reducing drunkenness in Liverpool City Centre.

Focusing on 18 to 30 year olds in particular, the campaign raises awareness of the 2003 licensing act, which states it is illegal to:-

► Buy alcohol for someone who is clearly drunk.

► For bar staff to serve someone who is clearly drunk.

Both offences are punishable with a fine of up to £1,000 and premises found to be serving people who are clearly drunk are also at risk of being stripped of their licence.

A social marketing campaign which includes radio and digital messaging, as well as outdoor advertising in bus stops by off licenses and universities, has been running since October 2015. In addition to providing information about the laws, it encourages young people to cut back on how much they drink at home before going out (so called preloading) as well as how much they consume when visiting bars, pubs and clubs.

The Council's Alcohol and Tobacco Unit staff run training sessions to support bar staff to confidently refuse service to someone who is clearly drunk. At the same time Merseyside Police are actively working with the licensed trade to ensure the laws are observed in Liverpool City Centre. Extra patrols are issuing warnings and if necessary fines to those found to be breaking these laws.

Through working in partnership with local bars and the extensive multi-media marketing campaign, Liverpool has significantly reduced the number of bars who serve alcohol to people who are drunk.

Superintendent Mark Wiggins from Merseyside Police said:- "Whilst we are really happy with the effect the intervention has had so far, the work doesn't stop there. We will be monitoring the situation closely to ensure that those bars who failed the testing by serving to drunks, take the necessary steps to make sure those mistakes don't happen again. Those that don't will be dealt with by the police and licensing authority. Although the majority of people go out in Liverpool for a good time and come home safe, some drink too much too early and get too drunk. It means they risk ruining the night for themselves and their friends as they will not get let into a pub or bar let alone served any more alcohol. Liverpool is a popular, vibrant City which offers a great night. Our message is clear: if you drink a little less you should actually have a far better and safer night out."

Councillor Emily Spurrell, Mayoral Lead for Community Safety, said:- "We are very proud of what we have achieved through this multi partner approach. Liverpool is a great City and we want it to continue to be a place where people feel safe and can enjoy their night. It is hoped the intervention will reduce the number of people who require Ambulance and AandE support each weekend as a consequence of their alcohol consumption. We want everyone to have a safe and enjoyable night out, and encouraging people to not get excessively drunk will help ensure they can enjoy everything Liverpool nightlife has to offer."

Follow the campaign on Twitter @drinkless_enjoy.
Research reveals a streak of dishonesty among motorists
WOULD you ever deliberately damage someone's car? It may sound shocking but almost a ⅓ of motorists in the North West have had their can vandalised, while even more have had their car bumped by someone who drove off without leaving their details, according to research by car insurance specialist Admiral.

Admiral found that many motorists appear to have questionable ethics when it comes to other people's property. 32% of people in the region have had their car vandalised at some time, although only 3% admit they have deliberately damaged someone else's car.

However many motorists in the north west have no qualms about driving off after bumping someone's car. 31% of those surveyed said they wouldn't necessarily leave their contact details if they hit a parked and unattended car and caused a small dent.

Admiral spokesperson, Justin Beddows commenting on the research said:- "It's shocking that so many people have had their damaged on purpose. Not only is it morally unacceptable, vandalism a criminal offence. While some people may feel it's less serious to drive off without leaving their details following a bump, damaging someone's property and not owning up is still dishonest. Accidents happen, it's only fair to leave your details if you hit someone's car. For anyone questioning whether to leave their details after hitting a parked car, I'd ask, how would you feel if it happened to you?"

Plenty of the people Admiral surveyed said they have had their own car damaged without the person responsible owning up. 36% of people in the north west have had their car damaged by another motorist who drove off without leaving their details.