Game, Set and Match for City Tennis Centre
WAVERTREE is the new Wimbledon as Liverpool scoops a top accolade. Liverpool Tennis Centre has been named:- 'Community Tennis Venue of the Year' at the 2015 Lancashire Tennis Awards which recognises excellence in the Lancashire, Merseyside and Greater Manchester area.

The win comes after 1 of the best performing years for the centre, with the number of people playing tennis increasing by more than 500%; in December 2014 there were 78 weekly players, and there are now 501.

The boost follows the recruitment of a new team of coaches who have increased the level of community work and have visited around 4,000 children in primary schools, introducing them to tennis and encouraging them to be part of 1 of the strongest competition programmes in the country. Mayoral Lead for sport, Councillor Tim Moore, said:- "This is fantastic news for the Tennis Centre and the award is recognition of the team's hard work and commitment to encouraging people, young and old, to take up the sport. The increase in the number of people taking up tennis has been phenomenal and is testament to the high standard of the facility and the coaches who are on hand to get the best out of people. The success of the centre goes to show you don't have to be an Andy Murray or Heather Watson to enjoy a game of tennis, and I hope in the future even more people are tempted to pick up a racket and get involved with this great sporting activity."

Dave Hillier, Tennis Manager at the Liverpool Tennis Centre, said:- "We are delighted with the progress that we have made over the past year. We are committed to getting more people, of all ages, playing tennis and to receive this award is fantastic for all the tennis players and staff who have worked so hard this year. We would like to thank everyone who has helped us this year, particularly the Tennis Foundation who have been very supportive of our work."

The ceremony, which took place in Manchester, was a double celebration as local youngster Chris Ablewhite scooped the 'Young Volunteer of the Year Award.' The 15 year old volunteers at Liverpool Tennis Centre every week helping with Mini Tennis coaching and Junior Squads and is looking to pursue a career as a tennis coach when he is older. Chris said:- "I really enjoy helping at the Tennis Centre and I wasn't expecting to get this award but I am really pleased. I am looking forward to doing my Level 1 Coaching badge in January when I am 16."

Both Liverpool Tennis Centre and Chris now progress to the regional stages of the 2016 Aegon British Tennis Awards, where they will be up against winners from across the North of England.

Liverpool Tennis Centre run weekly sessions for adults, children and students of all standards on their 6 indoor and 6 outdoor courts.
There are no membership fees and anyone is welcome to come along and join in with Mini Tennis, Junior Squads or Adult Coaching.
For more information visit this link.

Angela braving hot coals and icy waves for charity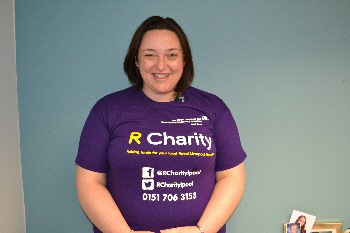 BRAVE fundraiser Angela Donnelly has walked over hot coals for charity, and now she is set to plunge into freezing water. She braved the firewalk at the Albert Dock in November to raise money for R charity, and now she has signed up for the New Year's Day dip in the Irish Sea too. "It's a bit of a personal challenge, since it's a tradition in Cumbria where I am from," says Angela, HR manager for medicine, pharmacy, therapies and imaging at the Trust. "My dad plunged into the sea for charity before I was born, and now it's my turn. I'm not a marathon runner so I wouldn't be taking on a 3 Peaks challenge, but this is something anyone can do. I'll be donning my R charity fundraising T shirt on New Year's Day and dashing into the waves."

After braving the firewalk for R charity, Angela feels ready for a fresh challenge. "When I saw the organisers lighting the coals for us to walk over, it was pretty daunting," she admits. "But when it came to it, it felt rather like walking through warm pebbles on a beach and I was so glad I'd done it." She also raised £337 for R charity. "My role at the Royal doesn't really involve contact with patients. But we work closely with the managers, nurses, therapists etc who do work with the patients and see what a fantastic job they do every day. My family are from Liverpool so I understand the need to have a world class hospital with fantastic equipment. And as we see the new Royal growing day by day, I'm determined to do my bit to make it even better. The firewalk was a personal challenge, and I absolutely loved it. I'm determined that the chilly waters of the Irish Sea won't put me off, and I'll raise even more and get the new year off to a brisk start."

Ged Carter, head of fundraising at the Royal, is dashing into the sea on New Year's Day with Angela. He said:- "This is a great opportunity to get the start the new year with an amazing challenge, and we're now looking for more brave Nippy Dippers."

To find out more contact the fundraising team via email or by calling them on:- 0151 706 3150. The New Year's Day fundraising dip for the new Royal starts at 2pm, on New Year's Day, opposite the Floral Pavilion on New Brighton promenade. Come in fancy dress, come as Santa or come in your cossie; just remember to raise what you can for the new Royal. Registration costs from £3.

Watch head of fundraising Ged Carter show you how it's done on YouTube.