Police Nomination for Guide Dogs Annual Awards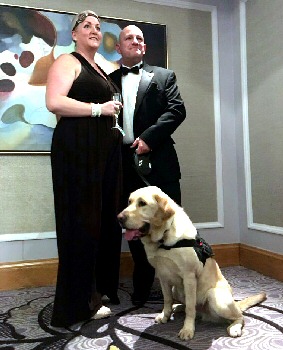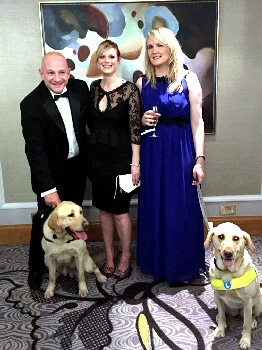 A Merseyside Police Labrador has donned a black tie, to attend a glamorous ceremony, in London on Wednesday, 9 December 2015. Champ, a 4 year old golden Labrador Retriever cross, went through rigorous training to become a guide dog in 2013, only to fail at the final hurdle because he was a little too easily distracted. But after Guide Dogs Liverpool realised his potential for a career change, he has since proved himself as an excellent police dog, sniffing out drugs, firearms and cash. He travelled to the prestigious Guide Dogs Annual Awards with handler Constable Steve Adams and Sergeant Paul Makin. As a result of their work, the officers and Champ were shortlisted for the Collaboration Award in the Guide Dogs Annual Awards 2015. They joined a host of stars at the glittering awards ceremony at the London Hilton on Park Lane yesterday, hosted by North West comedian Dave Spikey.
Dog Section Sergeant Paul Makin said:- "To be shortlisted for such a prestigious award is an absolute honour and reflects the hard work of many people in Merseyside Police who, by working alongside the charity Guide Dogs, have ensured that the people who really matter are provided with a service that gives them a quality of life they deserve."

Champ's handler Constable Steve Adams, from the Dogs and Mounted Section at Merseyside Police, said:- "It was great to see the work of the Dog Section recognised at the awards ceremony, and the sight of Champ in a black tie certainly caught a lot of people eyes! Champ has proved a real asset to the department and in two years of service has made some really significant finds, including large drug hauls, huge quantities of ill gotten cash and firearms. Criminals have found lots of different ways of trying to conceal drugs, but if there's something there, Champ will find it. You can't beat a dog's nose."

Paul, Steve and Champ were chosen by a panel of 3 expert judges from the dozens of entries for the Collaboration Award, which celebrates the work being done by an individual, company or other organisation that has worked successfully in partnership with Guide Dogs, making a valuable contribution towards improving the lives of people with sight loss.

Merseyside Police were nominated by the Guide Dogs Liverpool team for the work that the Dog Section have done on the issue of attacks on guide dogs. When Liverpool guide dog owner, Rose reported an attack to Merseyside Police, the force used new legal powers to prosecute the owner of the dog that attacked her dog, Ushi. Attacks on assistance dogs such as guide dogs were recognised in legislation introduced a year ago which means owners of dogs who attack assistance dogs are now subject to a maximum sentence of three years in prison. Officers helped Rose use the media to appeal for witnesses, and the people who came forward as a result were crucial in enabling the Police to identify the attacking dog's owner and secure a prosecution. After the attack, dog section officers Paul Makin and Steve Adams worked with the charity Guide Dogs to make a training video, which features interviews with three guide dogs owners who've been victims of such attacks to raise awareness of the seriousness of such attacks and of the new legislation.
Art success on the cards for school children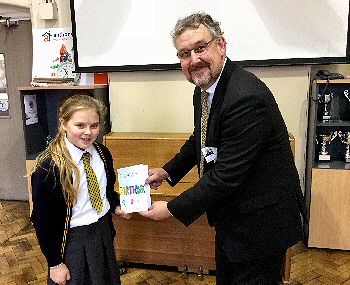 LOCAL school children have demonstrated their artistic flair for Southport business Ludlow Wealth Management in a birthday card challenge. Children from Churchtown Primary School were asked to put forward their design ideas for the company's birthday card which is sent to clients. Ellie French, 10, provided the winning design and was awarded a £25 book voucher. The runners up Devin and Florence were also congratulated on their designs and were given a £15 and £10 book voucher respectively.

As part of the competition Ludlow Wealth Management donated £250 to school funds. Sid Ludlow, CEO of Ludlow said:- "The card designs were fantastic and it was really hard to choose a winner, but we wanted something that was bright, cheerful and clear in its message. Ellie's delightful design will now take pride of place on the birthday cards we send to our clients and I'm sure they'll smile when they see it."

Founded in 1993, Ludlow manages more than £650 million of assets and delivers long term financial planning solutions for its clients. It has offices in Southport, Liverpool, Preston, Lytham and Blackburn and employs 44 people.

Christmas Crackdown on Cash In Transit Robbers
MERSEYSIDE Police and other Forces across the North West of England, are stepping up patrols to prevent cash delivery vans being targeted by robbers in the run up to Christmas. Detectives from 'Titan', the regional organised crime unit, are working alongside officers from Merseyside, Greater Manchester, Lancashire, Cheshire, Cumbria and North Wales to combat the threat. Uniformed officers will be routinely following vans delivering and collecting cash from ATMS and to banks and post offices to ensure that security guards can do so safely during their busiest time of the year. The number of 'cash in transit robberies' has fallen in all force areas since 2009 thanks to greater sharing of intelligence between the Police and the cash companies, improved security measures in the vans to protect the cash, and Police operations such as Operation Guardian in Merseyside and Operation Vault in Lancashire. In 2009 there were 189 across the region compared to 50 in this calendar year. However attacks still occur, particularly in Greater Manchester and Merseyside, and Titan is working with individual forces and the security industry to target the gangs responsible and stop employees and businesses suffering from these crimes.

Detective Inspector Jon Smith from Titan's regional intelligence unit, said:- "Cash in transit robberies have greatly reduced in recent years but they still remain a priority for the police and are extremely serious crimes. The victims are just ordinary members of the public doing their job yet an attack can have lasting physical and psychological damage. Innocent members of the public can get caught up in the incident and also be affected, as can staff working at the business where the cash was being delivered to or collected from. Investigations into these crime by local forces have had some great successes and have resulted in offenders being jailed for up to 10 years. Our intelligence shows that offenders are working as organised criminal groups who are travelling from 1 part of the region to commit crimes in another, which means that it is in everyone's interests to tackle this threat together. Detectives at Titan work closely with SaferCash analysts and security experts to spot similarities between robberies across the region both in terms of the offenders themselves and how they carry out their attacks. We also link in with investigation teams in each force to support their extensive efforts to catch the offenders. We are committed to using a number of different methods to protect cash deliveries and make it as difficult as possible for criminals this Christmas. Patrols routinely follows vans to give a visible police presence during deliveries and police helicopters can be deployed to neighbouring areas to pursue offenders, leaving them nowhere to hide. There are also devices to protect the cash, including dyes which stain notes rendering them useless and stain skin and clothing too/ It means criminals are taking a significant risk of being caught if they chose to commit this type of crime this Christmas."

Det Ch Insp Colin Radcliffe from Merseyside Police added:- "Here in Merseyside we run Operation Guardian throughout the festive period to protect cash delivery vehicles, the guards themselves and the wider public. The attacks have fallen on Merseyside year on year thanks to a number of criminal gangs being caught and jailed following successful investigations by our Matrix Serious Organised Crime unit. However we cannot be complacent and during December our mobile patrols will be following cash vans on a daily basis wherever in Merseyside they are working and this should act both as a deterrent to would be criminals as well as a reassurance to the public who should never have to witness this kind of traumatic incident."

Supt Simon Giles, of South Division, Lancashire Police, said:- "We are stepping up our fight against criminals who carry out robberies of commercial and financial premises. In the run up to the festive period many businesses enjoy an increase in takings and we want to ensure that it is the business that benefits from this financial boost rather than a burglar or robber who may seek to take this as an opportunity for unlawful gain. We want to raise awareness of such crimes to encourage businesses to take crime prevention steps to avoid becoming a victim. Police patrols will routinely be deployed across the county to monitor cash deliveries and collections and, if local businesses want the support of the Police, they should let us know."

Cash in transit robberies, the key facts according to Merseyside Police:-

► There have been 50 incidents in the North West of England, over 2015, compared to 189 in 2009 and 89 in 2010.

► Offenders brandish some form of weapon in around ¾ of these robberies which shows the threat cash delivery guards face while simply doing their job.

► Thankfully, injuries to guards are rare (approx a 6th of all incidents).

► Earlier this year 23 year old Matthew Clarke from Manchester was jailed for 7½ years for conspiring with others to rob a supermarket in Cheadle Hulme in which a guard was slashed on the hand with a machete.
Flood Appeal's First Grant for St Michael
THE Lancashire Flood Appeal made its 1st grant, on Friday, 11 December 2015, to support those in need in the county who are victims of Storm Desmond. The 1st grant has been made to St Michael's on Wyre Church of England Primary School. It will contribute to the cost of coaches for school visits to the Christmas pantomime and sports facilities for the school children before Christmas. Launched by Community Foundation for Lancashire on 8 December 2015, the Recovery Fund's Appeal raises funds to directly support individuals and families in hardship and vital community organisations and resident groups in the areas affected by Storm Desmond. Applications are now open via a new dedicated website. Funding is available to contribute to clean up costs, emergency repairs, clothing, food and drink, heating and heating equipment, childcare equipment and basic furniture, especially in North Lancashire. The Recovery Fund's Public Appeal will distribute funds immediately for emergency needs and responses, and will then support clean up work in a 2nd Phase of funding distribution. Community Foundation for Lancashire Chief Executive Cathy Elliott said:- "Thank you to all the local residents and businesses who have donated to the Appeal so far. We hope people will continue to give generously. We now begin the business of distributing important funds to the affected areas." The Appeal Fund stood at nearly £22,000, on 11 December 2015, having only been launched at 12pm, on Tuesday, 8 December 2015. Proceeds from the Daily Mail's 2015 Christmas Appeal and local fundraising efforts are expected to be received before Christmas to boost the Appeal. This Lancashire Flood Recovery Fund's Appeal complements the Community Foundation for Cumbria's Recovery Fund recently launched for the victims of wide spread flooding in the Lake District. Local people and businesses can donate to the Recovery Fund's Public Appeal online, at the new dedicated website mentioned above.